5 top tips for choosing your wedding jewellery
Find the perfect sparkle for your big day!
There are many elements to planning a wedding and we're here to make at least one of them easier for you!
Choosing the right jewellery for your big day is almost as important as finding the perfect dress. Accessories are the cherry on top of your outfit after all. So whether you're a diamond bling princess or you prefer to be more toned down and subtle with your accessories, we've listed five important things every bride needs to know when choosing wedding jewellery.
---
1. Match your metals to your dress
White gowns: Platinum or silver pieces will stand out and sparkle most with this colour dress.
Ivory gowns: Gold jewellery will bring out the creamy tones of your ivory hue.
Champagne gowns: Gold jewellery will again look beautiful with warm champagne tones. You could also go vintage with aged silver and rhinestones for a more dramatic look.
Blush gowns: For a non-traditional dress stick with your non-traditional theme and try something new! Rose gold jewellery will look stunning with the pink blush tones.
---
2. Less is more
This is a good rule for every day accessorising, not just your wedding day! When already wearing a wedding dress though, this rule can be even more important. Jewellery should enhance your dress but not overwhelm it. If there are already jewels on your dress then probably all you need is a simple necklace and sparkly stud earrings.
---
3. What does your neckline look like?
As well as matching your jewellery and metal choice to the colour of your dress, you should also take into account the style of the dress when you choose your style of jewellery. If you're wearing a V-necked or strapless dress, a medium length necklace is perfect. If your dress has a higher neck you may not need a necklace at all and statement earrings will be enough.
---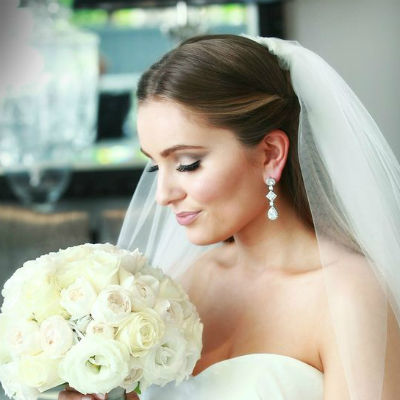 4. Take it slow. Choose in your own time.
As already mentioned, wedding planning consists of many elements and you will find yourself faced with constant decision making. It's important not to rush jewellery though, take your time and find a really special piece for your special day. Once you've got the first piece the others will come easier and you'll be ready in no time!
---
5. Stick to what you know
A wedding is about celebrating a couple and the parts that make it up, so in a way it's a celebration of you being YOU. Don't try to change your style for your wedding, instead celebrate exactly what makes you you and wear what you love. If you're naturally a daring and out-there person then go crazy with the jewellery. If you're more laid back and minimalistic, then that single pair of diamond earrings may be all you need.
---
The 10 commandments of wedding jewellery
Buy your dress first! You can't match your accessories to a dress that doesn't exist.
Match the stones of your dress to your jewellery! Use crystals with crystals, rhinestones with rhinestones and pearls with pearls.
Don't overdo it. Jewellery should enhance your dress, not try to outshine it.
If you're wearing a veil or hair accessories, wear them when trying on earrings.
Treat yourself! It's a special day and a great excuse for some sparkle on the expensive side.
Mix it up. If you have a different dress for the reception, bring different jewellery too!
Stick to one metal. As a rule metals don't mesh well together, choose one type and keep to it.
Choose timeless pieces. Especially if you're spending more than you normally would, make sure it's something you'll wear again.
If you want big jewellery, only choose one statement piece.
You don't need to match! Just because you love the earrings, if the matching necklace isn't doing it for you then you don't have to buy it!
---
Jewellery Inspiration
Gold Jewellery
Gold jewellery is a classic look and will never go out of style. Gold pieces can be pricey but if you treat yourself to quality you'll be grateful for it later. Gold jewellery looks especially gorgeous with warmer toned gowns such as ivory and champagne.
Silver Jewellery
Silver is of course the other traditional go-to. Silver shines brightest next to white wedding dresses and also looks beautiful with dark wedding colours such as navy. Silver pieces are usually cheaper than gold so you may feel like you have more choice and can afford to treat yourself to a few more gemstones.
Rose Gold Jewellery
Rose gold jewellery is pushing its way to the forefront of jewellery metals and is becoming more and more popular each day. Lots of brides love the romantic pink hue it has and it's perfect for any wedding that is looking for something new and different.