Amazon unveils the new Kindle Oasis, its highest-resolution e-reader yet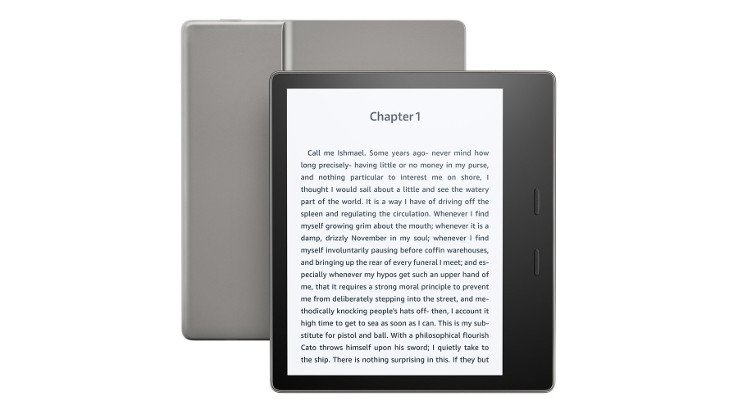 A clearer display and a waterproof casing make this Amazon's most capable e-reader.
Amazon has today announced the latest iteration of its Kindle Oasis line of e-readers. Simply called the all-new Kindle Oasis, it features some of the most advanced tech available in a digital reading device, with a larger 7″ screen boasting a 300 ppi Paperwhite display, the highest resolution of any Kindle reader so far. Amazon says this allows for the new Oasis to cram 30% more words on every page, meaning you won't be needing to turn the page as often.
Despite the bigger screen, the new Oasis is actually 10 grams lighter than the popular Kindle Paperwhite, weighing in at just 194g. It packs more storage space, too, with 8GB and 32GB options available.
The new Oasis is also the first waterproof Kindle, boasting an IPX8 rating that allows it to be submerged to nearly a meter of water. Its battery has seen an upgrade, too, with the promise of weeks-long life and the ability to charge from empty to full in less than two hours.
Kindle Oasis launches worldwide on 31 October. The 8GB variant with Wi-Fi connectivity will set you back about £189, while the 32GB model with Wi-Fi and a cellular connection will cost you approximately £265.
Like what you see? Be sure to check out our full list of Amazon discount codes and vouchers to make sure you're getting the best deal possible!
---