Finder is committed to editorial independence. While we receive compensation when you click links to partners, they do not influence our opinions or reviews. Learn how we make money.
Transferencias internacionales de dinero de Currencies Direct
Currencies Direct ha estado ayudando a individuos, empresas y vendedores en línea en la transferencia de dinero en el extranjero durante 20 años.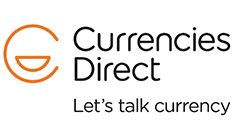 Currencies Direct hace la transferencia de dinero simple, ofreciendo un servicio eficiente y sin complicaciones, todo esto mientras te ahorra dinero. Trata a sus clientes como socios, entendiendo lo que es importante y después los ayuda a adaptar la transacción para que se adapte mejor a sus necesidades.
Currencies Direct cree en superar los tipos de cambio, comisiones y costos ocultos de los grandes bancos al enviar dinero al extranjero. Ofreciendo un proceso simplificado para la transferencia de dinero al extranjero desde 1996, cuenta con años de testimonios que destacan sus servicios.
Compara Currencies Direct con otros servicios
Introduce la cantidad que deseas transferir y seleccione la moneda que desea enviar.

Servicios personales
Cuando necesitas enviar dinero al extranjero,Currencies Direct garantiza vencer a los bancos, y cambiar tu dinero más rápido. El intercambio de divisas es todo lo que hacen, y son bastante buenos en ello.
Currencies Direct ofrece los siguientes servicios:
Contratos al contado (Spot). Haz una transferencia única al instante.
Pagos recurrentes. Disfruta de un servicio sin complicaciones mediante la configuración de pagos automatizados.
Contratos a plazo. Si el tipo de cambio de hoy parece bueno pero no estás listo para realizar la transferencia, bloquea la tasa hasta por un año de antelación.
Órdenes de límite. Selecciona una tasa de cambio objetivo y Currencies Direct te enviará tu dinero cuando se cumpla esa tasa.
Aviso de tipo de cambio. El servicio gratuito de Currencies Direct te avisará cuando se haya alcanzado el tipo de cambio que deseas.

Servicios para negocios

Currencies Direct ofrece una gama de productos para empresas que necesitan servicios de divisas. Currencies Direct trabajará como parte de tu equipo para ayudarte a manejar la exposición y el riesgo que genera el mercado de divisas.

Currencies Direct apoyará tu negocio con:

Planificación

Pronóstico

Ejecución

Servicios para vendedor en línea

Si realizas negocios en línea a través de mercados como eBay y Amazon, Currencies Direct ofrece ahorros de hasta un 75% al ​​recibir pagos en moneda extranjera y te permite pagar a proveedores extranjeros por menos.

Con tu cuenta puedes:

Establecer cuentas de recolección segregadas para captar varias divisas y administrar tus transferencias.

Pagar a proveedores en línea a través de contratos al contado, contratos a término y pagos múltiples.

Precio

Los precios de los servicios para vendedores de Currencies Direct son sencillos y transparentes.

Sólo pagas por lo que usas.

Los nuevos clientes pueden abrir una cuenta de forma gratuita sin cargos mensuales ni comisiones de transacción.

Los servicios de cambio de divisas cuestan 1-2% del importe total de la transferencia.

Se aplicará una tarifa de recepción del 0.1% a todos los fondos recaudados en tu cuenta.

Tipos de cambio al utilizar Currencies Direct

Currencies Direct compra divisas a una tasa mayorista y pasa los ahorros de esta compra a sus clientes. Sus tasas competitivas prometen batir las del banco y ahorrarte dinero.

Currencies Direct ofrece un servicio gratuito de monitoreo de tasas que te permite especificar su rango de tipo de cambio ideal para que puedas ser notificado tan pronto como la tasa entre en rango, lo que te permite actuar de inmediato. Además, actualiza los tipos de cambio mundiales cada 15 minutos para obtener datos fiables y actualizados.
Si tienes tiempo y paciencia, las órdenes de límite de Currencies Direct te permitirán establecer un tipo de cambio específico para la cantidad de dinero que desea cambiar. Cuando esa tasa finalmente llega, simplemente responde a la notificación con tu autorización, y el intercambio procederá inmediatamente sin problemas. Los usuarios hablan muy bien de este servicio, así como el sitio web de Currency Direct muy fácil de usar. Un operador incluso te guiará por el proceso vía telefónica.

¿Qué comisiones puedo esperar pagar si utilizo Currencies Direct?

Currencies Direct cree en evitar cargos ocultos. No hay comisiones por la mayoría de las transacciones y no hay cargos ocultos. Si cobran por un servicio, te dirán por adelantado para que sepas exactamente lo que te va a costar. ¡Ellos hacen el 90% de sus transacciones de forma gratuita!

* Currencies Direct cobra una tarifa adicional por transferencias con la misma moneda.

¿Cuáles son las monedas disponibles?

A continuación, se muestra una lista de las monedas que puedes enviar y recibir utilizando Currencies Direct.
Monedas

AED – Dirham de los EAU

AUD – Dólar australiano

CAD – Dólar canadiense

CHF – Franco suizo

DKK – Corona danesa

EGP – Libra egipcia

EUR – Euros

GBP – Libra esterlina

HKD – Dólar de Hong Kong

ILS – Shekel israelí

JPY – Yen japonés

NOK – Corona noruega

NZD – Dólar neozelandés

SEK – Corona sueca

SGD – Dólar de Singapur

THB – Bhat tailandés

TRY – Lira turca

USD – Dólar estadounidense

ZAR – Rand sudafricano

¿Cómo envío dinero usando Currencies Direct?

Transferir fondos con Currencies Direct es un proceso simple:
Configura una cuenta gratuita.
Elije la moneda, la cantidad y el lugar a donde deseas enviarla.
Haz tu pago a Currencies Direct.
Currencies Direct enviará los fondos tan pronto como tu pago se aprueba.
¿Cuáles son los pros y los inconvenientes de usar Currencies Direct?
Pros
Enviar y recibir fondos del extranjero.

Tasas interbancarias que se actualizan cada pocos segundos.

No hay comisiones en el 90% de sus transacciones.

Servicios de transferencia internacional para empresas.

Reserva de tipos de cambio con antelación.

Tipos de cambio competitivos que ahorran dinero.

Excelente atención al cliente.

Soporta grandes transacciones como ventas de propiedades.
Contras
No se admiten todas las monedas del mundo.

No se especifican opciones de recolección de dinero en efectivo.
¿Tienes más preguntas acerca de Currencies Direct?
More guides on Finder