Finder makes money from featured partners, but editorial opinions are our own.

Advertiser disclosure
Best loans for startups and new businesses of 2023
Compare top lenders willing to fund companies during those risky first years.
New companies can have a hard time getting a loan. That's because lenders see startups as risky: About half of small businesses fail during the first five years, according to the Bureau of Labor Statistics. Your options are even more limited during the first six months in business — or if you need seed money to get a new business off the ground.
That's why startups may need to look beyond traditional bank loans when searching for funds. Online lenders, nontraditional financing companies and even personal loan providers could offer better options. To help you find the best choice, we break down the best financing companies for new businesses into nine categories. We also offer a list of alternatives if these top picks don't fit your startup.
9 best loans for new businesses and startups
Best overall: Finance Factory
Finance Factory business loans
Finance Factory is a connection service that offers multiple financing options for startups. Rates and terms vary by lender, but its business express loans range from 0% to 15% APR and amounts from $5,000 to $350,000. The startup funding options are also available for borrowers with limited credit histories, coming in with 0% intro rates and a low credit score requirement of 700. You can also compare other business loan options like SBA loans, equipment financing and personal loans. Additionally, Finance Factory has been in business since 2011, is BBB-accredited and has stellar customer service reviews.
| | |
| --- | --- |
| Loan amount | $5,000 – $350,000 |
| APR | 0% to 15% |
| Min. Credit Score | 700 |
Read review
Best for comparing lenders quickly: Lendio
Lendio is a connection service for small businesses, and these services can help you save time by sifting through lenders for you that suit your situation. Lendio's free application compares lenders quickly with a soft credit check. It has over 75 lenders in its network, and you can search for 11 types of business financing, such as short-term loans, lines of credit, SBA loans and startup loans. However, you'll need a lot of information on hand to complete its form.
Best for personal loans: Upgrade
If business financing isn't working out for your brand new business and your credit score isn't ideal, then Upgrade's personal loans may be for you. It offers personal loans from $1,000 to $50,000 and requires a low minimum credit score of 620 — and it accepts coappliants. But there are fees to watch out for, including an origination fee of 1.85% to 9.99%, which increases the borrowing cost.
Not available in: Colorado, Iowa, Maryland, Vermont, West Virginia
Personal loans made through Upgrade feature APRs of 5.94%-35.97%. All personal loans have a 2.9% to 8% origination fee, which is deducted from the loan proceeds. Lowest rates require Autopay and paying off a portion of existing debt directly. Loans feature repayment terms of 24 to 84 months. For example, if you receive a $10,000 loan with a 36-month term and a 17.98% APR (which includes a 14.32% yearly interest rate and a 5% one-time origination fee), you would receive $9,500 in your account and would have a required monthly payment of $343.33. Over the life of the loan, your payments would total $12,359.97. The APR on your loan may be higher or lower and your loan offers may not have multiple term lengths available. Actual rate depends on credit score, credit usage history, loan term, and other factors. Late payments or subsequent charges and fees may increase the cost of your fixed rate loan. There is no fee or penalty for repaying a loan early. Personal loans issued by Upgrade's lending partners. Information on Upgrade's lending partners can be found at https://www.upgrade.com/lending-partners/.
Best for SBA loans: SmartBiz
SmartBiz is a connection service that works with banks and preferred lenders (SBA's Preferred Lender Program) to issue SBA loans, and there are other loan options as well. Unlike other connection services, SmartBiz can help you navigate the lengthy process of applying for an SBA loan, which can be very helpful if you're looking to launch your first-ever startup. Customers rave about how easy and seamless the service is, citing knowledgeable and thorough representatives. But on the downside, SmartBiz isn't free — there's both a referral fee and packaging fee, both capped at 2% of the loan amount.
| | |
| --- | --- |
| Loan amount | $30,000 – $500,000 |
| APR | Prime Rate, plus 2.75% to 3.75% |
| Min. Credit Score | 650 |
Read review
Best for microloans: Kiva
Kiva is a microlender that specializes in small-dollar financing for underserved business owners — with no time-in-business requirements. Its crowdfunded loans come with 0% interest, making it one of the most competitive options on this list. It's also willing to work with entrepreneurs of all credit types. And you don't necessarily need to be a US citizen or permanent resident to qualify. However, raising funds can take longer than a month. These are microloans, starting at $1,000 and come with shorter terms than your usual unsecured loan.
Best for business line of credit: Bluevine
Bluevine business lines of credit
While Bluevine doesn't work with brand new businesses, you can qualify for its working capital line of credit after only six months. There are no maintenance, origination or draw fees, and you can qualify with fair credit. After you make a withdrawal, it comes with weekly repayments. And while same-day funding is available, you'll have to pay an extra fee.
Best if you haven't opened yet: Guidant Financial
Guidant Financial business loans
Guidant Financial is one of the few lenders that offer a line of credit for businesses that haven't yet opened their doors. To qualify, you'll need good personal credit, minimal inquiries and a credit utilization ratio under 50%. It even offers a 0% introductory rate for well-qualified applicants. After that, rates range from 12% to 18% APR — lower than typical business credit cards. But it comes with a high origination fee. And it's not the fastest option out there, as it can take up to a month to fund your line of credit.
| | |
| --- | --- |
| Loan amount | $10,000 – $150,000 |
| APR | 12% to 18% |
| Min. Credit Score | 690 |
Read review
Best for invoice financing: FundThrough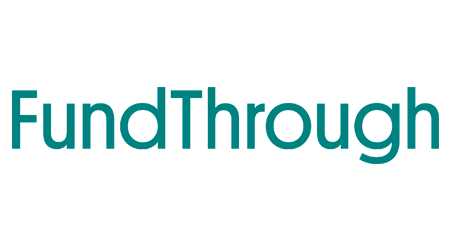 FundThrough Invoice Factoring and Financing
FundThrough doesn't have any fixed time in business requirements and is willing to fund businesses in the startup phase. It also offers invoice financing for invoices worth $15,000 and invoice factoring for invoices as high as $10,000,000. Fees are typical for an invoice factoring provider, ranging from 2.75% to 8.25% of your invoice's value, depending on how long it takes your client to pay. But unlike traditional invoice factoring companies, it's fully automated and you can receive your funds within 24 hours.
| | |
| --- | --- |
| Loan amount | $500 – $10,000,000 |
| APR | Not applicable |
| Min. Credit Score | 500 |
Go to site
on Businessloans.com's secure site
Read review
Best for emergency line of credit: OnDeck
OnDeck is known for very fast funding times and is well-suited for emergencies. With OnDeck's lines of credit, you may get up to $10,000 in minutes — and that includes nights and weekends. To qualify, your business must be at least one year old and have a personal credit score of at least 625 and at least $100,000 in annual revenue. While funding times are impressive, you'll have to watch out for high rates and a $20 monthly maintenance fee on the line of credit.
| | |
| --- | --- |
| Loan amount | $5,000 – $250,000 |
| APR | Average is 60.9% |
| Min. Credit Score | 625 |
Read review
Methodology: How we choose the best startup lenders
Finder's editorial experts review over 200 business loan providers before selecting the best lenders for new businesses. We pay special attention to providers that accept businesses that have been around for less than a year, especially those with less stringent requirements around time in business and low rates. We also considered Better Business Bureau reviews and ratings, as well as customer reviews on Trustpilot.
We weigh lenders and financing companies against these factors:
Time in business requirements
Annual revenue requirements
Willingness to work with new or risky industries
APRs
Fees, such as origination fees
Loan amounts
Repayment terms
Credit score requirements
Turnaround time
State availability
Application process
Lender reputation and customer reviews
How financing can benefit a new business
Startup business loans give you access to capital you might not otherwise have. With it, you can fund your expenses without selling equity — all while improving your business's positive payment history and building a relationship with a lender.
Speeds up growth
Funds initial expenses
No equity requirement
Build business credit
How do I qualify for a business startup loan?
Watch our 60-second video!
Business loan requirements vary from lender to lender. However, those available to new businesses focus on the entrepreneur's history of paying off personal debt rather than the business itself. You'll have the most options if you meet the following criteria.
Good credit. Many business startup loan providers ask for a 670 credit score or higher.
No recent bankruptcies. In addition to your credit score, startup lenders typically look at your credit report. Bankruptcies stay on your report for seven to 10 years, depending on how you file.
No recent delinquencies. If you've been late paying off debt, that could also hurt your chances of getting a startup loan.
A strong business plan. Since your business doesn't have a track record to back itself up, your business plan is often the only place where you get to make a case for yourself.
Enough revenue. Some lenders only require around $10,000 in monthly revenue to qualify, while others may require $100,000 or more per month.
Time in business. Many business loan providers have a minimum time-in-business requirement. For startups, that could be anywhere from six months to one year.
Be wary of companies that push you to pay in advance to help you loan shop, require you to pay fees upfront or seem to have unverifiable guaranteed approval. These "lenders" may actually be business loan scams. Learn the warning signs to identify a potential scammer as you shop around.
Can I get a startup business loan with bad credit?
It's possible to get a business loan with bad credit, but your options are extremely limited. You may have better luck considering other financing alternatives, such as rollover for business startups (ROBS) or crowdfunding — that don't necessarily rely on your credit score. Microlenders and Community Development Financial Institutions (CDFIs) are also your friend: Many have programs designed to support local entrepreneurs. They typically offer small amounts of financing in exchange for a training course.
You may be able to qualify for some term loans or alternate types of business loans. But be aware that these come with a higher price tag — think APRs over 300%. And if you're just starting out, it may be worth improving your personal credit score before borrowing for your business.
How to apply for a loan as a new business
Once you know how much you need to borrow and compare lenders, you're ready to apply. Applying for a business loan may require a lot of documentation, and SBA loans also require completing SBA-specific forms. While there are a few lenders with low or no required documents, they may not offer the best rates to new businesses.
Documentation to prepare can include:
Growth and revenue forecasts.
Recent personal and business tax returns.
Bank statements.
Financial projections.
Owner financial statements and resumes.
Business plan and business history.
Once you've followed the lender's application process and submitted all the requested documents, you'll receive a credit decision (approval or denial letter). If you choose to accept the loan, you'll complete the application and wait for your funds, which may take a week or longer, depending on the financing you're applying for.
Here's our more detailed guide on applying for a business loan.
More types of financing for new businesses and startups
Borrowing isn't always the best idea when you're just getting started. Not only will it be potentially more expensive and more difficult to qualify for, but you'll also be personally responsible for any money your business borrows and can't repay. Women-owned businesses and entrepreneurs from historically marginalized groups can also have a harder time getting their foot through the door, thanks to human bias and structural barriers to getting a loan.
Some other ways to finance a startup include:
Equity investments — Small businesses may be able to get an equity investment through a venture capital firm or an angel investor. There's no limit to how much money you can raise through this method. And while you won't have to pay back any of the money you receive from an investor, you could lose partial control of your company. You may want to keep a lawyer on retainer for this sort of funding, though. They'll help you navigate securities laws so your business can avoid legal issues down the road.
Home equity loans or HELOCs — If you own a home with at least 20% of equity, you could borrow against your home to help fund your startup, aka a second mortgage. Home equity loans or HELOCs tend to come with lower interest rates than other unsecured borrowing methods. But your home is collateral on the loan, so tread carefully.
Crowdfunding — With equity crowdfunding, your company starts an online campaign to receive funding from multiple investors in exchange for partial ownership. With rewards-based crowdfunding, your business offers prizes in exchange for donations. The amount of funding you can get may be restricted based on the Securities and Exchange Commission's rulings.
Business grants — Startups with a mission, especially nonprofits, might want to look into business grants to get off the ground. Like an investment, you don't have to repay a grant. However, they can be highly competitive and require a lot of work. They also typically don't get much higher than around $15,000, so you'll likely need other funding methods to supplement it.
Credit cards — A credit card can be a great way to cover smaller expenses and manage your company's spending since multiple people can have cards from the same account. Some of the top startup-friendly business credit cards have a 0% APR promotional period, making it a viable option for businesses that expect to be able to pay off what they spend within the first year.
Rollover for business startups (ROBS) — If you're willing to borrow from your retirement plan, a ROBS might be a worthwhile investment for your startup. It involves taking advantage of a tax loophole that allows your business to access these funds without paying a penalty if it's the right type of corporation. You need to at least $50,000 in your retirement account to qualify and could face heavy fines, so many business owners opt to hire a third party to handle the details.
Friend and family loans — Initial financing to get a startup off the ground. Borrowing from your friends and family is sometimes the easiest way to get a good deal on startup funding — and there's a chance you might not have to pay interest or sell any equity. Want to make it official? Use a service like LoanWell to whip together a legally binding contract with interest fees and late penalties.
How to crowdfund a startup
Some startups may choose to offer investors goods, services or equity in their company in exchange for funding. Crowdfunding also helps companies generate buzz and make connections with potential clients.
There are a few types of crowdfunding available. The right one for your business depends on your particular needs.
Equity crowdfunding exchanges funds from investors for partial ownership of the company. You can raise up to $75 million, but fees can set you back as much as $100,000, and regulations are difficult to navigate.
Donation-based crowdfunding comes with few regulations and doesn't require anything in return. Typically, the only cost is a platform fee.
Rewards-based crowdfunding works like donation-based crowdfunding — but contributors to your campaign receive a gift in exchange. Typically, you also have to pay a platform fee.
Recap: Best startup business loans
And remember, there are plenty of options at every stage of the business process. Read our guide to the best business loans for more options.