Finder is committed to editorial independence. While we receive compensation when you click links to partners, they do not influence our opinions or reviews. Learn how we make money.
Credible loans
Apply for student and personal loans through one streamlined online marketplace.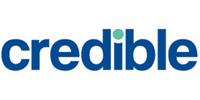 The number of lenders out there can give anyone decision paralysis, but Credible may be able to help. As a lending marketplace, it makes borrowing less complicated by giving you a clean comparison of prequalified offers from different lenders — all with one application. But there's no guarantee you'll be approved, and Credible's limited reach may mean you don't see every available option.
What types of loans does Credible offer?
Credible doesn't do the actual lending. Instead, it allows you to submit one application that is sent to several lenders in its network.
Student loan and parent PLUS refinancing. Graduates and those who are no longer enrolled in an educational program can seek out student loan refinancing with Credible. As long as you have at least $5,000 of student loan debt, Credible may be able to find you a lender that offers variable or fixed interest rates and terms from 5 to 20 years. And some lenders even allow you to apply with a cosigner.
Private student loans. Students enrolled at least half-time may qualify for a student loan from one of Credible's lending partners. Like its refinancing options, Credible has lenders in its network that have terms ranging from 5 to 20 years, and most of its lenders offer some form of discount for things like autopay.
Personal loans. Credible also has a network of lenders that offer personal loans, which can be used for just about any legitimate purpose. Its partner lenders offer up to $100,000 at competitive rates.
Why should I consider using Credible for my next loan?
Credible offers a few great features that you won't get by applying for just one direct lender.
No cost. Using Credible is completely free, and you won't pay anything until you've accepted a loan offer. Your loan terms will depend on your lender, not Credible.
Saves time. By submitting one form to compare multiple lenders, you could save yourself quite a bit of time. Credible allows you to receive prequalification offers from multiple lenders at one time. And best of all, your credit score won't be affected until you decide to accept a loan offer.
Rate discounts available. Several of the lenders that Credible works with provide rate discounts. Combined with already-low rates, and the potential to get even lower rates with a cosigner, you might be able to save big over the life of your loan.
Less fees for students. There are no origination fees or prepayment costs for student loans or those looking to refinance. Making early repayments and saving on interest could mean paying hundreds of dollars less.
Where does Credible fall short?
Credible has its flaws, so be sure you weigh them against the pros of using its connection service.
Prequalification doesn't guarantee acceptance. Credible is able to pull rates from lenders you prequalify with, but these rates aren't guaranteed. It's possible that your credit history or some other factor isn't up to par with the lender. Even if you have an outstanding application, you may not be approved for a loan.
Limited selection. Because you're only getting rates from a few lenders, you may not be getting the best ones available. While it's convenient to send one form out to multiple lenders, it can be limiting if you don't also explore your options outside of Credible.
Terms vary by lender. Unfortunately, there's no way of knowing your exact terms until you fill out Credible's online form. Until then, you'll just have to guess at the loan term you may get — which can be tough for those who need details before making a decision.
Compare loan offers from Credible
| Name | Min Credit Score | Max Loan Amount | APR | |
| --- | --- | --- | --- | --- |
| Credible Student Loan Refinancing | Good to excellent credit | None | 1.99% to 9.24% | Read review |
| Credible Labs Inc. (Student Loan Platform) | Good to excellent credit | Varies by lender (typically, total certified costs of education minus financial aid already received) | Starting at 1.24% with autopay | Read review |
| Credible personal loans | Fair to excellent credit | $100,000 | 4.99% to 35.99% | Read review |
How much will it cost me to borrow with Credible?
Possibly one of the best parts of finding a loan through Credible is that it is completely free. But taking out a loan isn't free, so don't expect to pay nothing when you borrow. The lender you choose will likely have its own fee structure. Because Credible works with a range of providers, those costs will be different depending on the lender.
Most often there are fees for things like late or missed payments and returned checks or nonsufficient funds (NSF). There are no prepayment penalties with any of the partnered providers for student and student refinancing loans.
What do borrowers say about Credible?
Credible is rated highly by both the Better Business Bureau (BBB) and Trustpilot. It's been accredited with the BBB since 2015 and receives an A+ rating. The majority of reviews on its BBB are positive, and it does similarly well on Trustpilot, scoring a 9.6 out of 10 based on over 2,000 reviews.
People described Credible as "quick and easy," one saying it was "so much better than sofi (sic)." Credible even took the time to write extensive, personalized responses to the few negative reviews that were both apologetic and helpful. The way it handles itself online speaks for the quality of customer service you could expect when using its connection service.
Is using Credible safe?
Yes, Credible is safe to use. It's easy to contact customer service, navigate its different loan options and find detailed tables of Credible's partners. And when you submit your personal information through its online form, you'll know it's safe — Credible uses an Extended Validation 2048-bit SSL certificate, whereas most websites use either a 128- or 256-bit encryption system. This makes it significantly less risky, helping to ensure your safety when finding loan options online.
Compare Credible to its competitors
Top online providers for student loan refinancing and private student loans
Top online lender-connection services for personal loans
How to apply for a loan through Credible
Once you confirm your eligibility, this is what you'll need to do to move forward with Credible:
Click the Go to Site next to the loan type you're interested in from the comparison table above.
Choose your loan type.
Enter the amount you want to borrow.
Fill out the requested contact details and financial information.
View prequalified rates and choose an offer that suits you.
Provide any additional documentation needed by the lender.
Accept the terms and conditions of your loan and receive your funds.
From there, you'll need to wait for your customized offer. Credible will send you any options that you prequalify for, but if you don't like what you get, you're not obligated to accept.
Deciding on a loan is a big step. If you think you've found the right one, accept the prequalification offer and apply with the lender. From there, the time it takes to go farther in the process will vary based on the provider you're working with.
Am I eligible?
You'll need to meet Credible's basic requirements before you apply.
Good to excellent credit
Steady source of income
US citizen or permanent resident
At least 18 years old*
Students seeking out loans will need to be enrolled at least half-time in an educational program in the US. Those seeking to refinance must be graduated or no longer enrolled and have attended an approved educational program.
* Eligibility will vary, but for personal loans you will need to be 18 years or older. Students under the age of 18 may still apply with a cosigner.
I was connected with a lender. Now what?
What happens now generally depends on which lender you select and what type of loan you need.
Student loans. Typically, your funds are sent to your school to cover your tuition and fees, after which the rest is sent to you to cover other education-related expenses.
Student loan refinancing. Your loan funds will generally be sent to the lender to pay off your previous loan. Then, you'll start making payments to the lender you've been connected with through Credible.
Personal loans. Your loan funds will be sent to your bank account. You can then use them however you want — provided it's legal and approved by the lender — including starting a small business, consolidating debt or improving your home.
Once your funds are disbursed, it's time to start thinking about paying it back. You might want to set up autopay linked to the account paying your funds. Not only does it make it less of a hassle for you to deal with your payments, some lenders offer a discount on rates (usually between 0.25% to 0.5%).
Keep track of your bank account and your loan balance — machines sometimes make mistakes that can cost you if you don't catch them right away. Reach out to customer service if you notice anything that raises your eyebrows or have any questions or concerns.
I wasn't connected with a lender. Now what?
First, find out why you weren't connected. Often, it's because of previous debt or not enough income. For those looking for a personal loan or wanting to refinance a student loan, you have a little more time to straighten things out. Take steps to improve your credit score, pay off your credit card debt and look into side jobs to boost your income. It wouldn't hurt for you to look at other refinancing options from other online lenders and even credit unions, which tend to offer lower rates than banks.
If you're applying for a student loan, contact your school's financial aid office and set up an appointment to go over your situation. They might be able to point you toward other sources of financing that might not have occurred to you and help you with your application.
Bottom line
A transparent process and no fees make Credible a viable solution for finding a small spread of loan offers. When you're working hard to get a loan, it can be helpful to have a service to do some of the legwork for you. Though you may receive a few offers from lenders through Credible, you may still want to compare those offers with other providers to see how competitive they are.
Credible makes it easy to compare competitive offers from multiple lenders. But its limited selection may make it hard to know if you've found the best rate. You can compare your personal loan options or look into other private student loans to ensure you're getting a good deal.
Frequently asked questions
Read more on this topic
Credible personal loans review

Use Credible to simplify and speed up the process of getting a personal loan. You could get personalized offers from multiple lenders within minutes.