Debt payoff thermometer
Visualize your progress and learn how to reduce the amount you pay.
A debt payoff thermometer helps you track the progress you've made toward paying off loans, credit cards and major bills.
Print this free template and pin it somewhere obvious. With your goal on top, you can see how much you've paid — and how far you still need to go.
Print the debt thermometer off to get started
It's hard to see progress when you're using a spreadsheet, no matter how colorful you make it. Although it may seem simple, tracking your payments with a debt thermometer is an easy way to visualize how much you've done while keeping tabs on what you need to continue.
The key is to set realistic goals and then find ways to create visual prompts that keep your motivation levels high at the same time.
Download the printable debt thermometer, then add your goals and fill in how much you've already paid.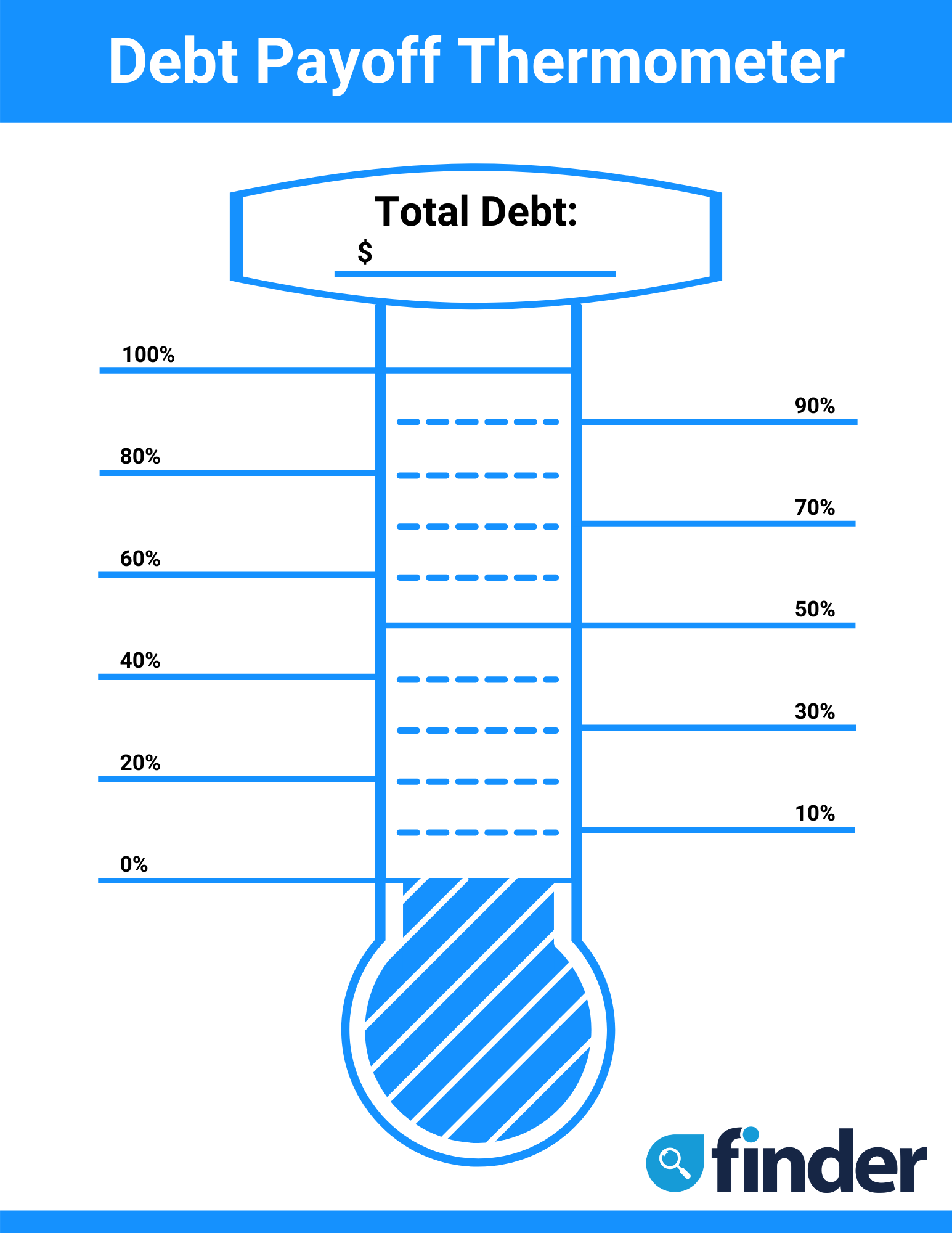 Focus on total debt or individual amounts
There are two ways to use a debt thermometer.
The first is to write down the full amount of debt you have across all loans, credit cards and bills on the total debt line. If you're looking to become completely debt-free by a certain date, this is the best way to visualize your progress.
The second is to print multiple thermometers and write down each debt separately. This is especially handy if you're using the debt snowball method. By focusing on one debt at a time, you can avoid overwhelm while still keeping a visual reminder of your payments.
Whichever you choose, keep an eye on the prize. Check in frequently. A debt thermometer only works if you continue to use it.
3 methods to tackle your debt
Combine these with common debt repayment plans — like a debt avalanche or debt snowball — to make the most out of our debt thermometer template.
1. Create your goals
Think about what debt — or debts — you want to pay off and when you want to have them paid off by.
Consider how much you can afford to repay each month. This will help you stay on track, and it may be easier to remain motivated when you know how long it'll take.
2. Set a payment plan
If you've only been paying the minimum on your debts, try to create a little wiggle room in your budget to pay more on just one debt to start.
As you pay off credit cards, bills or loans, put your previous payments toward other debts. This way, you won't have to sacrifice little luxuries, but you may be able to get ahead of minimum payments a little at a time.
3. Change your payment frequency
Interest on your credit cards and store cards is charged at the end of every day on your outstanding balance. That total interest figure you see on your statement is added up from all those daily tallies.
If you make your payments weekly or every other week, you actively reduce how much you owe, which means the bank charges you less interest as a result.
When you reduce your interest, the amount you pay on your monthly payment goes towards reducing your principal — the amount you borrowed — instead.
Take your normal monthly payment amount and divide it by four. If you normally pay $100 per month, try to find a way to make payments of $25 on the same day each week instead. You'll end up paying far less interest overall.
Bottom line
Debt is almost inevitable, but drowning in it is not. If you budget for regular payments and focus on your high-interest debts first, you'll be heading towards a zero balance before you know it. Our debt thermometer will help you visualize your progress and remind your why you're setting aside that chunk of each paycheck.
There are multiple ways to consolidate debt if you're having trouble managing several debts at once. But overall, debt consolidation may not be necessary if you set regular days aside to make payments and keep track of your debt with our thermometer.