Finder is committed to editorial independence. While we receive compensation when you click links to partners, they do not influence our opinions or reviews. Learn how we make money.
Best debt relief companies of 2020
Look for lowest fees and the widest range of services.
Editor's choice: Freedom Debt Relief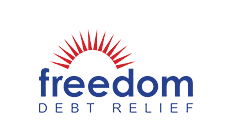 Flexible payments
Leader in debt negotiation
No upfront fees
Get started
Debt relief companies are designed to act as a last resort before filing for bankruptcy. If they sound too good to be true, that's because they sometimes are — but there are also plenty of trustworthy companies out there. Just know your state's regulations before you get started.
What's in this guide?
Jump to…
Our methodology: What we looked for in a debt relief company
When choosing the best debt relief companies, we first confirmed each provider's legitimacy, business practices and website security. We also looked at customer reviews from the Better Business Bureau and Trustpilot.
We then analyzed and compared each company based on factors like how long they take, what types of debt they settle, minimum debt requirements, fees, credit disclosure documentation, transparency, accreditation and customer satisfaction. We also considered state restrictions and legal actions taken against the companies.
Top 5 debt relief companies
Company
Services
Typical costs
Typical savings
Customer reviews
State availability
National Debt Relief
Debt settlement
18% to 25% of enrolled debt
Varies
BBB: A+
Trustpilot: 9.4/10
Not available in CT, GA, KS, ME, SC, OR, VT, WV or NH
Go to site
Freedom Debt Relief
Debt settlement
20% to 25% of enrolled debt
Varies
Trustpilot: 9/10
Not available in CT, CO, HI, IL, KA, ME, ND, NH, NJ, OR, RI, SC, VT, WA, WV or WY
Go to site
CuraDebt
Debt settlement, tax settlement
Around 20% of enrolled debt
80% to 30% of enrolled debt after fees
Trustpilot 7.7/10
Not available in CO, CT, GA, ID, IL, KS, ND, NH, SC, VT, WA, WI, WV, Puerto Rico or the Virgin Islands
Go to site
Accredited Debt Relief
Bankruptcy, debt consolidation, debt management, debt settlement
Depends on your debt relief, but debt settlement fees typically range from 18% to 25%
Depends on your debt relief, but debt settlement clients typically save 25% to 32% of enrolled debt after fees
BBB: A+
Trustpilot: 9.4/10
Not available in CO, CT, DE, GA, HI, IL, KS, ME, NH, ND, OR, RI, SC, VT, WA or WI
Go to site
New Era Debt Solutions
Debt settlement
16% to 20% of enrolled debt.
43% to 47% of enrolled debt after fees.
BBB: A+
Not available in PA.
How do I choose the best debt settlement company for me?
To figure out which debt settlement company is best for your situation, consider:
Availability. Start by eliminating any companies that aren't available in your state or don't settle the type of debt you're dealing with. For example, some companies don't work with student loan debt.
Minimum debt requirements. Check to make sure you meet any minimum debt requirements.
Accreditation. Look for a company accredited with the International Association of Professional Debt Arbitrators (IAPDA) and check if your consultant is IAPDA-certified.
Cost vs. savings. Find out what the typical costs are for settling debt and compare them with the typical savings to find out if you're getting a good deal.
Program time frame. Find out how long it will take for a company to settle your debts, and decide whether or not you're comfortable with that time frame.
Transparency. Look for a company that's fully transparent. This includes being clear about exactly how much you'll pay and what damage to your credit score you can expect. If a company claims they can settle your debt without hurting your credit score, be suspicious.
Customer satisfaction. Once you find a company you're happy with, do some research to find out what past customers have to say.
What is the International Association of Professional Debt Arbitrators?
The IAPDA is a professional organization that trains and certifies individuals in debt settlement and accredits trusted debt settlement companies. Accreditation by the IAPDA means that a significant number of individuals in the company are certified debt consultants, but it's always a good idea to make sure your personal consultant is certified, even when working with a trusted and accredited company.
What services do top debt settlement companies offer?
Most debt relief companies offer a combination of services designed to set you on a debt-free path — and keep you there. Know what you're getting into before you sign on any dotted lines.
Debt management. This involves negotiating with your creditors for lower interest rates or lower payments. This works best if you're currently up to date with your payments but struggling or unable to pay more than the minimum.
Debt consolidation. Sometimes debt relief companies use this term to refer to debt management. Other times, they use it to describe a debt consolidation loan. Make sure you know the difference before signing up.
Debt settlement or negotiation. This involves negotiating with your creditors to reduce the overall amount you owe. This option usually costs about 20% of your enrolled debt as a fee and can significantly damage your credit. It's most suited for people who can't make the required payments on debts but still want to avoid bankruptcy.
Bankruptcy services. Bankruptcy is an option for people who can't afford to pay their debts, even if they're reduced or on a payment plan. It will have a severe impact on your credit score, but it can be a helpful option if you have more debt than you can afford to pay back.
Credit counseling. Credit counselors give advice on how to build your credit score and manage spending habits. It's a useful tool for anyone looking to raise their credit score.
Beware of the consequences of debt settlement
Debt settlement can be useful in certain situations when you've exhausted all other ways to get your debt under control, like applying for a balance transfer credit card or debt consolidation loan. However, there are a few drawbacks to debt relief you should consider before signing up.
First and foremost, debt settlement will damage your credit score and isn't guaranteed to work. In fact, only around 10% of people who enroll in debt relief programs actually complete them. And with many programs, it's difficult to continue paying your creditors while also putting money toward your debt settlement escrow account. This puts you at risk of being sued by your creditors.
If you do complete the program, any settled debt will be considered taxable income. Add fees and interest that accumulated while you're in the program, and you might not save as much as you thought you would.
Compare more debt relief companies
Before you sign up with a debt relief company
Debt relief companies typically charge a percentage of a customer's debt or a monthly program fee for their services. And they aren't always transparent about these costs or drawbacks that can negatively affect your credit score. You might pay other fees for third-party settlement services or setting up new accounts, which can leave you in a worse situation than when you signed up.
Consider alternatives before signing up with a debt relief company:
Payment extensions. Companies you owe may be willing to extend your payment due date or put you on a longer payment plan if you ask.
Nonprofit credit counseling. Look for free debt-management help from nonprofit organizations like the National Foundation for Credit Counseling.
Debt settlement. If you can manage to pay a portion of the bill, offer the collection agency a one-time payment as a settlement. Collection agencies are often willing to accept a lower payment on your debt to close the account.
How to find a legit debt relief service
Debt relief has earned itself a somewhat shady reputation, thanks to the rise of scam companies in the early 2000s. Although a 2010 federal crackdown cleaned up the industry in part, scammers are always creating new ways to take your money.
It's possible to avoid a scam by doing some research first. When considering a debt relief company, ask yourself:
Is it legal in your state?
Some state regulations limit or outright prevent debt relief services from operating in that state. Be sure to know whether or not you can sign up.
Is it accredited?
Many legit debt relief company are accredited with the American Fair Credit Council or the IAPDA, which set and maintain industry standards.
How long has it been around?
While not always the case, older more-established businesses feel less pressure to engage in unsavory business practices to stay afloat.
What's the website like?
Can you find answers to most of your questions with a few clicks? Is it clear what services it provides, and is that information consistent? If you find yourself frustrated online, you might find more frustration with the company itself.
How will you pay fees?
It's illegal for debt relief services to charge you a fee before they've provided results. Most legit companies also won't ask for fees all at once, preferring steady payments toward settlement accounts and services.
How much control will you have?
Debt settlement companies work by having you pay into an account from which the company then pays your debt settlement fee. By law, you control these funds and can even withdraw from them without a penalty.
Is there a minimum debt?
Debt management companies shouldn't enforce a minimum enrolled debt amount. Better debt settlement companies are willing to work with debt on the lower end — from $7,500 to $10,000.
What types of debts does it settle?
Established debt relief companies can settle student loans and even some secured debt, but most only handle basic unsecured debts like medical bills, personal loans and credit cards.
What timeline does it advertise?
Typically, debt settlement programs take two to four years. Try to avoid longer terms — it increases your risk of facing a lawsuit or not completing the program.
How did you hear about them?
If the company solicited you for its services, make sure advertised promises are true. Otherwise, it's not following government regulations.
Bottom line
Debt relief can be a legitimate path to get out of unmanageable debt situations — but only when approached carefully and using the most reputable services. If you have the creditworthiness to qualify for a debt consolidation loan or balance transfer credit card, that might be a better option for you. But if you're under crippling debt and trying to improve a low credit score, be sure to compare all of your debt relief options before choosing the company that's right for you.
Frequently asked questions