Small business loan interest rates are low — but will it last?
We dig into rates we've seen so far this year and hear from Lendio CEO Brock Blake on what trends to expect for the rest of 2021.
Small business loan interest rates are lower than ever — and experts predict that they'll drop even more as the economy recovers from the COVID-19 pandemic. But the type of loan you apply for and your business's financial health are key factors in determining the actual rate you receive.
Small business loan interest rates in 2021
Business loan interest rates often start around 6% APR and can reach 60% or even 100% in some cases. But you can expect different rates depending on the type of financing you apply for. 
Here are the typical starting rates available for some of the most common types of business loans, according to online business loan marketplace Lendio.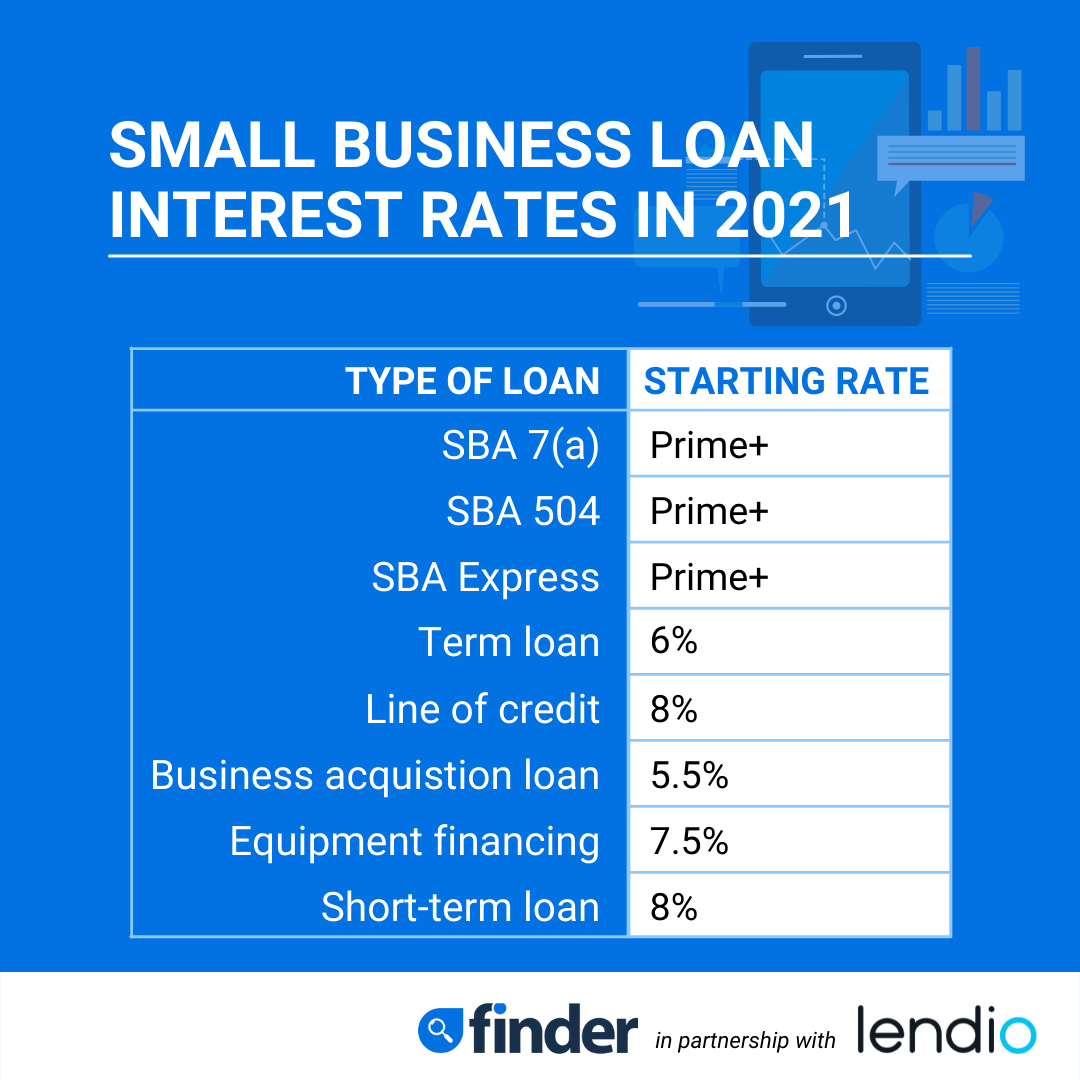 Most lenders advertise starting annual percentage rates, or APRs, rather than interest rates. The APR includes both the interest and fees you'll pay in a year. It's a more accurate representation of the annual cost than the interest rate by itself.
How SBA loan rates work
The Small Business Administration (SBA) sets maximum interest rates for these government-guaranteed loans. These are usually based on the Wall Street Journal Prime Rate and are subject to change based on the state of the lending market. That's why many lenders display SBA loan rates as "Prime +."
SBA loan rates are still often the most affordable option for businesses that can qualify. While banks generally offer the lowest available rates on small business loans, you're required to show you're unable to get a bank loan to qualify for SBA financing.
What's influenced business loan rates so far this year?
It's hard to understate the impact COVID-19 has had on business loan interest rates. Rates have stayed at record lows across the board since the Federal Reserve lowered them in March 2020. 
But government shutdowns and difficult-to-predict consumer trends made it risky to lend to small businesses during the height of the pandemic. With most businesses turning to government assistance like the Paycheck Protection Program (PPP), lenders didn't have a high volume of applicants.
As a result, many lenders approved a lower rate of business loan applications. Many also paused their business lending programs altogether to focus on the PPP. Some companies that were offering loans during the first half of 2021 significantly increased their interest rates. For example, the starting rate on an OnDeck line of credit was 13.99% APR before COVID-19. In 2021, it increased to 35.9% APR.
Business loan interest rate trends for the rest of the year
Interest rates are generally expected to stay low for the rest of 2021. The Federal Reserve doesn't have plans to raise interest rates this year. And a few other factors could also help keep business loan rates low, even as lenders approve more loans. 
A stimulus bill passed in December allows the SBA to guarantee as much as 90% of a loan's value — up from around 75%. A higher SBA guarantee rate makes it less risky for lenders to offer loans to small businesses. 
"This will encourage many lenders to place increased emphasis on small business lending," Lendio CEO Brock Blake tells Finder. "Because of the increased supply of lenders, we anticipate competition to increase and rates to decrease."
Healthy consumer savings habits during COVID-19 may also contribute to low rates for the rest of 2021. 
"Because bank deposits are at a record high, many lending institutions are looking to leverage the deposits to generate interest income through loans," Blake says. "When more lender supply is in the market, competition for loans increases, and rates usually decrease."
But these low rates might not be around for long after this year. The St. Louis Federal Reserve President James Bullard said he expects interest rates to increase sometime in 2022 to combat inflation. Higher fed rates increases the overhead cost to lenders, which in turn increases interest rates on products like business loans.
How to calculate your business loan payments
How you calculate your business loan payments depends on the type of loan you take out. But generally, your payments depend on the loan amount, loan term and rates. 
How often you make payments and the types of fees a lender charges also affect your payment amount. While SBA loans and term loans usually come with monthly payments, other types of financing can come with weekly or even daily payments. 
Lendio offers business loan calculators that can do the work for you. Unlike most loan calculators, it automatically includes typical rates and fees for the products it offers — meaning you don't have to prequalify to get a ballpark prediction of the monthly cost. 
But keep in mind that these are only estimates. The only way to know your monthly payment for sure is to apply for a loan. Your lender won't be able to give you a final answer on the loan amount, term, or rate you qualify for until it reviews your full application.
Lendio business term loan payment calculator
Enter your loan amount, term and annual rate to get an estimate of your monthly payments.
5 factors that affect business loan interest rates
While the economy can affect business loan interest rates overall, the rate you receive ultimately depends on the financial health of your business and its owners. These factors often play into the rate your business receives.
Annual revenue helps lenders determine if your business can afford to repay the loan amount you're requesting.
Time in business tells a lender how likely your business is to stay open while you're repaying the loan — about half of all small businesses fail during the first five years, according to the Bureau of Labor Statistics.
Personal credit scores for all business owners tell lenders how you've previously handled debt. Business credit scores may also factor into your rate but are less common.
Industry helps lenders compare your business with other similar companies and can help predict trends that will affect your ability to repay. That's why high-risk industries like food services often have trouble qualifying for a loan.
Cash flow tells lenders how much money your company typically has left after expenses, providing a more exact idea of how much room you have for repayments.
Lenders also consider a wide range of other factors when underwriting a loan, often based on the information you can find on your financial statements, tax returns and profit and loss reports. 
Bottom line
This year started off with record-low interest rates for business loans — though getting approved was more difficult than usual during the first half of the year. Rates are expected to continue to stay low for the rest of 2021, even as approvals increase. 
But each provider has a different formula for calculating interest rates. Prequalifying with multiple lenders through a marketplace like Lendio can help you quickly find the lowest rates available to you.
The views and opinions expressed in this article represent Finder, and do not represent the opinions of Lendio. This article is solely for informational purposes, and does not constitute legal, tax, financial or business advice.