Finder is committed to editorial independence. While we receive compensation when you click links to partners, they do not influence our opinions or reviews. Learn how we make money.
bridge21 review
Send money from the US to bank accounts in Mexico by using this dedicated sending corridor to our southern neighbors.
There's no shortage of money transfer providers specializing in sending money to our southern neighbor. Here, we focus on the US-based bitcoin startup Bridge21 that promises cheap, speedy transfers between US and Mexican bank accounts.
$25,000
Max. Transfer Amount
3 - 5 days
Transfer Speed
Details
Product Name
bridge21 money transfer
Min. Transfer Amount
$5
Max. Transfer Amount
$25,000
Transfer Methods
Online, Bank Account to Bank Account
Transfer Options
Regular payments, One off payments
Transfer Speed

Minimum transfer time

3 - 5 days
Customer Service
Chat, Email
Available Currencies
MXN, USD
| | |
| --- | --- |
| Online Transfer Fee | 1.00% |
| Branch Transfer Fee | 1.00% |
What is bridge21?
Founded in 2014 as Novauri LLC, bridge21 is a money transfer specialist company that uses bitcoin technology to move transfers of $5 to $25,000 daily between bank accounts in the US and Mexico. Quoting what it calls a Bridge Rate, bridge21 looks for the most efficient way to get your money to Mexico per transaction, boasting that it can sometimes beat the mid-market rate this way.
With bridge21, your money is deposited by ACH bank transfer to any account in Mexico. All you need is your recipient's bank account CLABE number — an 18-digit number that identifies any account in Mexico. And depending on how much you do business with bridge21, your loved ones could see that money in an hour or so.
How are bridge21's exchange rates?
bridge21 doesn't deal with "exchange rates." Rather, it quotes you what it calls a Bridge Rate — or your exchange rate based on a proprietary algorithm designed to find you the best rate for your transfer at that moment.
You enter the amount you're looking to send to Mexico, and if bridge21 arrives at a Bridge Rate that's better than the prevailing mid-market rate, it shares the savings with you. An online calculator helps you narrow down what that Bridge Rate might be, though your actual rate isn't quoted until you initiate a transfer.
How much will I pay to send money with bridge21?
bridge21's fee is a flat 1% of your total money transfer. So if you're sending $100 to Mexico, you'll pay a $1 fee; send $5,000, and you'll pay a $50 fee. Note that bridge21 considers its 1% flat fee an "introductory rate," so be sure it hasn't increased its fee by the time you want to use its services.
How does bridge21 compare to other services?
Disclaimer: Exchange rates change often. Confirm the total cost with the provider before transferring money.
How much can I send — and to where?
bridge21 accepts transfers as low as $5, including its fee. As of now, you're able to send money to Mexico only. But the company plans to add the UK, India and China to its list of supported countries shortly.
What types of transfers does bridge21 support?
bridge21 processes one-off bank-to-bank transfers only — no scheduled transfers, no hedging tools — through the ACH network. bridge21 teases that you may be able to send money for cash pickups at some point in the future, just not at this moment.
How do I send money through bridge21?
To send money to Mexico with bridge21, simply sign up for an account online. You'll need a US bank account and a picture of government-issued ID for verification.
1. Go to bridge21's site and click Login or Sign Up.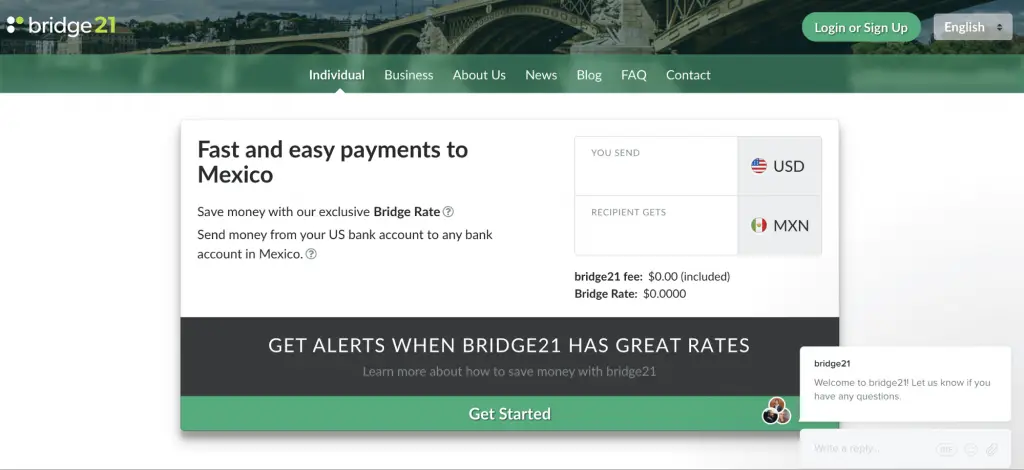 2. Enter your email address and a password, and continue through the steps of completing your registration. You'll also need to upload a copy of your valid government-issued ID and your bank account details.
3. Once approved, enter your recipient's name and CLABE account number to complete your transfer.
How do I track my bridge21 transfer?
Track the progress of your transfer by logging in to bridge21's online platform or through its site's live chat feature.
What to look out for
If you're looking to send money to a country other than Mexico, bridge21 isn't yet for you (though it plans to expand services to other countries shortly). Also, payments are processed through ACH bank transfers and limited to $25,000 daily, which won't suit everybody's needs.
Benefits
Low minimums. bridge21 can help with any transfer that's at least $5, including fees.
Low 1% commission. Because you pay a flat 1% of your transfer amount, fees are minimal for smaller transfers.
Competitive rates. Using bitcoin technology, bridge21 claims that its rates are sometimes "stronger than mid-market rates."
Live chat. Get support by email or live chat through the site.
Drawbacks
Limited services. As of now, bridge21 transfers your money by bank transfer to Mexico only.
$25,000 daily cap. If you're looking to transfer more than $25,000, you'll need to look elsewhere.
No app. An app's on the horizon. But until it's available, transfers are through bridge21's site only.
How safe is bridge21?
Headquartered in Denver, bridge21 has been in operation since 2014. It employs SSL encryption to safeguard your personal and financial detail. It also requires ID verification and other checks to make sure your transfer is secure and abides by all appropriate laws.
bridge21 reviews and complaints
A lot of online reviewers say bridge21 does what it sets out to do: send cheap, quick transfers to Mexico. It also scores well on customer service and an intuitive design that smooths the transfer process.
Bottom line
If you're looking to send money to Mexico, bridge21 is worth considering. It's an interesting money transfer specialist that skirts banks altogether, using bitcoin to simultaneously buy and sell currency, resulting in quick, low-cost bank-to-bank transfers at minimal fees.
But until it expands services beyond Mexico, you'll need to compare your other international money transfer options for sending money elsewhere.
Frequently asked questions