Best banks in Texas in 2023
Explore the top eight banks deep in the heart of Texas.
The best banks in Texas offer quick access to your money, customer support, low fees. To find the best banks and credit unions in Texas, we reviewed over 130 banks, then, weeded through factors like account types, overall fees, accessibility, customer service and special features to bring you the top eight best financial institutions in Texas.
8 best banks in Texas
Take a closer look at each of the seven best banks in Texas by comparing the details of each.
Ally Bank: Best for savings
Ally is the best bank in Texas for savings thanks to its competitive interest rates, low fees and automatic savings tools designed to help you grow your nest egg.
Pros
No hidden fees. Ally doesn't charge monthly fees for any of its accounts. You also get free access to over 38,000 ATMs in the AllPoint network.
Four savings tools. Ally has tools to help you divide your money into different buckets, round-up debit card purchases, automate deposits and sweep unused funds from your checking account.
Competitive APYs. Earn up to 0.15% on its checking account, 0.5% on its savings account and up to 0.8% on CDs.
Cons
No cash deposits. Ally doesn't accept cash deposits, which is typical of online banks. You'll need to mail in a money order instead.
30 days to fund account. You can open an account with as little as $0, but Ally will close it if it's not funded within 30 days.
No debit or ATM card. Ally's savings account doesn't come with an ATM card, which means you won't be able to withdraw cash without first transferring it somewhere else.
Axos Bank Bank: Best for checking
Axos Bank isn't based in Texas, but its large national presence makes it a great choice for those looking for the best checking account. It offers five personal checking options and three business checking options, along with a wide range of savings accounts and CDs. Most have low fees and competitive interest rates.
Pros
Few to no fees. Due to its low overhead, Axos Bank is able to offer fewer fees and higher interest rates than you'd find at most traditional banks.
Low opening deposits. Open an Axos personal account with as little as $0 and a business account with as little as $100.
ATM reimbursements. Axos doesn't have an ATM network, but it offers unlimited refunds for any fees you incur while withdrawing cash.
Cons
No cash deposits. You can't deposit cash into your Axos Bank account, but this is a common drawback with most online banks.
Withdraw limits. If your teen has an Axos Bank First Checking account, they won't be able to withdraw more than $100 a day from ATMs.
Foreign currency conversion rate. If you travel abroad, be mindful of currency conversion fees that may eat into your spending money.
Alliant Credit Union: Best credit union
Unlike most credit unions that only serve a specific industry or region, Alliant Credit Union is available to any US citizen or resident nationwide. Its accounts boast attractive APYs, low fees and a smooth user experience when banking online.
Pros
Competitive interest rates. All of Alliant's checking accounts, savings accounts and CDs earn APYs that rival some of the best rates in the nation.
Free ATM access. Alliant members get access to a network of over 80,000 free ATMs, plus $20 in monthly refunds for non-network machines.
Transparency. Alliant Credit Union clearly lists all fees for you to review when opening an account, so you know how to avoid unexpected charges.
Cons
Withdrawal limits. You can't withdraw more than $500 from an ATM a day, which is typical for most banks. If you have a history of overdrafts or closed accounts, you may be limited to $200 a day.
Few branches. Alliant Credit Union doesn't have any branch locations in Texas, so you'll need to be comfortable getting help over the phone and online if you open an account.
Marcus by Goldman Sachs: Best for CD rates
Lock in some of the best CD rates in Texas with a Marcus by Goldman Sachs CD. You'll get a competitive APY, plenty of term options to choose from and a low opening deposit of just $500 — compared to other banks that charge $1,000 or more.
Pros
High rates. Marcus CD terms range from six months to six years with APYs topping out at 0.6%.
10-day CD rate guarantee. If CD rates increase within 10 days of funding your account, Marcus will automatically bump you up to the higher APY.
No-penalty CD option. Enjoy a competitive 0.45% APY and no penalties on withdrawals after seven days of opening. Plus, keep all the interest you earn.
Cons
No branches. Marcus doesn't have any branch locations, but you can open any account online within minutes.
No partial withdrawals. Unlike some banks, Marcus doesn't allow partial withdrawals on CDs. If you need your money early, you'll have to close out your entire account.
Chase Bank: Best for branch access
Chase Bank has a strong presence throughout Texas, especially if you live in a major city like Austin, Dallas or Fort Worth. It's also the second-largest bank in Texas and offers a suite of financial products from personal banking to lines of credit. And since Chase is a national bank, you'll be able to access your cash even if you move states.
Pros
Strong Texas presence. Chase has close to 600 branch locations in Texas with attached ATMs and 97 standalone ATMs peppered throughout the Lone Star State. That means, unlike online-only banks, you can conveniently stop into a Chase branch to get face-to-face support.
Overdraft services. Overdraft Protection lets you link a Chase savings account to sweep money to your checking account if a transaction drops your balance into the red to avoid an overdraft fee. And if you don't sign up for Overdraft Protection, Overdraft Assist won't charge you an overdraft fee if your account is overdrawn by $50 or less. Chase First Checking, Chase High School Checking or Chase Secure Checking accounts are not eligible for overdraft services.
Sign up bonuses. Chase frequently offers attractive signup bonuses for new customers.
Cons
Monthly fees. Every Chase checking account has a monthly maintenance fee that's waivable if you meet specific requirements.
ATM fees. Like most banks, Chase charges an out-of-network ATM fee. You'll pay $2.50 if you use a non-network ATM. And if you withdraw cash internationally, expect to pay a $5 out-of-network ATM fee on top of a 3% charge of the transaction amount.
USAA Federal Savings Bank: Best for military members
There's no denying that Texas has a large military presence. If you're a service member who's in the market for a new bank, USAA Bank may have exactly what you need. It primarily serves active duty National Guard and Reserve members, veterans, cadets, midshipmen and their immediate family members.
Pros
Account perks. There's a checking account that earns cashback rewards, another that comes with ATM rebates and another only for recruits.
Savings tools. Its savings accounts have no monthly fees and as an account holder, you get access to savings tools that help you set and manage goals.
ATM rebates. USAA has over 60,000 in-network ATMs nationwide. And if you use a non-network ATM, you'll get reimbursed for up to $15 in fees a month.
Cons
Eligibility. Although rates are on par with the national average, they're lower than other online banks.
Limited in-person options. USAA Bank only has five branch locations, which can be restrictive if you need to bank face-to-face.
No business banking products. Business owners won't find any checking or savings options at USAA Bank.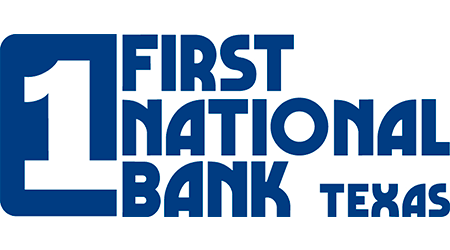 First National Bank of Texas: Best for small businesses
First National Bank of Texas offers a wide variety of checking and savings accounts for personal and business use. But what sets this bank apart from the rest is its small business perks.
Pros
Small business perks. Get access to a suite of financial tools to help you build and maintain your credit, develop a business plan and create financial statements.
Plenty of options. Businesses have five checking accounts and one money market account to choose from — each designed to meet the needs of various stages of growth.
Customer service. In addition to in-person support at a local branch, you have the option of calling for assistance or live chatting with a representative on the website.
Cons
Can't open online. You'll need to visit a local First National Bank of Texas branch to open a business checking or savings account.
Few branch locations. This bank has over 300 branches and 400 ATMs in Texas, New Mexico and Arizona, which isn't a lot considering the size of Texas.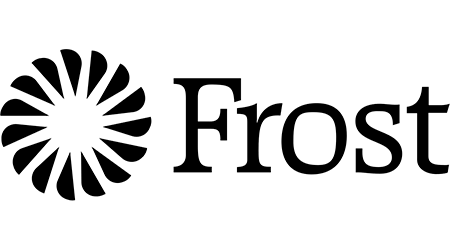 Frost Bank: Best for customer service
Frost Bank is a local institution headquartered in San Antonio. It prides itself on superior customer service and has earned awards to back it up. It's best for Texas locals who want a community-based bank to store their cash and real people in customer service.
Pros
Superior customer service. Frost Bank has earned rewards for its top-notch customer service. Several Reddit users love Frost because a human always answers the phone, and tellers know them by name.
Large Texas presence. Frost Bank is a regional bank with a strong Texas presence. It boasts over 130 branch locations and 1,200 ATMs throughout the state.
Cons
Average APYs. While Frost's APYs are lower than what you'll find at online banks, they're slightly higher than those offered by Bank of America, Chase and Wells Fargo.
Monthly fees. Most of Frost Bank's fees can be waived when you meet certain direct deposit or minimum balance requirements, but you'll still want to watch out for them.
Compare checking accounts in Texas
Use this table to compare popular checking accounts available to Texans. You can sort the table by APY, minimum deposit to open and other features depending on what you're looking for.
Bottom line
There's no shortage of banking options in Texas. The best institutions offer branches and highly rated service in Texas while giving you top features like a low minimum deposit, high interest rates and few fees. You can also expand your horizons by checking out the best online banks, helping you open the right account for you no matter where you live.
Frequently asked questions