Finder is committed to editorial independence. While we receive compensation when you click links to partners, they do not influence our opinions or reviews. Learn how we make money.
Become business loan marketplace review
See if you qualify with this connection service's partner lenders — with options for startups and bad credit.
Best for businesses that have struggled to qualify for a loan.
Pick something else if you need more than $500,000.
Details
| | |
| --- | --- |
| Product Name | Become business loans |
| Min. Amount | $5,000 |
| Max. Amount | $500,000 |
| Loan Term | 6 to 120 months |
| Min. Credit Score | 350 |
| APR | Starting from 7.5% |
| Requirements | At least 3 months in business with $10,000 in monthly revenue or at least 6 months in business with $3,000 in monthly revenue. |
Expert review
Review by
anna.serio@finder.com
---
Anna Serio is a trusted lending expert and certified Commercial Loan Officer who's published more than 950 articles on Finder to help Americans strengthen their financial literacy. A former editor of a newspaper in Beirut, Anna writes about personal, student, business and car loans. Today, digital publications like Business Insider, CNBC and the Simple Dollar feature her professional commentary, and she earned an Expert Contributor in Finance badge from review site Best Company in 2020.
Expert review
Become is a connection service that partners with over 25 lenders offering unsecured business loans and more. It's a fast way to compare offers from multiple providers — and you could be funded in as little as a few hours.
But it's not a direct lender, and it's difficult to know how your information will be used and shared before you apply. In many cases, this can mean you'll get lots of unsolicited calls and emails. If you'd prefer to avoid this, consider applying with a direct lender instead.
How much will this loan cost me?
Become's partners offer unsecured business loans starting at 7.5% APR. This might include an origination fee, depending on the lender.
You can borrow between and with terms from 6 to 120 months. Use the calculator below to see how much a loan might cost you at different rates, terms and amounts.
Business loan calculator
See how much you'll pay
Your loan
Loan amount
Loan terms (in years)
Interest rate
Based on your loan terms...
You can expect to pay back $ per month
This breaks down to...
$ in
principal
and
$ in
interest
charged
Compare business loans now
How it works
Your rates, terms and loan amounts vary depending on the lender. For example, that 7.5% rate might not be available on a loan. Generally, the most competitive deals go to businesses that have been around for at least three years with owners that have a credit score over 760.
If you apply for another type of financing product that Become's partners offer, you might see different rates, terms and loan amounts. Some, like merchant cash advances, might come with a fee instead of interest.
What do I need to qualify?
Your business must meet one of the following criteria:
Three months old with $10,000 in monthly revenue
Six months old with $3,000 in monthly revenue
You may need to meet additional requirements, depending on the lender you work with. Become works with credit scores as low as 350.
What information do I need to sign up?
In order to sign up for Become and get matched, you'll need to provide some basic information including:
The amount you want to borrow
Monthly revenue
Credit score range
Name and contact information
Business and trade names
What industries does Become work with?
Become can help all legitimate for-profit businesses find funding. This includes high-risk industries that might have trouble qualifying for loans elsewhere.
What other types of financing can I find through Become?
In addition to unsecured business loans, Become's partners also offer the following types of financing:
Commercial vehicle loans. Funding to buy a vehicle for your business with terms up to 10 years.
Asset-based loans. A loan backed with business assets to help you qualify for more competitive rates and terms.
SBA loans. Government-backed loans with low rates for established businesses with good credit.
Lines of credit. Secured and unsecured credit lines with rates starting at 4.66% APR.
Equipment loans. Financing backed by your equipment with terms up to 10 years.
Merchant cash advances. An advance on your business's future sales that you repay plus a flat fee with a percentage of daily sales. Terms start at four months.
Pros and cons
Using Become can be helpful if you've struggled to qualify for funding in the past. But weigh the benefits against the drawbacks first.
Pros
Startups can qualify
Options for all credit types
Low starting APR of 7.5%
Funding in as little as three hours
Cons
Not a diret lender
Not transparent about maximum rates and terms
Offers typcially expensive products like factoring
Compare more business loan providers
Is Become legit?
Yes, Become is a legitimate connection service — but it doesn't offer loans itself. It uses SSL encryption to protect the information you submit online through its website. And you can find out how it uses your personal information by reading its privacy policy.
But you won't know where it's sending your information — or what those companies are doing to protect it — until after you get connected.
Become reviews and complaints
| | |
| --- | --- |
| BBB accredited | No |
| BBB rating | A+ |
| Trustpilot Score | 4.8 out of 5 stars, based on 545 customer reviews |
| Customer reviews verified as of | 13 October 2020 |
Become earns high ratings on its Trustpilot page, but the most recent praise is from 2018. So while it's a good sign that Become responded to each comment individually, its lack of reviews on its BBB page and recent reviews on its Trustpilot page make it difficult to determine how good its service has been in 2019 and 2020.
How do I get connected?
Follow these steps to get connected with one of Become's partner lenders.
Click the Check eligibility button on this page to be redirected to Become's website.
Slide the bar to select a loan amount and click Get loan offers.
Follow the steps to answer basic questions about yourself and your business.
Fill out the loan form with your contact information and click Get offers now.
What happens after I fill out the form?
After you submit the form, Become provides potential offers from lenders in its network — including rates and terms. Choose an offer you're interested in to get contacted by the lender and complete the full application. If approved, review the terms of the contract and sign the loan documents if you wish to accept the offer.
What happens if I'm not connected?
If Become wasn't able to connect you with a lender, you'll be redirected to Become's LendingScore dashboard. Here, you can get insight into the lending criteria and step-by-step instructions to improve specific areas of your application to help you qualify for funding in the future. Once you do become eligible and there's a match with a lender, Become will get in touch with you.
Ask an expert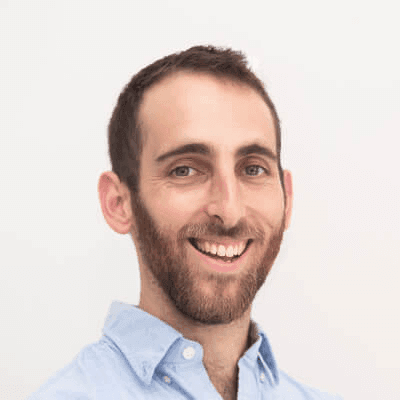 Eden Amirav
CEO and co-founder of Become
What advice would you give a business owner to strengthen their loan application?
The more data the lender has, the better your odds of getting approved for a loan and the better your loan terms will be. Provide as much accurate information as possible.
Many online lenders even offer the option to connect your bank account or accounting software to your loan application, which gives lenders the most accurate, up-to-date indicators of your business's health, resulting in the best loan offers for your business.
How do repayments work?
What happens next depends on your lender and type of financing. Most term loans come with monthly repayments, though lenders may require younger businesses or those with poor credit to make weekly or even daily repayments.
For less worry about on-time payments, ask your lender if you can sign up for automatic repayments. Monitor your business's bank account and keep an eye on the loan balance for any irregularities. If you notice something wrong or have questions, contact your lender as soon as possible.
Which lenders does Become partner with?
Become works with a network of providers that include the following lenders:
Kabbage
OnDeck
SmartBiz
Fundbox
BlueVine
LoanBuilder
Bitty Advance
Idea Financial
Everlasting Capital
Read our guide to business loans to find out how Become compares to other providers.
Frequently asked questions