Finder is committed to editorial independence. While we receive compensation when you click links to partners, they do not influence our opinions or reviews. Learn how we make money.
Xoom Discount Codes and Coupons
Xoom can send money to over 40 different countries, use a discount code to make it cheaper.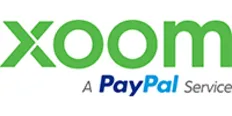 Xoom are an international money transfer service from PayPal. Make transfers in United States Dollars to over 40 different countries for a flat fee. Send as little as $10 and as much as $2,999 for a fee of just $4.99. Debt and credit card transactions cost more. You can save on transfer fees by using a Xoom promo code.
Oops! There aren't any available Xoom offers right now.
Have a look through our WorldRemit coupons and deals here.
See how other services compare to Xoom
What services does Xoom offer?
International bank deposits. Send foreign currency to over 40 different countries. The funds are deposited in the recipient's bank account. You can pay for the transfer using your credit or debit card or by sending the money from a bank account.
Cash pickups. Cash can be collected in person from locations in specific countries such as banks in the Philippines.
Door to door delivery. Cash can be delivered to the recipient's home in selected countries.
Mobile reload. Send money to a mobile phone to be used as credit. Available in selected countries only.
Get a step-by-step walkthrough of doing a money transfer through Xoom
What currencies can I trade with Xoom + rates (USD)?
Xoom let you transfer money to 41 different countries. International money transfers must be initiated in United States Dollars. Rates are correct 9.00PM – 27/12/15.
| | | |
| --- | --- | --- |
| 1 USD = 1.3439 AUD | 1 USD = 683.1970 CLP | 1 USD = 65.4800 INR |
| 1 USD = 0.8904 EUR | 1 USD = 6.3753 CNY | 1 USD = 141.2100 LKR |
| 1 USD = 77.9200 BDT | 1 USD = 3,061.7289 COP | 1 USD = 16.7920 MXN |
| 1 USD = 6.7550 BOB | 1 USD = 0.6557 GBP | 1 USD = 103.0600 PKR |
| 1 USD = 3.8675 BRL | 1 USD = 22,235.0000 VND | 1 USD = 45.9350 PHP |
| 1 USD = 1.3491 CAD | 1 USD = 7.6639 HKD | 1 USD = 1.3862 SGD |
Looking for an alternative? Check out these services similar to Xoom.
Xoom Review | Pros and Cons
Pros
User interface. The Xoom website has a great user interface and is easy to use.
Mobile application. Send money easily from your tablet device using the Xoom money transfer application.
Money back guarantee. Xoom offer a 100% money back guarantee if your money doesn't arrive at the destination.
Cons
U.S Dollars only. Xoom lets you convert U.S Dollars to foreign currencies. You will need to convert Australian Dollars to U.S Dollars to make a transfer using Xoom. You'll pay more for currency conversion.
Limited services. Xoom money transfer services are limited for Australian customers. For example, only American customers can use Xoom to pay bills.
How can I get Xoom free transfers?
Xoom charge an international money transfer fee, which varies depending on how you pay. You can send up to US$2,999 for a fee of US$4.99. The transfer fee can be slightly higher if you pay for the transfer using a credit or debit card. You can make transfer cheaper by using a Xoom promo code.
How do Xoom transfers work?
Create a Xoom account.
Select your transfer options (the destination, the transaction amount, payment method and choose to pay an existing or new recipient.).
Enter the recipient's financial details.
Enter your payment details (credit card, debit card or bank account transfer).
Accept the transaction. You'll be given information about how long the transfer will take. Transfers to some countries can be made available in minutes.
What forms of payment does Xoom accept?
Send money to over 40 different countries. You can pay for your international money transfer the following ways.
Debit card. Pay using your debit card.
Credit card. Pay using your credit card.
Bank account. Transfer money from your bank account.
What is the Xoom refunds policy?
Xoom give you a money back guarantee if you international money transfer doesn't reach the destination. If you cancel your international money transfer you can get a refund depending on whether the transfer has been processed by Xoom and applicable banks. Typical refund time is approximately 3 days.