8 ways to get free crypto
Here are 8 legitimate ways you can get free or bonus cryptocurrency and grow your digital wallet.
Top free and bonus crypto offers for July 2022
Promoted for
First trade bonus
Promoted for
Deposit bonus
Promoted for
First trade bonus

Crypto is unregulated in the UK; there's no consumer protection; value can rise or fall; tax on profits may apply. Consider your circumstances and whether you might need financial advice before investing. Capital at risk.
How can I get free cryptocurrency?
Can I get free crypto? Yes. In fact, it's probably easier than you expect. Some methods of getting free crypto require little to no effort on your part while others require a little investment of your time. Most of these methods are pretty simple and all of them are legitimate (we've checked them out for you!). So, without any further ado, here are 8 ways to get free crypto:
1. Get free cryptocurrency by using a crypto debit card
Crypto debit cards are a new entrant in the world of cryptocurrency financial services. These cards work similarly to traditional rewards cards, except instead of earning redeemable points you are rewarded in crypto. In the UK, quite a number of products are available that offer crypto cashback on purchases made with the card. Some options include BlockFi's debit card (1.5% cashback in Bitcoin) and Celsius' debit card.
One of the most popular crypto debit cards is Crypto.com's Visa card, which is available to UK residents. It's a prepaid card that can be topped up with fiat (GBP) as well as some cryptocurrencies. The rewards for using Crypto.com's card operate on a tiered system, depending on how many CRO (Crypto.com's native cryptocurrency token) you have staked in your crypto wallet. For example, you must be staking £300,000 equivalent in CRO to access the Obsidian card, which has a cashback rate of 8%. Those unwilling to pre-purchase and stake CRO can access a 1% cashback rate with the Midnight Blue card.
The cashback rewards you get from using the Visa card are paid out in CRO and deposited into your Crypto.com exchange wallet. CRO can then be converted to Bitcoin, among many other cryptocurrencies. Alternatively, you can stake your CRO on the Crypto.com platform to reach a higher tier of card rewards. For example, if you amass £300 worth of CRO in cashback with a 1% rate, you could then stake this to upgrade to a 2% cashback rate on all debit card purchases.
Additional, non-crypto rewards include free subscriptions to Spotify, Netflix and Amazon Prime. The card provider is authorised by the Financial Conduct Authority (FCA) as an e-money institution, so there's some protection for your fiat if the company goes bust, but not as much as you'd have with a bank.
In the US, there are crypto credit cards that also allow you to earn rewards through spending, but none of these has launched yet in the UK.

Crypto is unregulated in the UK; there's no consumer protection; value can rise or fall; tax on profits may apply.
2. Catch promotions and bonuses
A number of cryptocurrency exchanges and similar platforms provide promotions and bonuses, either through a referral program, or a sign-up incentive. The majority of these promotions aren't substantial and you won't earn a huge amount of crypto by using them. That said, it is important to stick to reputable platforms instead of chasing high yields from new or untrustworthy products.
The most common rewards system is through referrals, where you earn a portion of cryptocurrency every time someone you refer to the platform signs up and makes a deposit/trade. Coinbase is one of the most reputable crypto exchanges out there and provides this service. Every time someone you sign up to the platform buys/sells $100USD (or equivalent) in crypto, you will receive $10USD in Bitcoin.
Paxful has a unique opportunity to get free crypto through its Bitcoin Affiliate Program. Instead of a flat, one-time reward, you make 50% on fees paid by those you've referred. This only works for Bitcoin trades, and the bonus is paid out in BTC.
You can sign up for frequent newsletters, podcasts or social media pages to get updates on the latest offers and promotions. That said, most of these rewards require you to deposit money or make a trade, so it may not always be efficient to chase these types of deals.
Crypto is unregulated in the UK; there's no consumer protection; value can rise or fall; tax on profits may apply. Consider your circumstances and whether you might need financial advice before investing. Capital at risk.
Deposit £100, get £10 to trade
Available to new UK users after first deposit of £100 or more. Must be used to trade crypto. T&Cs apply.
Refer a friend and get $50 to trade
Your referral must be a new UK user and trade $100 in their first 90 days. As the referring friend you'll need to have traded $100 with eToro. T&Cs apply.
Crypto is unregulated in the UK; there's no consumer protection; value can rise or fall; tax on profits may apply.
£15 trading credit for you and a friend
Your referral must be a new UK user and deposit £100. Receive 20% of their trade fees for life. T&Cs apply.
3. Earn a return on crypto you already own
This method of earning free crypto requires you to already own some cryptocurrencies, either in a wallet or on an exchange. There are quite a few ways you can earn passive income on your crypto portfolio, although they are all functionally similar.
Earning returns on your crypto is a little like storing your money in a high-interest savings account but with more risk. You essentially lend your assets to institutions and get rewarded with additional crypto. This is usually referred to as "staking", which works by lending your crypto back to its blockchain network to execute transactions. Certain exchanges will do this on your behalf, such as Coinbase and Crypto.com.
Other options include lending services like BlockFi and Celsius.
The amount you can earn on your stored crypto can vary greatly, depending on demand and risk. For example, Coinbase offers rates up to 5% per year, while certain coins on Celsius can passively earn over 14% per year. These rates are higher than what most bank accounts have available, but most methods of earning a return on your crypto are much riskier. Unlike an account with a bank, crypto earn accounts are not covered by the UK Financial Services Compensation Scheme, so if the platform gets hacked you could lose your entire investment.
HMRC has also tightened guidelines for taxing crypto earned through staking or lending, which may lessen the potential profits from these earning methods.
4. Learn about crypto on a platform
Learn crypto, earn crypto. A great way to earn free crypto is to participate in learning about crypto projects through a platform's educational hub. Some cryptocurrency platforms reward users for simply watching videos, reading articles and taking the odd quiz or two. As you progress through the platform's courses, you are rewarded with free crypto. Here are some examples of where you can earn to learn:
Coinbase Earn
Coinbase, one of the largest crypto exchanges in the world, offers Coinbase Earn which lets you earn tokens for watching educational videos on how specific cryptocurrencies work.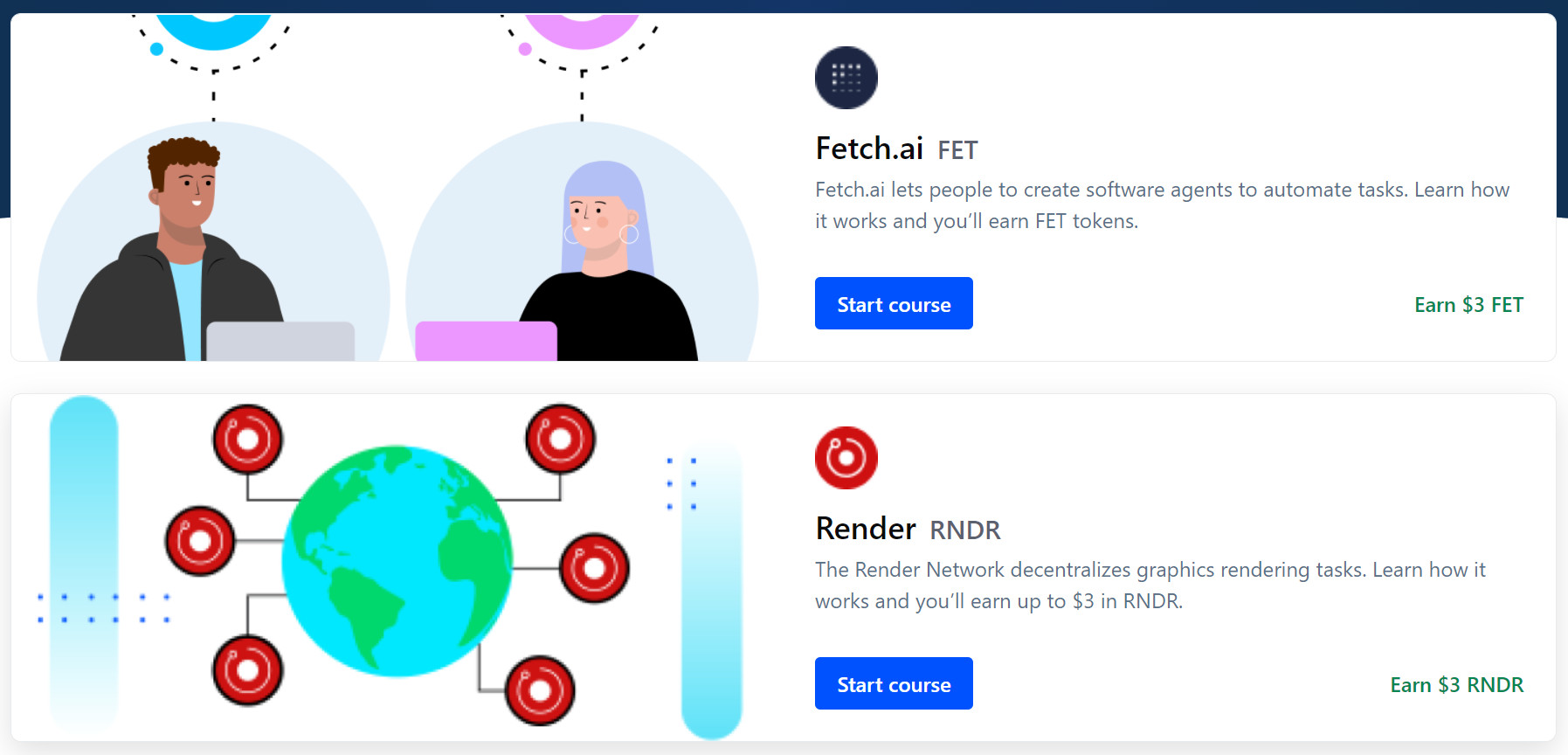 Crypto is unregulated in the UK; there's no consumer protection; value can rise or fall; tax on profits may apply.
CoinMarketCap
Similar to Coinbase Earn, CoinMarketCap offers videos about top and emerging crypto projects. Ace the quizzes after watching these videos and earn tokens for your mastery.

LunarCrush
LunarCrush is a platform that distills down the crazy world of crypto by combining info, news, tweets, etc. into digestible chunks for you to consume. According to LunarCrush, the more you use the platform, the smarter it gets, learning what interests you or not. Your participation on the platform earns you points that you can claim for Lunr – that platform's utility token.

PublishOX
PublishOX is a platform that lets both authors and readers earn free crypto. It's pretty simple. You get rewarded in free crypto for reading an article and then you're asked how much you want to split the reward with the author of the article. The amount you decide is immediately deposited into your account.

5. Play free games
A fun way to earn free crypto is to play games that reward you in crypto. Play one of the following games to earn small amounts of crypto for free:
Coin Hunt World
Coin Hunt World is a mobile game available on both iOS and Android. It's a geo-location game that has taken inspiration from games such as Pokemon Go; players must walk around the real world looking for blue keys. Blue keys are then used to open blue vaults which contain a trivia question. If a player answers the trivia question correctly in the set time, they are rewarded with either Bitcoin or Ethereum. Watch this video to see what this game is all about:
CryptoRoyale
CryptoRoyale is a take on the popular 'Battle Royale' game genre from the 2010s, where a number of characters compete to be the last one standing. The game's native currency is Royale (ROY), an HRC-20 token that runs on Harmy ONE's blockchain.
No sign-up is required to play CryptoRoyale and it can be played within an internet browser. Players are rewarded in ROY tokens for placing highly in a game (which usually lasts 30 seconds). There are a number of different games modes, each with a different payout rate. The more competitive the games, the greater the rewards.
Proficient players can even buy in to compete in tournaments and games in exchange for higher payouts. CryptoRoyale has an emerging ecosystem where users can trade their ROY in the marketplace for access to new in-game items and skins. You can also sell any ROY you've earned for Bitcoin or fiat by connecting a supported wallet (such as Metamask).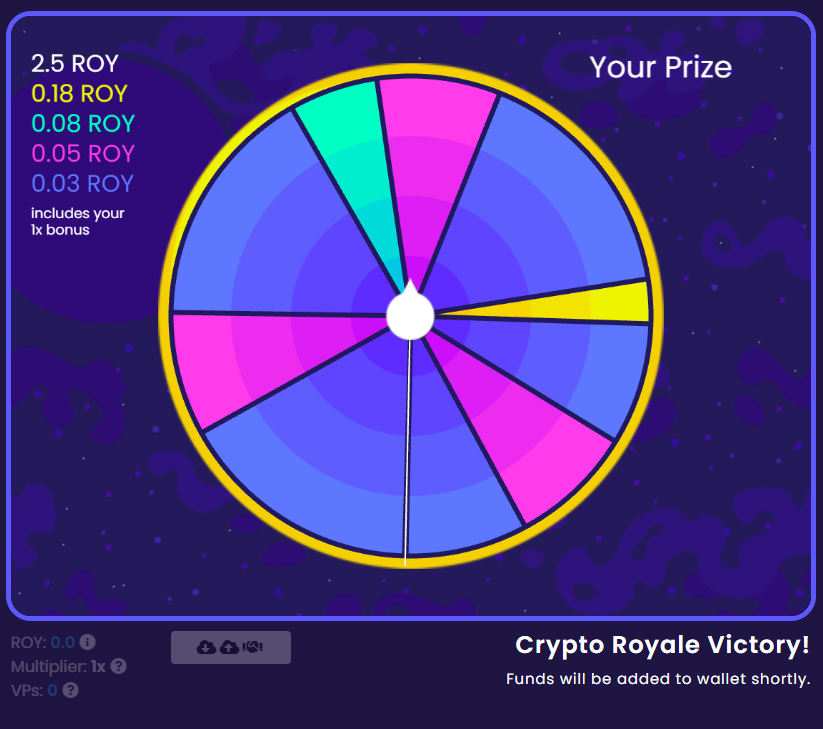 When you win a game, you will be met with a spinning wheel that determines your payout. You can withdraw your winnings once you earn 1 ROY.
CryptoPop
Play CryptoPop and get rewarded in Etherum or Popcoin. Group like coins together to pop them. The more coins you manage to group together, the more points you get. The fewer coins you end up having when you reach the end of each stage, the higher the bonus you get. You'll need to create a Coinbase account in order to earn your bonus. It's available on Google Play or the Amazon Appstore.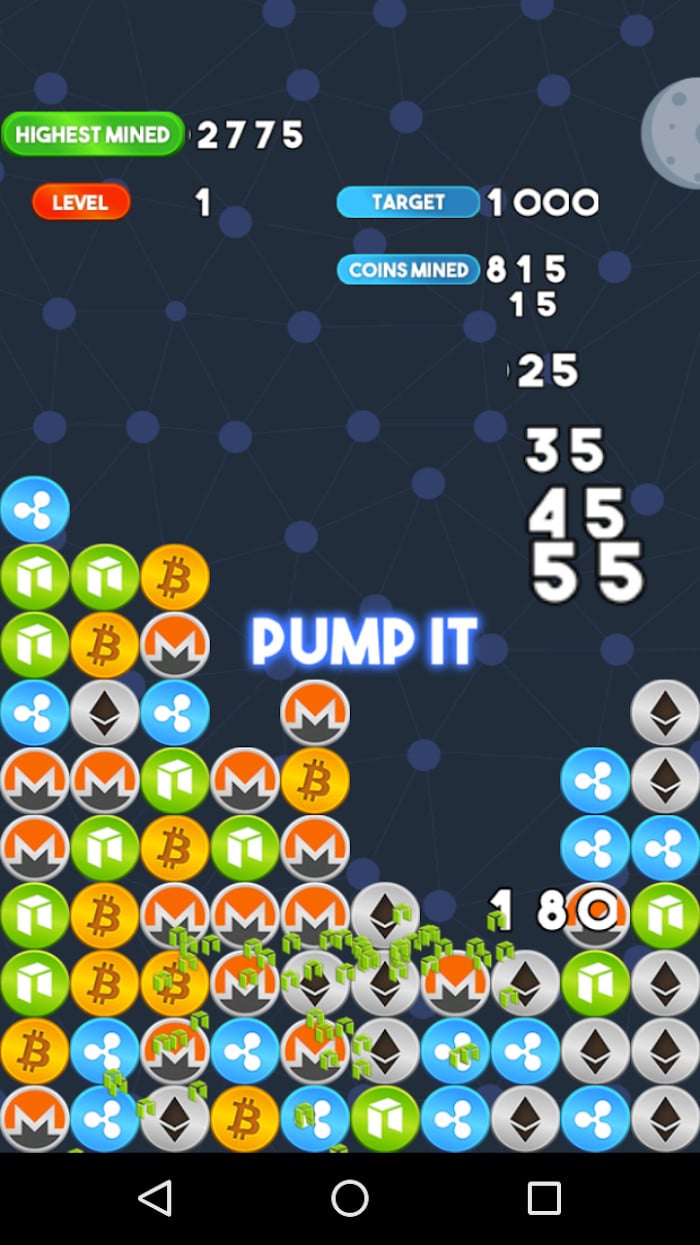 Wheel of Trivia
Trivia buffs can try their hand at Viker Games Ltd's Wheel of Trivia app, available on both the Google Play and Apple Store. Successful players can earn crypto rewards for correctly answering trivia questions.
The game is based around a wheel that each player must spin, which will determine the potential in-game items you can win for that particular round. Once you've collected a certain amount of items, they can then be redeemed for small portions of Bitcoin.
Balls King
Another creation from Viker games, Balls King lets users earn cryptocurrency rewards for free. Balls King is a brick-breaking game designed for the play-to-earn generation. Like most crypto-earning games, it is quite simple in design and gameplay. Players must break bricks in a Tetris-style interface to progress and unlock their rewards.
6. Use a browser extension
You can earn free crypto by simply using a browser or installing an extension.
Brave browser
Brave browser is a free and private browser that rewards you for choosing to view ads. When you download it, you'll Another option to earn cryptocurrency rewards is through a blockchain-based web browser known as Brave. The Brave browser is a free and private browser that rewards you for choosing to view ads.
After downloading and installing the browser, you will be asked if you want to enroll in Brave Rewards. If you say yes, you'll be shown ads and get rewarded with the project's native cryptocurrency – Basic Attention Token, or BAT. BAT can then be used for just about anything within the Brave ecosystem, from frequent flyer miles to purchasing NFTs. BAT can also be collected and converted to Bitcoin through a cryptocurrency exchange.

Presearch search engine
A browser extension that you can use within the Brave browser (to earn even extra rewards) is the Presearch extension. Presearch is a decentralized search engine that rewards you with Presearch tokens (PRE) for using it. Presearch also promises less ads and greater privacy.

Lolli browser extension
Another option to earn free crypto is the Lolli extension, which is similar to the Honey extension. All you have to do is add it to your browser and just shop online. You get free Bitcoin or cash back from your purchases, which are held in your Lolli wallet. Lolli is currently only available in the US, but you can join its international waitlist.

7. Take advantage of airdrops
An airdrop involves a cryptocurrency-focused platform or project distributing cryptocurrency tokens to people for free. This often occurs when a project wants to initially grow its user base or spread the word about a new offering. Those that receive tokens during an airdrop can be selected based on an existing relationship that they have with the project or due to a specific cryptocurrency that they hold with a wallet. For example, in 2017 a share of Stellar Lumen's native cryptocurrency, XLM, were distributed to all BTC holders. Airdrops can, therefore, be quite restrictive but also extremely expansive.
To participate in an airdrop you'll need to have access to a private crypto wallet, otherwise known as a non-custodial crypto wallet. While wallets held on exchanges are custodial (the exchange holds overall control), private cryptocurrency wallets place control back into the hands of the individual. Once you have a cryptocurrency wallet established it's then a matter of keeping up to date with the latest airdrop opportunities and understanding what requirements need to be met. Do you need to hold a certain token or number of tokens to participate?
You can follow some of the latest airdrops at airdrops.io.
Warning: beware of scams
Airdrops are usually completed as part of an initial coin offering (ICO). Unfortunately, with the ease at which cryptocurrency projects and tokens can be created, many ICOs turn out to be scams that leave investors holding worthless cryptocurrency tokens. While it can be exciting to get involved with a new cryptocurrency, if it doesn't garner adoption, an airdrop can leave you with a useless cryptocurrency that has no value.
8. Perform micro tasks
Some of you may have spent time filling out surveys in exchange for tiny portions of cash on sites like Prolific and Swagbucks. The same concept has migrated to the cryptocurrency world, allowing users to earn free crypto by performing micro tasks. These tasks vary in intensity and rewards rate, ranging from surveys, appraising websites, watching ads and playing games. Sites that offer opportunity are referred to as "crypto faucets".
Cointiply is one of the more popular faucets out there, with over $12 million paid out in crypto rewards since the platform launched. Through the platform, users can participate in surveys, play games, sample new products and businesses and, in return, earn points. These points can then be converted into any of the four supported cryptocurrencies – BTC, LTC, DASH or DOGE. The minimum withdrawal limit on the application is equivalent to $3.
LunarCrush presents a different way for users to earn free cryptocurrency. The platform is a community-driven social media website that tracks and posts crypto news, coin analyses and exchange data. It intends to be a one-stop shop for crypto enthusiasts to learn, discuss and share all things crypto. The platform rewards its users for participating, either through posting opinions or just actively spending time on the site. The potential rewards are paid out in LUNR, the platform's native cryptocurrency.
Some crypto exchanges also offer micro-task earning opportunities. The most well-known example of this is the Chinese exchange Gate.io's rewards system. There are a huge range of potential bonuses on offer, and these promotions are frequently updated. Performing tasks such as voting on proposals, completing surveys or downloading new apps can earn you free crypto. Rewards are paid out to your Gate.io account.
Want to learn more?
Check out our cryptocurrency hub to learn more about how cryptocurrency works, the top cryptocurrencies right now, how to use crypto and why it's so important.
Compare exchanges where you can buy and sell cryptocurrencies
If you're interested in buying or selling cryptocurrencies instead, use the table below to quickly compare crypto exchange fees, fiat currencies, deposit methods and more. Once you've found the right fit for you, click Go to site to get started.
Cryptocurrencies aren't regulated in the UK and there's no protection from the Financial Ombudsman or the Financial Services Compensation Scheme. Your capital is at risk. Capital gains tax on profits may apply.
Cryptocurrencies are speculative and investing in them involves significant risks - they're highly volatile, vulnerable to hacking and sensitive to secondary activity. The value of investments can fall as well as rise and you may get back less than you invested. Past performance is no guarantee of future results. This content shouldn't be interpreted as a recommendation to invest. Before you invest, you should get advice and decide whether the potential return outweighs the risks. Finder, or the author, may have holdings in the cryptocurrencies discussed.