The best treadmill for your home gym
Find the best deal when investing in a treadmill for your home gym.
There's never a better time to get back in shape than the present and no home gym is complete without a solid and durable treadmill. These days treadmills come in all sorts of designs and with all sorts of features. Some are manual while others have motors. Some incline, while some have LCD screens and bluetooth speakers.
Find out more about the best treadmills for you and start burning those calories without leaving your home.
Compare treadmills for home gyms
Best on a budget
Treadmills aren't cheap – in fact it would be easy to spend upwards of £5,000 on one – but that doesn't mean to say you can't find value and durability on a budget.
To choose the best budget treadmill, identify which features you're not willing to compromise on. For example, a decent motor and a solid build (the weight of the treadmill and the maximum user weight it can withstand can be indicators of this) might matter more to you than, say, built-in speakers. After all – you could probably just let your phone or the radio provide the soundtrack to your work-out.
Best mid-range treadmill
If you want a treadmill with a decent spec but can't justify spending thousands, there's a good number of mid-range models to choose from. You might even be able to bag last year's premium models for a reduced rate.
To ensure you're getting the most for your money, once again you should identify the most important features for you – like a decent motor and a generous running surface. As you move away from the more budget options, a number of bells and whistles become available – like adjustable fans, built-in speakers or bluetooth connectivity.
Best fold-away treadmill
If, like most of us, you don't have boundless floor space, then a folding treadmill offers the added convenience of taking up less room when it's not in use. It's important to note that these treadmills will still take up some room however – that's why our comparisons show the dimensions when the treadmill is in use or stowed. Some condense down significantly more than others, and you can opt for a horizontally- or vertically-folding models (the latter is more common). Time to look for that tape measure!
As well as space, additional considerations when choosing a folding treadmill include the weight, safety features like locks and hydraulics to help raise and lower the sections.
The majority of treadmills on the market for home use are foldable, so there's a huge range of products, specifications and prices out there – from £300 up to £3,000 or more. The premium options are likely to boast interactivity with your favourite third party apps (such as Apple Health) and fitness trackers (such as Polar).
Folding treadmill buying guide
Best non-folding
For those with adequate space in their home gyms, non-folding treadmills generally offer the best in terms of durability, solidity and quiet efficiency. Plus if it's always out, you're more likely to use it regularly, right?
These running machines will typically be the more expensive options (and will include commercial treadmills), although some manufacturers offer near-identical folding and non-folding equivalents for the same price.
Best treadmill desk
Treadmill desks let you stay active and burn calories while you work from home by providing a flat surface for your laptop. They're a great way to inject exercise into a sedentary lifestyle and let you multi-task your way to 10,000 daily steps!
The best treadmill desks are solid (so they don't judder while you run/walk) and run quietly (so that you can concentrate).
Special mentions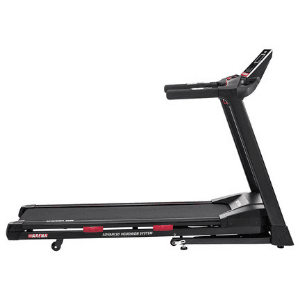 Kettler Arena
Sometimes it isn't about turning it up to 11. The Kettler Arena caters to all levels of fitness starting at a minimum speed of 0.3km/hr and going all the way up to 18km/hr. Whether you're starting a fitness regimen for the first time or looking to maintain your current level, the Arena has you covered. It also comes with built-in Bluetooth stereo speakers so you can pump your beats to keep you motivated throughout your workout.
Perks:
7 HIIT (high intensity interval training) programs to choose from
Fully shock-absorbed deck
3-year parts and labour warranty including lifetime on the frame and motor
Where to buy:
NordicTrack X9i Incline Trainer
Meant for those who really want a punishing workout, the NordicTrack X9i inclines up to 40% to really burn those calories. With 44 pre-programmed workouts, you can always opt for one to challenge you.
Perks:
Work out with speeds up to 20km/hr
Heart rate monitor to track your heart rate for better results
Two oversized fans in the console automatically adjust their speed to match the speed of your workout to keep you cool throughout
Where to buy: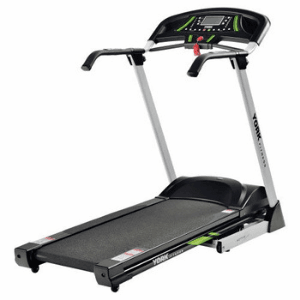 York Fitness Active 120 Treadmill
If you're looking for a simple, no-frills treadmill for a reasonable price, look no further. The York Fitness Active 120 is a solid and well-built option that delivers what you expect without breaking the bank. With 13 built-in workout programmes and a speed range of 1-16km/hr and 20% incline, it does exactly what it's meant to and also folds up neatly for easy storage.
Perks:
Assisted fold up and down
5″ display window with back light
Instant speed and incline keys on console
Where to buy:
Frequently asked questions
Want to shop sport clothes and equipment for less? Check out our top fitness and wellbeing discount codes and deals!
Popular Reads
More guides on Finder