Amsterdam restaurants and traditional foods
Tasty and savoury treats you need to try and the top restaurants to dine at in Amsterdam.
Find yourself smoking in cafes where celebrities do, dine in a windmill and enjoy a beer in a historic building.
Amsterdam will take you on a culinary tour of the world within the city and treat you to some local favourites too. We share the must-try foods and the hottest bars, cafes and restaurants to go to.
---
Amsterdam restaurants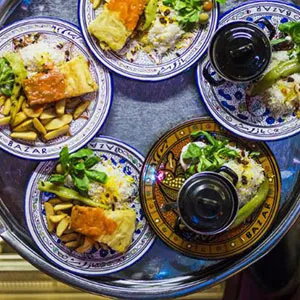 Bazar
Dishes from Bazar are served in a converted church and its colorful tables and upbeat music transport you to a different place that feels much like an exotic market.
The menu is a combination of dishes from North Africa and the Middle East.
Albert Cuypstraat 182, 1073 BL Amsterdam
---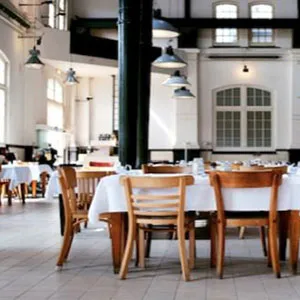 Amsterdam
The site of this modern restaurant was once used to pump water from the coast's dunes.
Now the converted building offers an open and chic spot to enjoy Dutch and French dishes with an extensive wine and beer menu.
Watertorenplein 6, 1051 PA Amsterdam
---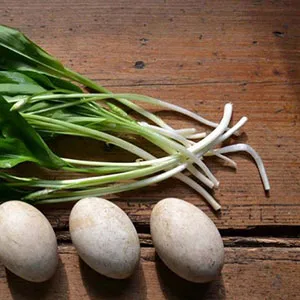 Merkelbach
Dine at an 18th-century coach house and experience one of Amsterdam's best outdoor dining locations.
The menu is based on the Slow Food Movement which means its menu is changing constantly using locally sourced ingredients based on the seasons.
Middenweg 72, Amsterdam
---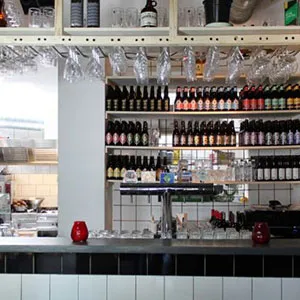 Brouwerij 't IJ
This popular brewery is a great spot to hang out when the sun is shining.
It's located beside a canal and an old windmill and serves up traditional Dutch dishes such as Ossenworst, which is a raw smoked beef sausage.
Funenkade 7, Amsterdam
---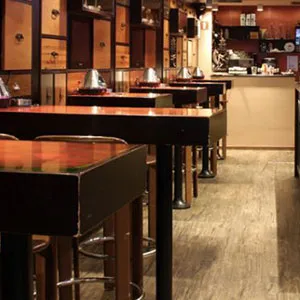 Barney's Coffee Shop
Winner of the "High Times Cup" award multiple times, Barney's Coffee Shop is Amsterdam's most popular coffee shop.
It's famous among locals and tourists with friendly staff in a 500-year-old building. Enjoy breakfast, brunch, late night snacks, cocktails and drinks.
Haarlemmerstraat 105, 1013 EW, Amsterdam
---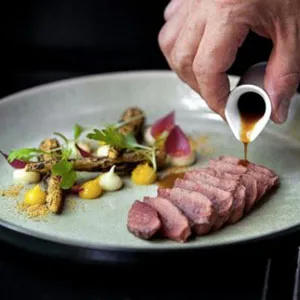 Vinkeles
Vinkeles was awarded one Michelin star in 2009 and serves French cuisine with an international twist.
The atmosphere is intimate and the exposed bricks show off the historic building while you dine. Described as "exciting, modest and refined", Vinkeles is a sophisticated treat in the city.
Keizersgracht 384 1016 GB Amsterdam
---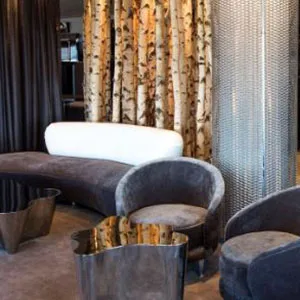 Ciel Bleu
Spoil yourself with the award-winning wine list as you look out over Amsterdam from the 23rd floor of Hotel Okura Amsterdam.
The menu changes four times a year with two Michelin star cuisine that is created using fresh ingredients.
Hotel Okura Amsterdam Ferdinand Bolstraat 333 1072 LH Amsterdam
---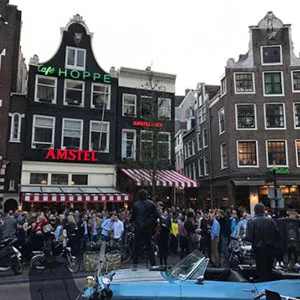 Cafe Hoppe
To find a crowd mixed with young and old, head to Cafe Hoppe where beer has been flowing since 1670.
Beers are served with a perfect two-finger head and can be paired with breakfast, lunch or dinner.
Spui 18–20, 1012 XA Amsterdam
---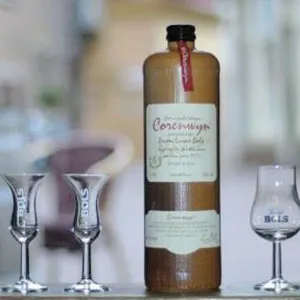 De Drie Fleschjes (Three Little Brothers)
Try something new at De Drie Fleschjes which is a jenever tasting room. Jenever is gin's cousin ordered straight in a tulip-shaped glass or mixed in a cocktail.
Even Anthony Bourdain tried jenever in this building from the 1650s.
Gravenstraat 18 1012 NM, Amsterdam
---
Top 5 must-try food in Amsterdam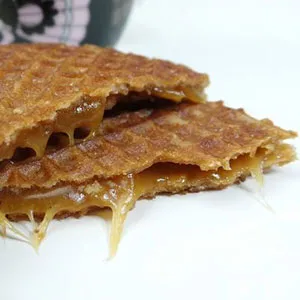 Stroopwafel
The ultimate Dutch treat for those with a sweet tooth is the classic stroopwafel. It's simple: two thin waffles are stuck together with a sweet syrup.
They're best when warm from a bakery or street market.
---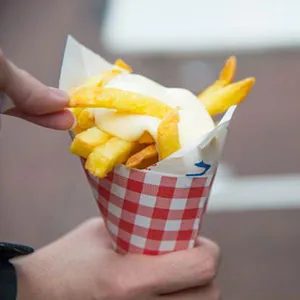 Thick Dutch fries
You'll find these fries called patat or frites as thick fries with a number of different combinations for toppings.
Patatje oorlog is peanut satay sauce, mayo and onions. Patat special is curry ketchup mayo and onion.
They come served hot in a paper cone.
---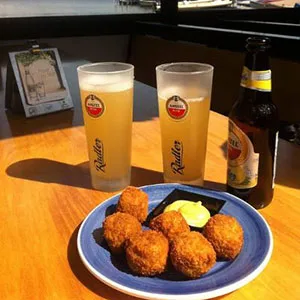 Bitterballen
These tasty balls are paired perfectly with a beer or on their own as a late night snack.
The balls are filled with veal or beef and use beef broth, butter, flour, parsley, salt and pepper as the outer layer. They are then deep fried and served with mustard.
---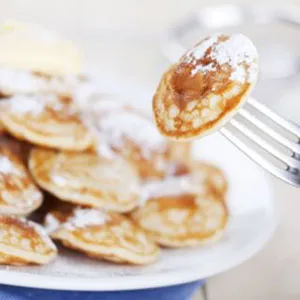 Poffertjes
They're like mini pancakes that you find at street stalls and pancake houses across the country.
These fluffy pancakes are traditionally served with powdered sugar and butter but you can also find syrup, strawberries and whipped cream as other toppings.
---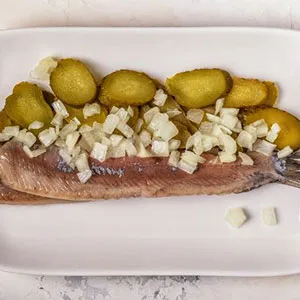 Raw herring
Raw herring is only found between May and July when the herring is at its sweetest.
It's typically served with chopped onions and traditionally is gutted on board the boat with the pancreas attached for the best preservation.
Ask for broodje haring to have it served as a sandwich with pickles and onions.
Feature image: Shutterstock