Finder is committed to editorial independence. While we receive compensation when you click links to partners, they do not influence our content.
Sigue international money transfers review
Sigue transfers money quickly but isn't transparent about the fees you'll pay.
Why should I consider Sigue?
Fast transfers. Your transferred funds are available in as little as 30 minutes or within 24 hours.
Global presence. Has over 100,000 locations around the world with headquarters in India, Mexico and the US.
Licensed across the US. Use Sigue to send money from all 50 states.
What to watch out for
Unclear fee structure. Because Sigue's site doesn't list its fees, you may not know what you'll pay for a transfer until you set up the transaction.
No online service via its website. You can only send money using the SiguePay app or in-person at a Sigue location.
Limited transfer amount in app. Your transfer is limited to $2,999 US dollars using SiguePay, Sigue's app.
Sigue's exchange rates and fees
Sigue's app, SiguePay, charges a single, flat-rate fee for every transaction but doesn't disclose the amount. Screenshots in the App Store show a fee of $1.99. Sigue in-person transfer fees are based on the amount of your transaction, but Sigue doesn't disclose the percentage it uses to determine that fee.
There are no additional hidden fees, however. Your transaction fee is listed on the transfer before you confirm the transaction, along with any third-party fees Sigue knows about.
For transactions that require a currency exchange, your exchange rate is locked in for a specific time. A confirmation screen details the rate information along with the amount you'll pay, the transaction fee and the total the recipient will receive in the requested currency. If you don't complete your transaction within the rate-locked time frame, a new confirmation screen will display the updated exchange rate.
How long does a Sigue money transfer take?
Sigue processes bank transfer deposits immediately, which means funds can be available within 30 minutes, depending on the recipient's bank policy, and most are available within 24 hours. Your receipt will show the date funds will be available to your recipient.
What currencies can I send with Sigue?
Sigue can send money to more than 60 countries worldwide, with popular supported currencies including:
CNY Yuan Renminbi
DOP Dominican peso
EUR Euro
GHS Ghanaian cedi
GTQ Guatemalan quetzal
MXN Mexican peso
NGN Nigerian naira
XOF West African CFA franc
Is Sigue safe to use?
Sigue provides a lot of advice to its users on how to avoid scams and identity theft and takes the following steps to try to ensure transaction security.
PCI certified
Uses encryption to protect your personal information
Uses touch ID for account access on IOS devices
Does not sell or share information with third parties outside of what is required by law to complete transactions
Sigue's reviews and complaints
Sigue has no online customer reviews with traditional review sites like Trustpilot. It does have one customer complaint with the Better Business Bureau (BBB) related to an identity theft case that the customer wants Sigue to help prove to their bank. The company is not accredited with the BBB and has a C+ rating for failing to respond to that complaint.
Sigue was recently fined by the Consumer Financial Protection Bureau (CFPB) and paid a $400,000 settlement in August 2020 for violating the Electronic Funds Transfer Act (EFTA). The fine was for failing to refund money to senders when their remittance wasn't available to the recipient by the scheduled date as well as other minor process errors, all violations of the Remittance Rule.
What payment methods does Sigue accept?
Sigue allows two methods of payment.
Bank-issued personal debit card; no corporate accounts, gift cards or prepaid cards allowed
Bank transfer from your checking, savings or money market account
How can I send money with Sigue?
You can send funds in three ways.
Bank transfer. If you have the recipient's bank account information, the funds can be deposited into the account directly.
Cash pickup. The recipient can pick up the cash from a Sigue branch location if they have the confirmation number and a legal ID.
Home delivery. Some countries allow the paying agent to deliver the funds to the recipient's home.
How to make my first transfer with Sigue
You can either go to one of Sigue's branch locations or use the SiguePay app. To make a transfer using the app, follow the steps below.
Log in to your account.
Enter the amount you want to transfer and the transaction's currency.
Add a new recipient and select how they want to receive the funds.
Pay for the transfer with your personal debit card.
Send the transfer. The transaction details will display and a receipt is sent to your email.
How to track a Sigue transfer
You can track your transfer on the Sigue website using the Transaction Order number, or call Sigue customer service to check on the status of the transfer.
Is there a Sigue app?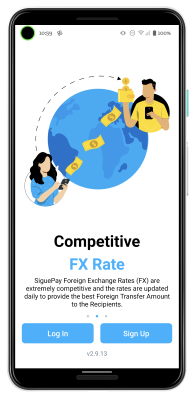 Yes, SiguePay is the company's app, which is available on the App Store and Google Play. You can use the app to do the following.
Send money. Create an account to send money to over 50 countries.
Track your money transfer. Use the Transaction Order number to track the status of your transfer and make sure the money arrived safely.
View your history. Get a list of past transactions for your records.
| Ratings accurate as of January 19, 2021 | |
| --- | --- |
| Google Play Store | 3.2 out of 5 — based on 923 customer ratings |
| Apple App Store | 3.4 out of 5 — based on 200 customer ratings |
More on the best money transfer apps
How does Sigue compare to other services?
Our table lets you compare the services you can use to send money abroad. Compare services on transfer speeds and fees, then click Go to site when you're ready to send.
Bottom line
Some of Sigue's greatest advantages are its speed and multiple locations. And if you want to try it out, you can often take advantage of a special exchange rate offered to first-time customers. But if you need to transfer money to a country outside the Sigue service areas or want a service that's more transparent about their transfer fees, compare international money transfer companies to find a better fit for you.
Frequently asked questions
Does Sigue offer business transfers?
Sigue's commercial subsidiary is FIX Foreign Exchange, which provides international transfer services to small- and medium-sized businesses.
How do I contact customer support?
Use one of the following methods to contact Sigue customer service.
By phone: 800-385-3316 from 4 a.m. to 9:30 p.m. PST, seven days a week
By email: productsupport@sigue.com
Use the contact form on the website
Use the website's chat feature
How can I cancel my Sigue transaction?
Cancel any transfer that hasn't yet been paid. To cancel a transfer made through the app, call 877-754-9777. To cancel a transfer made in person at a Sigue location, call 800-385-3316.
Refund requests made before noon can be refunded the same day, if you paid using a bank transfer. If you paid using your debit card, the refund takes three business days. The refund includes both the transfer amount and Sigue's transfer fee.