What is the PPP Second Draw loan and how does it work?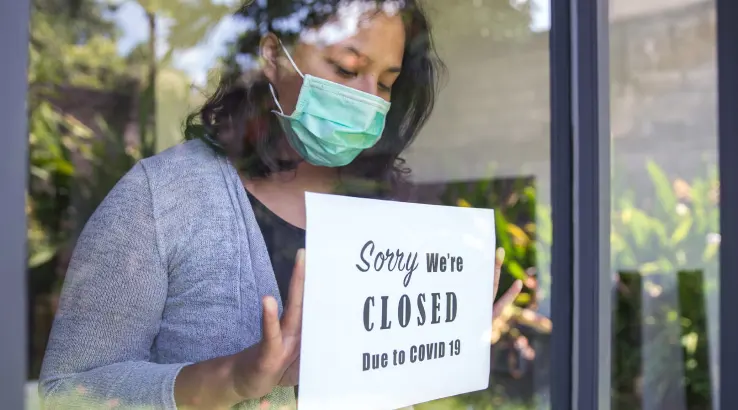 Only hard-hit small businesses would be eligible for another PPP loan but more costs would be forgivable.
The latest coronavirus stimulus package would allow some small businesses to apply for a second loan through the Paycheck Protection Program (PPP). But not everyone is eligible — and loans are smaller than they were before.
Senate Republicans unveiled the the Health, Economic Assistance, Liability Protection and Schools (HEALS) Act on Monday, where it is currently being debated. While it isn't set in stone, here's a rundown of what business owners can expect so far.
What is a Second Draw loan?
The Second Draw loan would be a new coronavirus assistance loan available through the PPP under the HEALS Act. Small businesses that have already taken out a PPP loan and used up the funds would be able to apply for another loan through this program. Applications for Second Draw loans would be available until December 31st.
It effectively works the same as a regular PPP loan, with a few adjustments. Rates are still fixed at 1% with a two-year term, and you can still apply for up to 100% forgiveness.
How much can I borrow?
One of the main differences between Second Draw loans and the current PPP would be how much you can borrow. Second Draw loans are set to be capped at $2 million — businesses could get up to $10 million the first time around. And if you have a seasonal business, you would only be able to borrow up to $1 million.
Like with the original PPP loan, how much your business would be eligible for depends on your revenue. The proposed loan program uses the same calculation too: 2.5 times your average monthly revenue over the past 12 months.
Maximum amounts for seasonal businesses
Seasonal businesses would be able to calculate their maximum loan cost by multiplying the average monthly revenue during one of the two periods by 2.5:
February 15, 2019 or March 1, 2019 to June 30, 2019
May 17, 2019 to September 15, 2019
Maximum amounts for new businesses
If your business was established after 2019, the Second Draw program would use a slightly different formula. You could calculate your maximum loan amount by first adding up all of the eligible payroll costs you've incurred since you started the business. Then, divide that result by the number of months that those payroll costs covered. And multiply that result by 2.5.
This one's a little confusing, so it helps to look at an example:
Say your business was established on January 1, 2020, and you applied for a loan on September 1, 2020. You paid a total of $500,000 in eligible payroll expenses during that time.
Since it covered eight full months, you'd divide that $500,000 by 8 to get $62,500. Multiply that $62,500 by 2.5 and you get your maximum loan amount: $156,250.
You can get more details on what counts as an eligible expense by reading our guide to calculating payroll costs for the PPP.
Would my business qualify for a Second Draw loan?
Another key difference between Second Draw and regular PPP loans lies in the requirements. To qualify for a Second Draw loan, these would be the main criteria:
Meets the SBA size standards for its industry or the alternative PPP size standards
No more than 300 employees
Saw a 50% year-over-year drop in revenue
Generally, other requirements for a regular PPP loan would apply to Second Draw borrowers. For example, political organizations and lobbying groups still wouldn't qualify.
But that loophole that allowed chain restaurants like Ruth's Chris Steak House to qualify for the PPP would no longer exist.
How do I know if my business is the right size?
Unless you saw a major increase in revenue or hired a lot of new employees, your business would likely meet one of the two size standard options if you've received a PPP loan. You can find out if your business qualifies by using the SBA's size standard tool.
If it doesn't meet the requirements for the industry, it would still qualify by meeting the SBA's PPP alternative size standards. Your business must have a tangible net worth of no more than $15 million or a net income of no more than $5 million over the past two years.
How would the SBA measure the drop in revenue?
The SBA would look at your revenue from either the first or second quarter of 2020 and compare it to one of the following quarters to determine, depending on when your business was established:
Established before the second quarter of 2019: The SBA would use either the first or second quarter of 2019 revenue — depending on the 2020 quarter you're comparing it to.
Established after the second quarter of 2019: The SBA would compare revenue from a 2020 quarter to revenue from the third quarter of 2019.
Established after the third quarter of 2019: The SBA would compare revenue from a 2020 quarter to the fourth quarter of 2019.
Established after the fourth quarter of 2019: The SBA would compare your second quarter of 2020 revenue to revenue from the first quarter of that year.
Where would I get a Second Draw loan?
Second Draw loans would likely be available through the same lenders that offered PPP funding. If you already received a loan through a lender, it might be easiest to apply through them again — they already have most of the relevant information.
How would I apply?
It's unclear what the application would look like — the HEALS Act hasn't been signed into law yet. But it's likely that the application will be similar to the regular PPP loan application.
How would Second Draw forgiveness work?
You would have to spend at least 60% of the loan on eligible costs to qualify for full forgiveness on the Second Draw loan — just like a PPP loan. Otherwise, you would only qualify for partial forgiveness — or none at all if you splurge it all on ineligible costs, like say, a Lamborghini.
As it stands, the following types of costs would be eligible for forgiveness under the Second Draw loan:
Payroll costs
Rent
Mortgage interest payments
Eligible operations expenses
Property damage
Utility payments
Supplier expenses
Worker protection expenses
How much money will be available?
The HEALS Act would set aside $190 billion for Second Draw loans. That includes $25 billion that are specifically earmarked for small businesses that have 10 employees or fewer.
While it's lower than past PPP loan funds, businesses won't be competing with large corporations, thanks to the size restrictions. And some $10 billion of these funds will be available exclusively through small lenders, which would likely benefit businesses in underserved communities.
When will the Second Draw loan be available?
That depends on when — or if — the HEALS Act passes. It's likely that it will pass before August 8th, when the PPP is set to expire. Stay on top of the news to keep up to date.
Once it becomes available, it's likely there will be more changes. Most lenders have special programs to help borrowers apply for a PPP loan. Take advantage of these services if you have any questions.
Photo: Getty Images