Tunneling their way through the finder.com Money Transfer Awards vetting process, Pangea takes the prize for both Best User Experience and Fastest Transfer. In terms of bank-to-bank transfers, Pangea only offers this from the US to Mexico. But the simplicity of its app and relevancy of the US dollar–to–Mexican peso corridor ensured it a place in our 13 finalists.
On a mission to test the best products and find those that best meet your needs, we rounded up as many international money transfers services that send money from the US. From there, we collected 1,575 data points on 35 providers, set up accounts with 22 and chose the final 13 considering price, speed, convenience, user experience and trustworthiness. We used these 13 finalists to send live transfers to France and Mexico, generated quotes for 2,430 transactions, tested provider sites to confirm that advertised information was accurate and partnered with UserTesting.com to collect another 273 data points from 39 independent participants. This latter testing only proved that our decision to make an exception for Pangea was the right decision: It scored the highest in our usability testing that involved actual users.
We went through this intensive process because we know how important it is for consumers to get their hard-earned money to their loved ones. But this can be risky. While researching providers, we invited fraud on our bank accounts and had our funds taken only to be told that our transfers failed. But we needed to both understand the consumer's pain points and find the fastest transfer, which Pangea won. We hope these awards bring transparency to the industry — and that consumers can learn from our investigative and comprehensive research.
Take a look at the scorecards below to see how Pangea won twice.
If you need a quick and simple way send money to Mexico, Pangea could be your best choice.
— Fred Schebesta, finder.com CEO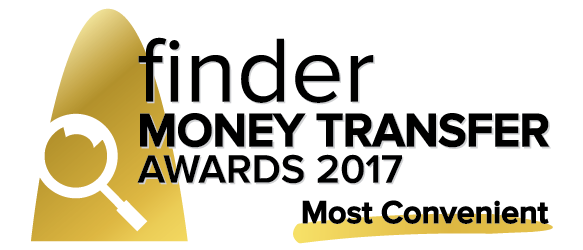 Best User Experience
Pangea scores the highest in our usability ratings, with 87.6% overall. A site that's easy to understand and use is key — and based on their positive reviews and ratings, our users agree. Our users also lauded Pangea's clear exchange rates and fees. Immediate transfers and accurate delivery estimates round out a great user experience.
Pangea Best User Experience Award
Metric
Scale
Pangea
Average Score
Ease of sign-up and inputting transfer details
1.0 (Disagree)
5.0 (Agree)
4.0
3.2
Information is easy to understand
1.0 (Disagree)
5.0 (Agree)
4.6
4.0
Ease of site use
1.0 (Disagree)
5.0 (Agree)
4.6
3.7
Appears credible
1.0 (Disagree)
5.0 (Agree)
4.0
3.5
Site is attractive
1.0 (Disagree)
5.0 (Agree)
4.0
3.7
Likely to return to this service
1.0 (Disagree)
5.0 (Agree)
4.0
3.2
Time to complete sign-up and input transfer details
1.0 (5 minutes or more)
6.0 (less than 1 minute)
2.0
2.2
Live transfer success rate
0.0 (0%)
10.0 (50%)
20.0 (100%)
20.0
15.4
Single transfer transaction
0.0 (Wire to provider)
5.0 (Digital wallet)
10.0 (Single transaction)
10.0
7.7
Price quote does not require personal info
0.0 (No)
5.0 (Yes)
5.0
3.5
Estimated time of delivery included in receipt
0.0 (No)
5.0 (Yes)
5.0
4.2
Mobile app available in iPhone or Android
0.0 (None)
1.0 (Either)
2.0 (Both)
2.0
1.9
Live chat available
0.0 (No)
1.0 (Yes)
0.0
0.2
Instant approval after sign-up (US customers)
0.0 (No)
1.0 (Yes)
1.0
0.8
Email or text update to recipient
0.0 (No)
1.0 (Yes)
1.0
0.6
Email or text sender transfer details
0.0 (No)
1.0 (Yes)
1.0
1.0
Does not require SSN for sign-up
0.0 (No)
1.0 (Yes)
1.0
0.8
Does not require uploaded documentation
0.0 (No)
2.0 (Yes)
2.0
0.9
Can send with recipient's email address
0.0 (No)
1.0 (Yes)
0.0
0.2
Frequency exchange rates are updated
0.0 (Daily)
1.0 (More than once a day)
1.0
0.8
TOTAL (Winners scored more than 68.5 points)
76.2
61.4
Pangea Fastest Transfer Award
Metric
Scale
Pangea
Average Score
Shortest time to receive funds in bank account
0.0 (Live transfer fail)
2.0 (9 days)
4.0 (8 days)
6.0 (7 days)
8.0 (6 days)
10.0 (5 days)
12.0 (4 days)
14.0 (3 days)
16.0 (2 days)
18.0 (1 day)
20.0 (Less than 24 hours)
20.0
15.1
Time to complete transfer sign-up and input transfer details
1.0 (5 minutes or more)
2.0 (4:00–4:59 minutes)
3.0 (3:00–3:59 minutes)
4.0 (2:00–2:59 minutes)
5.0 (1:00–1:59 minutes)
6.0 (Less than 1 minute)
2.0
2.2
Instant approval after sign-up (US customers)
0.0 (No)
1.0 (Yes)
1.0
0.8
Single transfer transaction
0.0 (Wire to provider)
2.0 (Digital wallet)
4.0 (Single transaction)
4.0
3.1
TOTAL (Winners scored more than 25 points)
27.0
21.2