Finder is committed to editorial independence. While we receive compensation when you click links to partners, they do not influence our opinions or reviews. Learn how we make money.
Find a MoneyGram location
The second-largest worldwide money transfer service has over 350,000 locations in 200 countries.
COVID-19 update
Your nearest MoneyGram location may not be open, so call ahead.
Sending money online
or with a money transfer app could be safer and easier.
Sending money with MoneyGram may be as simple as paying a visit to your nearest drugstore. Pay for the transfer in cash if you'd like — your money will arrive at the destination location in minutes.
How do I find a MoneyGram location near me?
To use MoneyGram's Find a Location tool:
Select your country
Enter your address, including city and state or ZIP code
Browse the provided map for nearby options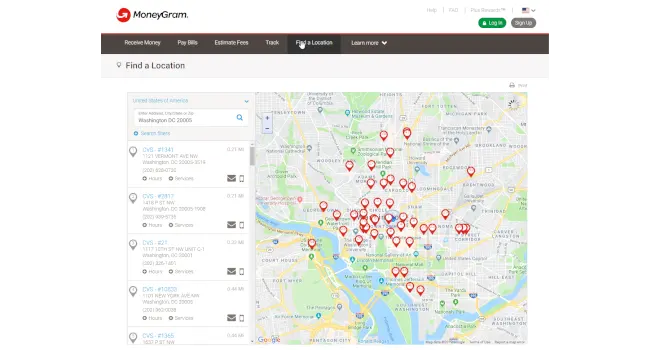 There's more than one MoneyGram location in every US state, and plenty in Puerto Rico. Cash pick up is available in over 200 countries and in 45 currencies.
However, MoneyGram is not offered in the following countries:
North Korea
Lebanon
Sudan
Syria
What does a MoneyGram location offer?
Each partner location offers its own special features, depending on what type of business it is. MoneyGram tends to work mostly with drugstores, local banks, grocery stores and retailers. Walmart is a major US partner.
Services vary by location, but at most US MoneyGram agent locations you can:
Send money
Receive money
Pay a bill
Add minutes to a phone
Add cash to Paypal
Receive and send currency
Cash a money order
Reload other prepaid cards
Use the table below to see if MoneyGram is the best deal for your preferred sending destination.
Compare MoneyGram to other money transfer services
Disclaimer: Exchange rates change often. Confirm the total cost with the provider before transferring money.
How do I send money from a MoneyGram location?
Find a MoneyGram location by using the Find a Location tool on its website. Once there, collect a transfer form from the agent on duty. On the form, include:
Your name as it appears on your government-issued ID
Your phone number and address
The amount of money you're sending
How the transfer will be received
The receiver's name as it appears on their government-issued ID
The receiver's phone number and email address. If you're sending money for cash pickup, you'll note the receiver's location as well.
Bring the completed form to the agent along with cash or a card to cover the amount you're sending, plus the service fee. To track the transfer, go to the MoneyGram website, hit Track and enter the reference number and your last name.
Remember: share the eight-digit reference number with your payee to ensure a smooth pick up.
Sending money online for in-store pickup
To send money online, go to MoneyGram's website and log in or create an account. Initiate the transfer by providing the receiver's information, the amount of money you're sending and the method of pick up.
Pay using a debit card, credit card or directly from your bank account. After verifying your identity, the transfer is ready for in-store pick up within minutes.
With online transfers, you must send a minimum of $1 and can send a maximum of $10,000 per transaction — use the table below to calculate fees on your MoneyGram transfer without having to sign up for an account.
Disclaimer: Exchange rates change often. Confirm the total cost with the provider before transferring money.
What documents do I need to pick up money from a MoneyGram location?
First, find a MoneyGram location that's convenient for you. Check the store's hours and bring the following:
Reference number. The sender should pass on this information after they initiate the transfer.
Identification. Government-issued ID, such as a passport or driver's license.
Proof of address. If your current address isn't listed on your ID, bring a utility bill or bank statement as backup.
Once there, you'll fill out a receiving form with your name and reference number. Then, return the form to the MoneyGram agent and they'll process the transaction.
Does MoneyGram have any 24-hour locations?
Yes. For in-person 24/7 pickup, choose a partner location that's open around the clock.
Since MoneyGram offers online money transfers, you can always send or receive money 24/7 through its website.
Alternatives to sending cash
Typically, the quickest way to send money is with an electronic bank-to-bank transfer through MoneyGram's website. Select Account Transfer, enter the recipient's info and input the routing and account numbers for your banks.
Other money transfer options include:
MoneyGram Sendbot. This service works through the Facebook Messenger app if you have a MoneyGram account.
Mobile Wallet. Select Account Deposit as the receive option. Note that your recipient must have an account with a mobile wallet service provider. MoneyGram currently works with M-Pesa in Romania, Kenya and Tanzania, as well as Econet in Zimbabwe.
Send to a Correctional Facility. Fund an inmate's commissary or calling account by entering the inmate's name, correctional ID, facility name and facility code. Click the Pay Bills tab, then select Federal Bureau of Prisons as the company you want to pay.
Looking for an alternative? Compare services like MoneyGram to get the best rates and fees.
Bottom line
MoneyGram focuses on convenience with over 350,000 worldwide locations where you can send or receive money in person. But if you want to send more than $10,000 per transaction or per month, you'll need to find a different transfer service.
Frequently asked questions.