Finder is committed to editorial independence. While we receive compensation when you click links to partners, they do not influence our opinions or reviews. Learn how we make money.
Money2anywhere review
It's not the easiest money transfer you'll find, but it sends to 30+ countries for both deposit and cash pickup.
When you're looking to send money internationally, you'll find any number of websites promising competitive rates and low fees to countries worldwide.
Money2anywhere is one of them. It promises to get your cash to "almost anywhere in the world" through a network of partners that includes 150 banks in more than 30 countries and over 150,000 agent locations for cash pickups around the world.
We look into what you can expect with this specialist when it comes to rates, fees and more.
No limit
Max. Transfer Amount
3 - 5 days
Transfer Speed
Details
Product Name
money2anywhere
Min. Transfer Amount
$0
Max. Transfer Amount
No limit
Transfer Methods
Online, Phone, Agent, Bank Account to Bank Account, Cash Transfer
Transfer Speed

Minimum transfer time

3 - 5 days
Customer Service
Phone, Email, Branch
Available Currencies
USD
What is Money2anywhere?
Founded in 1980, Money2anywhere is owned and operated by UAE Exchange, a leading global company headquartered in Abu Dhabi. Its network of banks and agent locations serve some 15 million people in need of forex and global payment services.
Money2anywhere transfers money online from 10 countries for bank deposits or cash pickup services that vary by destination country. But unlike money transfer providers that function fully online, you'll first need to set up an account with Money2anywhere by email or fax.
How are Money2anywhere's exchange rates?
Money2anywhere claims to provide strong exchange rates. And its site includes boxed real-time exchange rates for specific currencies.
But you won't learn the rate for your specific transfer until you initiate it. The company recommends that you contact its customer service center for the most accurate rates — not always the cleanest way to use a service.
How much will I pay to send money with money2anywhere?
How much you'll pay will vary by your recipient's country, how you're transferring your money and how much you're sending.
For example, to transfer $1,000 from the US to Australia, you could pay about $5 for a bank transfer and up to $28 for cash pickup. For that same amount to India, your bank-transfer fee drops to $3 with the same $28 fee for cash pickup.
Be sure to confirm the fee for your specific transaction before confirming your transfer.
How does money2anywhere compare to other services?
Disclaimer: Exchange rates change often. Confirm the total cost with the provider before transferring money.
Minimum transfer amounts and available countries
In most cases, Money2anywhere doesn't have any transfer limits – you can transfer as much or as little as you need to over 40 countries.
What types of transfers does Money2anywhere support?
With Money2anywhere, you're not limited to bank-to-bank transfers. You can also send money for pick up at agent locations around the world, depending on your recipient's country of residence.
At this time, US residents can pay for their transfers by ACH or direct debit only.
How do I send money through Money2anywhere?
Before you can begin sending money through Money2anywhere, you need to start the process of applying for an account online.
Before Money2anywhere can approve your account, you're required to submit ID documents that include:
A valid US passport and driver's license or other government-issued ID.
Your Social Security number.
1. Click Sign Up from Money2anywhere's homepage.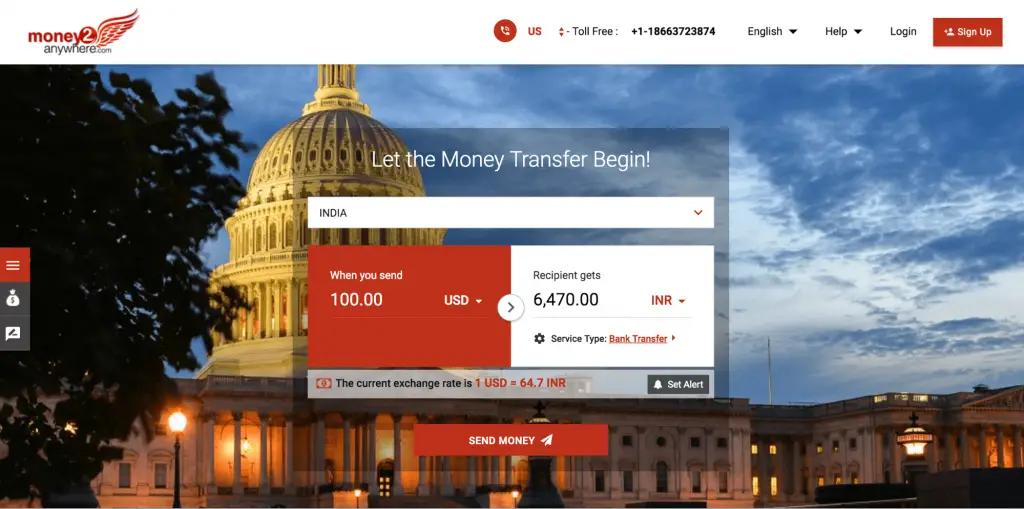 2. Complete the new user form with your name, address and login information. Click I Agree, Sign Up for Free.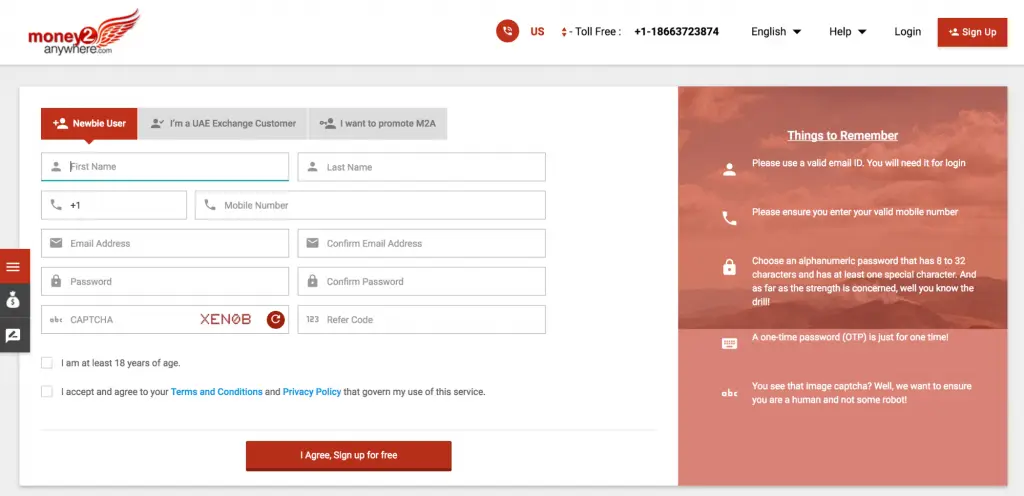 3. To fully activate your account, you'll need to fax or email required documents to Money2anywhere as indicated online.
4. After confirming your registration, you'll receive an email indicating your unique Money2anywhere customer number.
5. Once approved, simply log in to your online Money2anywhere account to set up your payment and begin sending money.
How do I track my Money2anywhere transfer?
You can track your money transfer through Money2anywhere or the Money2anywhere mobile app with your 16-digit transaction reference number or XPIN found in the top right corner of your receipt.
What to look out for
The process of signing up and sending a transfer with Money2anywhere is more cumbersome than you'll find with other online money transfer providers, and you're required to submit at least two forms of government-issued ID — one of them your passport.
Some users complain about poor customer service and longer turnaround times than expected.
Benefits
Cash pickups. If your recipient doesn't have a bank account, you can send money for pickup at any number of agent locations around the world.
Periodic promotions. With the backing of UAE Exchange, Money2anywhere can afford to offer promos and discounts through its site.
Secure. The site protects your financial info with 128-bit SSL encryption technology.
Drawbacks
ACH transfers only. If you live in the US, you're limited to paying through ACH or direct debit from your bank account.
Transfers require reasons. To comply with global monitoring, Money2anywhere requires a reason for your transaction.
Not the easiest out there. With a cumbersome signup process and multistep transfers, you might want to look at other specialists first. Especially with no real support advertised online.
Money2anywhere reviews and complaints
The Internet's divided when it comes to Money2anywhere. Some customers claim that rates and customer service are stellar. Others are decidedly not satisfied with extended processing times and representatives who are disinterested in handling complaints. As with most money decisions, do your research before deciding on this provider.
Next steps
Save details for repeat payments. Cut down the time it takes to send frequent money to friends and loved ones.
Track your transfer. Use the 16-digit reference number unique to your transfer to track bank deposits and cash pickups.
Download the free app. Money2anywhere offers an app for iOS, Android and Blackberry (if you still have one of those around).
Bottom line
If you live in one of the 10 countries supported by Money2anywhere, it's another option to consider for bank transfers and cash pickups worldwide. But whether it's a good option depends on your specific needs — including your recipient's country of residence.
Compare your full range of money transfer specialists to find one that's right for you.