Ethereum Name Service Guide
A blockchain based decentralized domain name service (DNS)
No domain renewal fees
Domains start at $5+
Domains support 280+ cryptocurrencies
Simplifies crypto payments
Disclaimer: This page is not financial advice or an endorsement of digital assets, providers or services. Digital assets are volatile and risky, and past performance is no guarantee of future results. Potential regulations or policies can affect their availability and services provided. Talk with a financial professional before making a decision. Finder or the author may own cryptocurrency discussed on this page.
What is Ethereum Name Service?
Ethereum Name Service is an open-source blockchain-based naming protocol. It was started at the Ethereum Foundation in early 2017 before being spun off in 2018. It self identifies as "a public good, a basic piece of the internet infrastructure that belongs to the community." It is a protocol that enables users the ability to engage with the Ethereum network more freely. Most notably it converts alphanumeric machine-readable addresses into human-readable addresses and can be used for websites. For example, a 64 character address starting with 0x… can be shortened to finder.eth or vitalik.eth.
Simply put, Ethereum Name Service is a protocol that simplifies cryptocurrency addresses into more approachable addresses for its users. ENS reduces traditional public key addresses that are a series of randomized numbers and letters down into one easy-to-remember domain name. These domain names can store multiple addresses for use in transferring multiple cryptocurrencies. ENS domains are a game changer for making cryptocurrency and NFTs more approachable and accessible for anyone new to the industry.
All ENS domains are ERC721 tokens, which means that they are NFTs and can be exchanged on NFT marketplaces. ENS domains can also be used as a domain for hosting websites. A special browser plugin is required to browse websites that end with the .eth extension.
Compatible exchange: Gemini Cryptocurrency Exchange
Wide range of exchangeable currencies
User friendly
Newcomer incentives
Insurance on currency balances up to $250k
Balances can earn interest
High fees on mobile app
Missing some notable top 20 currencies
No linked debit cards available
Gemini is a cryptocurrency exchange with a simple UI that's user-friendly and accommodating to newcomers and experienced traders.
Gemini's strongest point is its Gemini Earn program, which allows users to earn up to 7.4% interest on specified cryptocurrency balances.
Gemini has a wide selection of cryptos available for exchange on the platform. However, some notable entries from the top 20 by market cap are missing, such as Cardano and Solana.
Deposit Methods

Bank transfer (ACH)
Debit card
PayPal
Wire transfer
Apple Pay
Google Pay


Deposit Fees

Cryptocurrency: None
Bank transfer (ACH): None, bank fees may apply
Wire Transfer: None
Debit Card: 3.49% of total amount
Paypal: 2.50%

Withdrawal Fees

Cryptocurrency: None (for 10 withdrawals and below per month)
Others: None (for 10 withdrawals and below per month)

Trading Fees

AdvancedTrader fees: Maker - 0 - 0.2%; Taker - 0.03-0.4%
Stablecoin trading fees: Maker - 0%; Taker - 0.01%
How to use Ethereum Name Service
The ENS domains are exchanged and valued in the Ethereum native currency eth. Before you apply for an ENS domain you will need to have a previously set up wallet with a valid Ethereum address attached and some eth loaded onto it.
Once you have an Ethereum address set up you can make your way over to ens.domains, and select the "Launch App" tab in the top right.
After the app has been launched you can either connect your Ethereum wallet or use the search function to see if your desired domain name is available.
When you search for your desired ENS domain name, it will indicate if the domain is available, or if not, when it will become available. ENS domains utilize an auction function, with an annual registration fee. If your desired domain is not available you can search for an alternative. Alternatively, you can search on an NFT marketplace for a specific ENS domain to see if you can purchase it off of the owner.
Registering domain names on ENS can vary in price for the annual fees based on the length of the domain name.
3 characters: $640/year
4 characters: $160/year
5+ characters: $5/year
Additionally, when registering an ENS domain you have the option to include emoticons 😊 in the domain name.
Once you have decided on an available domain name, you can follow the three easy steps to complete the registration.
Once completed, you can now send your cryptocurrency to your new ENS domain through your domain name rather than the randomized number-letter combination.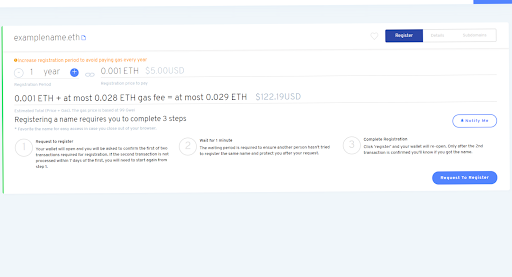 Domain important terminology
Registrant: This is the address that can set the controller address, and has the power to transfer the registration of the ENS domain to someone else. The Registrant is the ultimate owner of the domain
Controller: This is the address that handles the day-to-day operations of the domain
Addresses: This is where you can set the end address where you would like crypto to land when someone sends a transaction to your domain name.
ENS domain vs DNS domain
The obvious difference between ENS domains and traditional web DNS domains revolves around decentralization. ENS domains are stored in your cryptocurrency wallet like a cryptocurrency or any other NFT. Traditional DNS domains are stored on a centralized server like Amazon Web or Google Cloud. Through decentralizing web domains, ENS has enabled censorship-free domains to exist. Before ENS and blockchain domains existed, DNS domains were stored on centralized servers and registered with ICANN (The International Corporation for Assigned Names and Numbers). ENS eliminates the need for a third-party intermediary to oversee registrations, which has the potential to influence or censor domains.
With ENS domains being recorded on the Ethereum blockchain, users have the added security of blockchain technology. When someone enters their ENS address to send a payment or look up ownership of the domain, they can know for certain that the domain name entered is authentic. Unlike DNS domains, blockchain technology secures ENS domains and prevents any potential hack or central point of failure.
Ethereum name service overview
Ethereum name service achieves something extremely important for the mass adoption of cryptocurrency. People that are not technologically inclined, can face a massive psychological barrier to entering the space if they are unfamiliar with blockchain technology. The private-public key component is not difficult to grasp, but the traditional public addresses can appear intimidating. Through simplifying the process and making addresses more familiar, ENS is laying the groundwork for mass adoption.
ENS domains will have a lasting impact as we move towards Web 3.0. With domains placed on a blockchain that also double as NFTs, we are starting to see Web 3.0 take shape. An internet where domains are stored on blockchains with decentralized storage that only the user (Registrant) can takedown. This kind of internet is censor proof to any company or government. It will empower free speech globally while supplying a secondary marketplace for ENS domain name NFTs to help support that free speech.
Other cryptocurrency platforms will be sure to follow ENS's leadership in creating decentralized domain names that offer similar services. Decentralized domain names offer an easy on-ramp for people as we move into a world dominated by Web 3.0. Their ease of use and approachability will be critical in onboarding millions of people into becoming fluent in cryptocurrency transactions and NFT marketplaces. What better way to introduce people to NFT's than by making their payment method more convenient and comfortable?
Compare NFT marketplaces