Finder is committed to editorial independence. While we receive compensation when you click links to partners, they do not influence our opinions or reviews. Learn how we make money.
Marcus by Goldman Sachs banking products: Savings and CDs
High-yield savings products and personal loans, but prepare for online access only.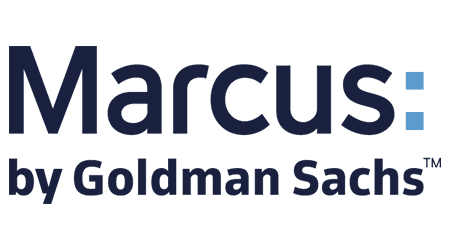 Marcus by Goldman Sachs is the personal banking arm of Goldman Sachs. It emphasizes customer service, trust, simplicity, security and putting its customers first. While its exclusively online accounts offer competitive rates and no fees, you'll have to do without the convenience of ATM access.
What banking products does Marcus by Goldman Sachs offer?
Personal banking
Other products
Compare Marcus by Goldman Sachs to the competition
How does it compare to other banks?
On the list of the top 50 bank holding companies in the US, Goldman Sachs comes in at No. 14 with more than $127 million in customer deposits. It's flanked by HSBC with $123 million in deposits and the Bank of New York with $138 million.
Crowning the list is Bank of America, which holds an impressive $1.3 billion in customer deposits and operates more than 4,000 bank branches nationwide.
Savings accounts
Pros
High APY. Earn a solid 0.8% APY on your total account balance.
No minimum deposit. You can get started with as little as $0. But Marcus by Goldman Sachs will close your account if it isn't funded within 60 days.
No excessive transaction fees. Unlike other banks, you won't pay a fee if you make more than six outgoing transactions a month. But it reserves the right to close your account if you continue to go over this limit.
Cons
One account option. The only savings account you can open with Marcus by Goldman Sachs is the High-Yield Online Savings Account.
No ATM access. The high-yield savings account doesn't come with a debit card or ATM access, so you'll have to transfer your money to another account to withdraw cash.
Maximum account balance. You can't carry more than $1,000,000 in the account at a time, including interest.
CDs accounts
Pros
Strong APYs. CD rates range from 0.6% to 1.35% APY. The longer your term, the more you'll earn.
Various terms. CD terms go as low as six months and as high as six years.
$500 minimum deposit. This amount is relatively low considering some banks have opening deposit requirements as high as $10,000.
Two CD options. Marcus by Goldman Sachs offers high-yield CDs for those who want to lock in the highest rate and no-penalty CDs for those who want to access their money for free within seven days of funding.
Cons
Low short-term CD APYs. Six-month CDs earn 0.6% APY and nine-month CDs earn 0.7%. While these are decent rates, other banks offer short-term APYs above 1.5%.
No partial withdrawals. You'll have to withdraw your full balance if you need to access your money before maturity.
Overall banking
Pros
Strong rates. The Marcus by Goldman Sachs Online Savings Account offers a competitive 0.8% APY, and its CDs boast up to 1.35% APY on six-year terms.
No fees. You'll find no associated maintenance fees on its savings account, CDs or personal loan.
Online application. Enjoy the ease of an entirely online signup process for all Marcus banking products.
Daily customer service. Get help by phone, mail or live chat seven days a week.
Cons
No checking accounts. Marcus by Goldman Sachs doesn't have any checking accounts, so it may not be ideal if you were hoping to keep everything at one institution.
No branches. Marcus is the online banking arm of Goldman Sachs, so you can't visit a branch for in-person support.
Compare Marcus to the competition
What do regulators and customers say?
Marcus by Goldman Sachs is not an accredited business with the Better Business Bureau. The BBB gives it a C+ rating due to the time Marcus by Goldman Sachs has been in operation.
On the CPFB's Consumer Complaint Database, you'll find an equal number of complaints dispersed between this online bank's savings accounts and home loans. Customers complain that it's difficult to navigate the online application process and access their online accounts.
Goldman Sachs is insured by the FDIC and receives an outstanding CRA rating, which reflects how well a financial institution meets the credit needs of its community, including low- and moderate-income customers.
What is the 10,000 Women initiative?
Goldman Sachs launched 10,000 Women, a program designed to reach out to female entrepreneurs around the world with business education, mentoring, management training and access to capital.
Launched in 2008, the initiative has since reached more than 10,000 women in over 56 countries.
Bottom line
Marcus by Goldman Sachs may offer a limited product range, but its savings accounts offer high interest rates without fees. And you can apply online without booking an appointment.
As long as you're comfortable conducting your banking online, Marcus by Goldman Sachs is a viable option.
Common questions about banking at Marcus by Goldman Sachs
Read more on this topic