Finder is committed to editorial independence. While we receive compensation when you click links to partners, they do not influence our opinions or reviews. Learn how we make money.
AAA Visa TravelMoney card review
This travel expert can get you access to local currency from Visa ATMs around the world.
You may rely on AAA for roadside assistance and travel plans — add foreign currency to its suite of services. Its Visa TravelMoney card can make you feel less like a tourist by simplifying currency conversions and foreign exchange rates. And the good news is you don't have to be a member to get it.
The chip and PIN protected AAA Visa TravelMoney card comes with the security of traveler's checks and the simplicity of a Visa branded credit card. Accepted all over the world, the Visa TravelMoney card will convert your USD to the local currency almost anywhere around the world. And you'll enjoy Visa's zero liability policy protecting you from fraud and unauthorized purchases.
What is the AAA Visa TravelMoney card?
The AAA Visa TravelMoney card works like a debit card — use your card at merchants and ATM to access money when traveling abroad. But, this card isn't attached to your bank account. Instead load the card with the money you plan to take on your trip, and use it to pay for dinner, souvenirs, excursions or anything else.
What's more, if you buy your plane tickets with the AAA Visa TravelMoney card, your purchase is protected in case of a canceled or delayed flight. You'll also have access to emergency cash replacement and 24-hour customer service.
Load this card with as little as $100, and as much as $5,000 at a time, with a maximum balance of $9,999. You can manage your balance at your local AAA store, by phone or online.
Consider an alternative to the AAA TravelMoney card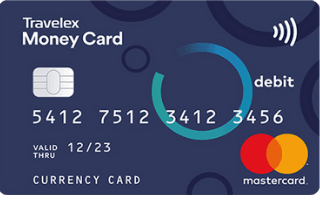 Our pick for a prepaid travel card
Travelex Money Card
Load your card with your choice of 6 available currencies: Euros, British pounds, Australian dollars, Japanese yen, Canadian dollars, and Mexican pesos.
Lock in your exchange rate.
Use your card abroad at millions of locations.
How much will the AAA Visa TravelMoney card cost?
How much will I pay on the exchange rate?
Because your funds aren't immediately converted into a foreign currency, you don't have the benefit of locking in an exchange rate. Instead, Visa charges its conversion rate — typically close to the midmarket rate.
How much are the fees?
The biggest disadvantage of this card are the fees that come along with it. Each time you use the card, the AAA Visa TravelMoney Card charges a 3% transaction fee and a $3 international ATM fee — typical for most credit cards. The benefit of the TravelMoney card is that because it's your money, you won't pay interest on your purchases.
The initial purchase price is determined by whether you're an AAA member or not. It's $5.95 for AAA members and $9.95 for non-members. And once you're done with the card, be sure to deactivate it, or you'll be charged $1.25 each month you don't use it.
Product name
AAA Visa TravelMoney
Card issue fee
AAA members: $5.95
Non-members: $9.95
Initial load fee
None
Reload fee
None
Transaction fee
3% outside of the US
ATM withdrawal fee

$1.50 (domestic)
$3 (international)

Bank withdrawal fee
$5
Inactive fee
$1.25 per month
Benefits
The security of this card is it's greatest benefit. It's protected by chip technology and a PIN, and because it's not connected to any accounts, your personal information is protected. Other benefits include:
Accepted worldwide. Access to over one million ATMs.
Travel assistance. Enjoy emergency services and lost luggage reimbursement when you pay for your flight with your TravelMoney Card.
Additional card. Request an additional card for a travel companion or in case of an emergency.
High balance maximum. Load up to $9,999 — that's more than its competitors.
Drawbacks and limits
Limited transactions. You're limited to three ATM transactions and $1,000 per day.
Fees. You'll pay fees for purchases, conversion and ATM withdrawals.
Not reliable for deposits. Use credit cards to put a temporary hold on your card, like hotels, car rentals and gas stations with automated pumps.
Card restrictions. Before you leave, be sure to check the AAA Visa TravelMoney website to see what countries have card restrictions — usually related to US travel and financial warnings.
Consider using the Travelex Money Card instead of the AAA Visa TravelMoney card.
A note about tipping with your card
When you use prepaid cards to pay for restaurant and bar tabs — or anywhere a gratuity is expected — budget a "tip tolerance" of 10% to 20% on top of your bill's base amount.
When swiping your card, many establishments reserve what they expect you'll add as a tip. If you don't have enough money on your prepaid card to cover up to 20% on top of the base amount, consider using another card to avoid an uncomfortable card denial.
How to get a AAA Visa TravelMoney card
To be eligible for a AAA Visa TravelMoney card, you must:
Be at least 16 years old
Provide personal information like name and address and a government issued ID.
Cards can be purchased and reloaded at one of the many AAA retail offices throughout the country. The benefit of being a AAA member is that you have the flexibility of reloading online www.aaa.com or calling 866-674-9622. Nonmembers needs to reload at the same location they bought the card.
I got the card. Now what?
If you're loading funds onto your card, be aware that they may not post immediately. It may take a day or two depending on weekends or holidays.
Spend wisely. Keep track of your spending and balances by registering your card on the AAA Prepaid website, AAA Prepaid app or calling 866-674-9622.
Factor in fees. Each time you use your card, you'll pay a fee. Be sure to factor in those amounts when calculating your balance.
Security. If you have any questions or your card is lost or stolen, call 866-674-9621 to get a replacement.
Closing your card. To avoid inactivity fees, close your card when you're done traveling by calling card services 877-856-2471.
If your card has been lost or stolen, customer service can arrange for a replacement card to be sent to you for a fee of $5.95.To avoid waiting for a replacement card, it's wise to initially purchase an additional card for only $1.50.
Bottom line
If you're looking for a travel card that gives you the perks of a credit card — without the interest rates, the AAA Visa TravelMoney Card is worth looking into. Before deciding on a travel money card, consider your options and compare.
Frequently asked questions
More guides on Finder