FFP3 vs N95 face masks
"N95" is a mask certification set by US standards, while "FFP3" masks conform to European standards. Find out how they differ, and why it matters.
Many countries are insisting that people wear a mask when out and about, in a bid to curb the spread of coronavirus. And if you're ill or caring for someone who is ill, the WHO has said you should be wearing a mask. But there are lots of types, and it's worth understanding how much protection each one offers.
Respirator masks are more effective than traditional disposable surgical masks or reusable cloth masks at protecting the wearer from small droplets and particles. "Respirator" means a device that is designed to filter air as you breathe it in. In early April 2020, when we published this guide, N95 and FFP3 were the most searched-for types of respirator masks. But what's the difference between the two?
FFP3 masks – European standard
FFP3 masks have to pass tests set out in a European standard (European EN149:2001 – for "disposable particulate respirators" and you'll see that code printed on the mask itself). The masks can be made by different manufacturers and won't all have the same specifications, but they will all have to meet those minimum standards. Wearing an FFP3 mask, you'll be protected from inhaling solid particles, non-volatile liquid particles and oil-based mists. FFP3 face masks are the standard that the NHS demands for its staff. The level of protection is greater than that offered by FFP1 or FFP2 masks.
N95 masks – US standard
N95 face masks must meet US standards. However (and as you might expect), N99 and N100 face masks offer a greater level of protection than N95 masks in terms of the proportion of tiny particles that are filtered out. In fact, when considering filtration requirements, N99 masks are a closer equivalent to FFP3 masks, while N95 masks are a closer equivalent to FFP2 masks.
KN95 is a Chinese standard that is broadly comparable to N95 and FFP2.
N95 and FFP3 respirators compared
N95
FFP3
Example
Conforms to
USA: NIOSH (42 CFR 84)
EUROPE: EN 149:2001+A1:2009
Minimum filter efficiency requirement
95%
99%
Filter efficiency tested using
Sodium chloride
Sodium chloride and paraffin oil
Filter efficiency test flow rate
85l/min
95l/min
Filter efficiency test particle diameter
0.3 microns (approx.)
0.3 microns (approx.)
Maximum total inward leakage requirement
N/A
2%
Maximum permitted inhalation resistance
3.43mbar at 85l/min
1.0mbar at 30l/min
3.0mbar at 95l/min
Maximum permitted exhalation resistance
2.45mbar at 85l/min
3.0mbar at 160l/min
Sources: Smart Air, 3M, Health and Safety Executive
The verdict
Ultimately, FFP3 masks offer a greater degree of protection, but N95 masks still boast an impressive capability. Although these two standards of mask might be the best known, they're not really considered equivalents. The classification FFP3 is broadly considered an equivalent to N99 or KN99 classifications.
Before you place an order, look at how the mask is held in place on a wearer's head. According to the US standard – NIOSH (42 CFR 84) – an N95 mask must be "equipped with adjustable and replaceable head harnesses designed and constructed to provide adequate tension during suspension and an even distribution of pressure over the entire area in contact with the face". A pair of flimsy ear loops isn't likely to give as good a seal as a sturdy pair of adjustable headbands.
Don't forget that medical professionals need these masks more than most, so don't bulk buy and/or stockpile medical-grade personal protective equipment while there's a shortage.
The World Health Organization has advised that healthcare workers "should use a particulate respirator at least as protective as a US National Institute for Occupational Safety and Health (NIOSH)-certified N95, European Union (EU) standard FFP2, or equivalent".
Recently over 100 doctors called for the public to don home-made face masks when out and about.
Related news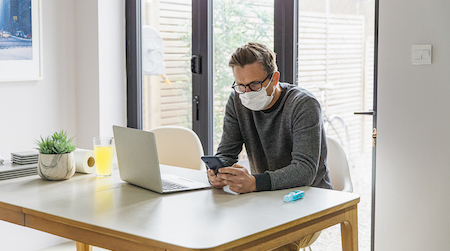 Face mask news and where to buy during COVID-19. Find in-stock sellers, how to make them, wear them and more.
Read more…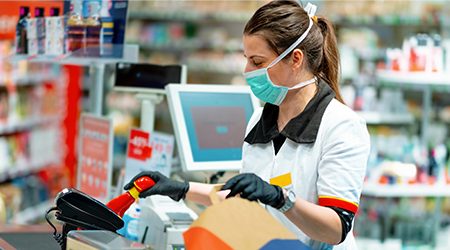 These retailers offer N95, FFP3 and disposable surgical face masks and coverings in bulk. See your options and get fast shipping on in-stock orders.
Read more…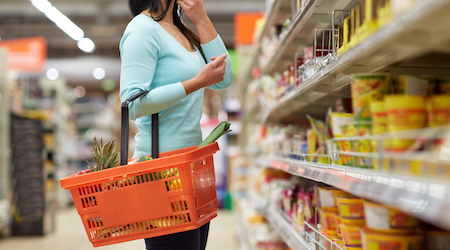 60% of shoppers stockpiled goods ranging from toilet roll to pasta as the UK headed towards coronavirus isolation, new research has found.
Read more…