How it Works
1. Don't add to cart. Put it on ice.
Icebox for Chrome replaces the buy button on the most popular e-commerce stores, automatically saving you from your weakest moments. Icebox also adds a reminder on over 400+ online stores.
2. Once the item is in Icebox, the thawing period begins.
You aren't able to buy the item
until the cooling period is over.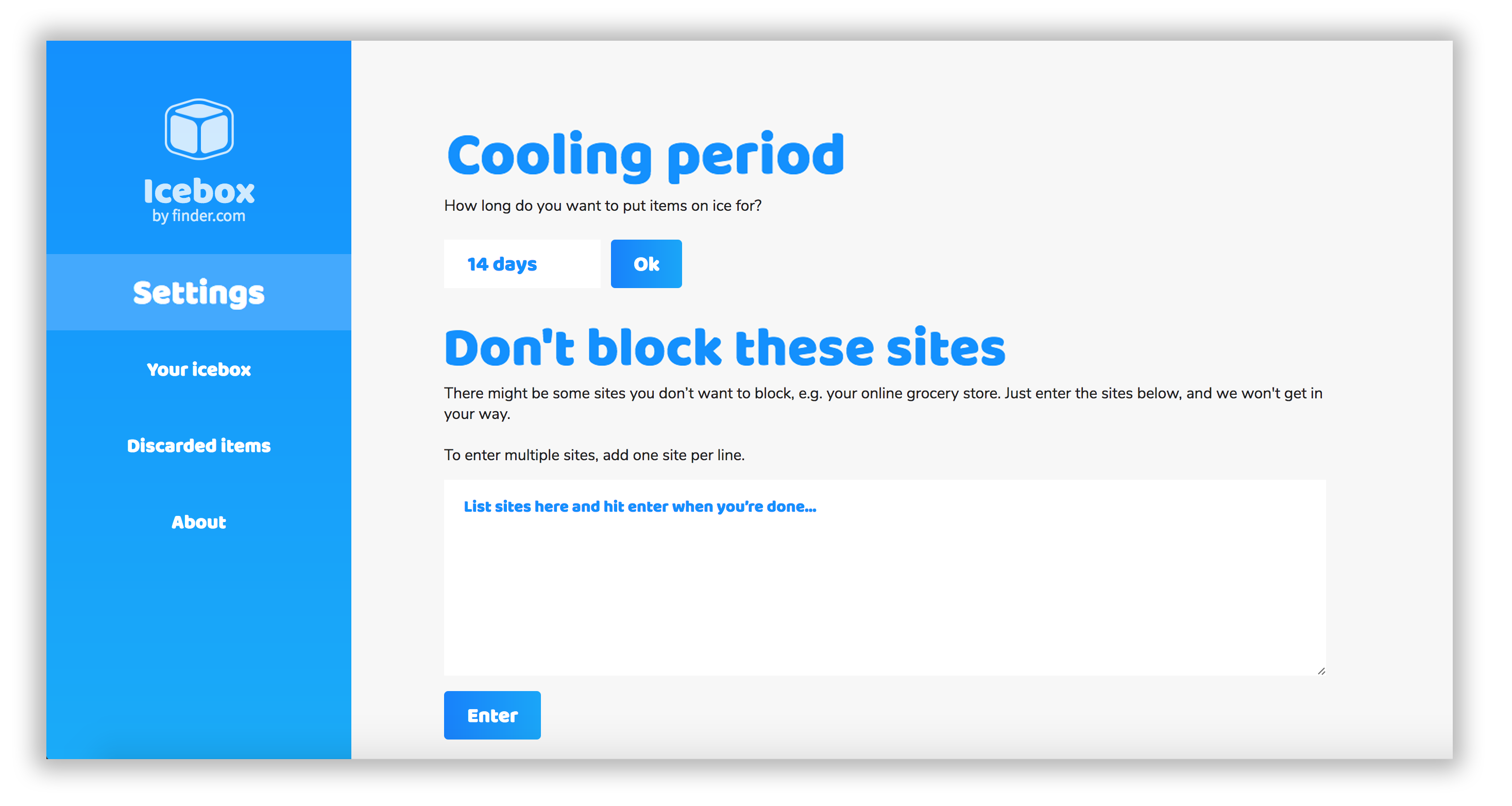 3. Set the cooling period for as long as you'd like.
You can go by the 30-day rule. But even a three-day cooling period can potentially put money back in your pocket.
An impulse purchase is one that isn't planned.
So you may want to keep some sites on ice. Simple as that.
Where it Works
And 400+ more online shops
Here's how Icebox can help you make better shopping decisions
FAQs
---
How do I install Icebox?
Simply install the Icebox by visiting the Chrome web store and following the instructions there.
What if I really need to buy something?
Icebox has a loophole, but it requires extra steps to make sure your necessity is legit. Click the cube in your Chrome toolbar, select "Let me buy this" and follow the instructions.
What is impulse buying?
It's not just candy and snacks. Anything you weren't planning to buy is considered impulsive.
Which sites does Icebox replace the buy button?
Popular sites including amazon.co.uk, argos.co.uk, asos.com, boots.com, clarks.co.uk, debenhams.com, hm.com, halfords.com, houseoffraser.com, johnlewis.com, marksandspencer.com, mothercare.com, newlook.com, next.co.uk, pcworld.co.uk, sainsburys.co.uk, schuh.co.uk, superdrug.com, direct.tesco.com and topshop.com.
For over 400 other stores, it will appear as a pop-up.
Is Icebox available in other browsers?
For now, no. It's only in Chrome. If there's sufficient demand, we may consider opening it up to other browsers in the future. In the meantime, if you want to limit your impulse spending and use Icebox, uninstall other browsers if you can.
Is Icebox available on mobile?
Unfortunately you can't add extensions to the browser on your smart phone. If you have shopping apps on your phone, we recommend deleting them. Yes, this makes it a little bit more difficult to make purchases. But that's exactly what we're trying to do. The shops have made it too easy. Put more of a barrier in your way, to give yourself time to think… and chill.
How do I enable Icebox in Incognito Mode?
Click on the menu button in the top right of Chrome then tools > extensions. Find the Icebox by finder.com extension, and click the 'Allow in incognito' checkbox.
What data do you collect?
We do not collect or have access to any of your personal information. We use Google Analytics to track aggregated data within the extension. So we do not track your visits to websites across the web, only interactions with the extension.
I don't want the Icebox to appear on certain sites. What can I do?
Click on the ice cube in the Chrome navigation bar to access the Icebox. Select "settings" from the left-hand navigation bar in the Icebox. There, you can add the website to the "Don't block these sites" section. And click "submit".
Can I change the cooling period? How long can I put things on ice?
Yes, the cooling period can be changed in the settings section of the Icebox. You can put things on ice by typing in any whole number of days between 1 and 30 days.
Can I remove items from Icebox before the cooling period is over?
No, you can't remove items until after the cooling period.
Why is the "put it on ice" button different on some sites?
We have custom coding for the most popular ecommerce sites to help control your impulse spending. For the rest of the 500 sites, we have generic code that shows up as a pop-up reminder. You can always add and remove sites that Icebox works on in the settings page.
Will the price remain the same?
Provided the price has not changed from when you originally put the item on ice, it will stay the same. However deals and discounted pricing are subject to retailer conditions.
Do you make money from Icebox?
No. We built the extension to help people control their impulse spending. Although finder.com has partnerships and may receive compensation from third party products or services, we don't have any partnerships or compensation for clicks on links within Icebox.
How do I uninstall Icebox?
To uninstall the extension go to your extensions page in Chrome and delete, or you can right click on the Icebox icon in the browser and click "Remove from Chrome". Remember, removing the extension will delete all of the items in your Icebox.
Can I extend the cooling period for even longer?
At the end of the 30-day cooling period (maximum icing), if you still want to give it some thought you can simply put the item on ice for another 30 days.
What if I want a refund after purchasing?
Icebox helps you decide if you really need to buy an item, but we are not the store itself. If you go ahead and purchase an item and want a refund, you will need to get in touch with the store you bought it from.
What happens to my Icebox if I uninstall the extension?
If you uninstall the extension, all of the items in your Icebox will be deleted. We don't save a copy of your icebox on our servers.