HyperJar review
There's a new money management app in town in the form of HyperJar – we take a look at what's on offer.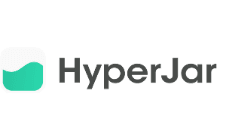 What is HyperJar?
HyperJar is a new budgeting app designed to make it easier to plan, share and spend your money.
It offers what it calls "jam-jar budgeting" where you have lots of little money pots on the go, some assigned to pay regular bills like your food shop or petrol and others ear-marked for saving towards a specific goal like a holiday.
HyperJar has quite a few features going on, which includes the ability to create Shared Jars with your family and friends and "lock in" money to spend at certain retailers ahead of doing your shop with them.
The account also comes with an accompanying Mastercard, plus there will eventually be a linked payment card available for children.
What are the features of HyperJar?
HyperJar is free to download and use, with no monthly or annual fees. Here are its main features:
Jars. You can open Jars to separate out your money into funds you need to spend on bills, or cash you want to set aside to save up for a treat.
Shared Jars. You can set up Shared Jars to act as digital kitties for between 2 and 100 people. You invite people to join the Jar through Bluetooth or by QR code. You can all put money into the designated Jar and then the Jar "owner" uses their HyperJar payment card to spend from it.
Payment card. You can spend directly from any Jar that you have set up, though you'll need to pre-select it in the app first.
Retailer-related money programme. HyperJar offers quite an unusual feature where you can "lock in" money to spend at retailers such as Lidl, Shell and Virgin Wines. By committing this so-called "H Money" upfront you then earn a daily 4.8% Annual Growth Rate on it until you spend it.
Free spending abroad. There are no fees or charges for making purchases with your payment card overseas and you'll get the best available Mastercard rate for the currency conversion.
Kids' payment card. This feature hasn't launched yet, but eventually you'll be able to order a payment card for your child and assign them pocket money to spend.
Who can open a HyperJar account?
You'll need to be aged 18 or over and a UK resident in order to open a HyperJar account.
HyperJar only entered the market in 2019 and hasn't actually fully launched, but you can still sign up to open and use a HyperJar account, in what the provider is calling its "private launch".
How do I sign up to HyperJar?
You need to start by downloading the mobile app from the App Store or Google Play Store.
HyperJar doesn't carry out any credit checks, but you will have to go through a sign-up process involving a basic ID check on you and your address. HyperJar will then open your account and issue your Mastercard, which normally takes about a week to arrive through the post.
You'll need to transfer money from your main bank account into your HyperJar account in order to start creating Jars and depositing money into them.
Compare digital banking apps
Pros and cons of HyperJar
Pros
It's free to use.
You can allocate bill payments, spending money and saving amounts into separate Jars.
The ability to create Shared Jars, so your family and friends can pay into pots for specific goals, like a joint holiday.
"H Money" programme, where cash you "lock in" to spend at certain retailers earns an Annual Growth Rate until you spend it.
Fee-free spending abroad with the accompanying Mastercard.
Cons
It's not a bank account – you'll have to move money into your HyperJar account in order to manage it from there.
You need to select which jar you're paying from before using the Mastercard (if you go over that amount and have no other money in your main HyperJar account, your payment will be declined).
It could get complicated managing all the various Jars.
Our verdict
There's quite a few budgeting apps out there now, but HyperJar is bringing something new to the table with its ability to "lock in" money to spend at certain retailers and earn an Annual Growth Rate on it before you do. The Shared Jars is also a nice touch – if you can get all your friends onboard with it.
The fact the app is free to use is also a bonus, but it might take users a while to get used to managing all the different Jars, as well making sure they have enough to spend in whichever Jar they choose to make a purchase from with their payment card.
More guides on Finder