Finder is committed to editorial independence. While we receive compensation when you click links to partners, they do not influence our opinions or reviews. Learn how we make money.
Southwest Rapid Rewards® Priority Credit Card review
The ultimate Southwest Airlines credit card for the frequent flyer.
finder.com's rating: 4.1 / 5
★★★★★
Get this card if you often fly Southwest Airlines.
Pick something else if you prefer other airlines or if you want a general travel card.
Apply with a good to excellent credit score of 670 or higher.
40,000
Points as welcome offer
15.99% to 22.99%
Purchase APR (variable)
Details
| | |
| --- | --- |
| Product Name | Southwest Rapid Rewards® Priority Credit Card |
| Card type | Visa |
| Annual fee | $149 |
| Purchase APR | 15.99% to 22.99% variable |
| Balance transfer APR | 15.99% to 22.99% variable |
| Balance transfer fee | $5 or 5% of the transaction, whichever is greater |
| Cash advance rate | 24.99% variable |
| Cash advance fee | $10 or 5% of the cash advance amount, whichever is greater |
| Foreign transaction fee | None |
| Interest free period | Up to 21 days |
| Late payment fee | Up to $39 |
| Returned payment fee | Up to $39 |
| Rates & fees | rates & fees |
Expert review
Review by
kliment.dukovski@findercrew.com
---
Kliment Dukovski is a credit cards writer. He's written over 600 articles to help readers find and compare the best credit cards. Kliment has also written on money transfers, home loans and more. Previously, he ghostwrote guides and articles on foreign exchange, stock market trading and cryptocurrencies.
Expert review
The Southwest Rapid Rewards® Priority Credit Card is the high-end Southwest credit card with a $149 annual fee, a strong signup bonus and a generous 7,500 bonus points each year on your credit card anniversary. This is worth around $100, which lowers your card annual fee down to around $50. Add in the $75 annual Southwest credit and the card basically pays for itself.
You also get to earn 2x points on your Southwest purchases and on hotel partners including Marriott Bonvoy and World of Hyatt, or car rental partners such as National Car Rental, Alamo and Avis. All other purchases earn 1x points.
Using the card abroad won't accrue any foreign transaction fees, and you shouldn't have any problems with card acceptance since this is a Visa card.
Despite being the most expensive Southwest personal credit card, its perks make it the best value for the frequent and even the occasional Southwest flyer.
How to apply for the Southwest Rapid Rewards® Priority Credit Card
Learn more about how to apply for Southwest Rapid Rewards® Priority Credit Card.
Fill out the application form with all required details.
Review your application and submit.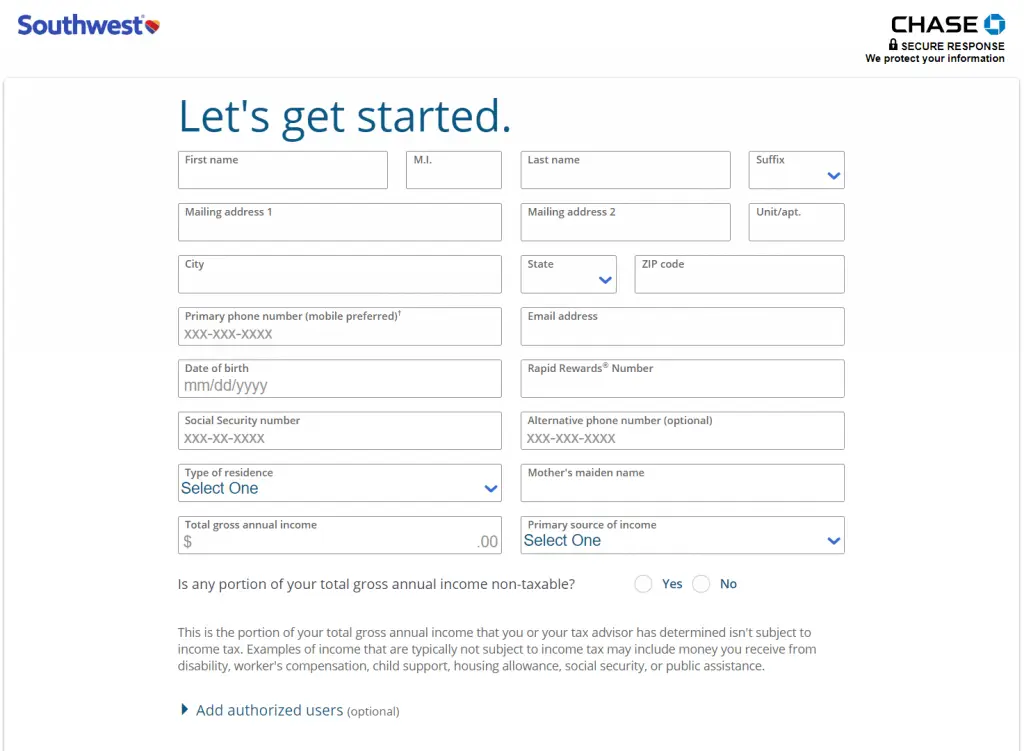 How long will it take to get my Southwest Rapid Rewards® Priority Credit Card?
Chase may make an immediate decision on your application. If additional information is required, it can take up to few weeks.
Once approved, expect your card to arrive within seven to 10 days.
Card benefits
Signup bonus.
You can earn 40,000 bonus points when you spend $1,000 on purchases in the first three months of opening your account.
Rewards points.
Earn 2x points on Southwest flights and purchases at hotel and car rental partners, and 1x points on all other purchases.
Anniversary points.
Get 7,500 bonus points every year on your card anniversary.
No foreign transaction fees.
You won't pay any foreign transaction fees when using your card abroad.
Annual travel credit.
Get $75 in annual Southwest credit.
20% back on in-flight purchases.
When you buy drinks, movies or Wi-Fi during your flight, get 20% back as a statement credit.
No penalty APR.
There's only a fee of up to $39 if you make a late payment. With other cards you could incur a penalty APR of up to 31%.
Travel coverage.
Get up to $3,000 coverage per passenger on your itinerary in case of lost luggage. Also, if your luggage is delayed for six hours or more you can get reimbursement for essential purchases like toiletries and clothing — up to $100 per day for three days.
How much rewards can I earn with the Southwest Rapid Rewards® Priority Credit Card?
| Where you spend: | How much you spend: | Points earned: |
| --- | --- | --- |
| Southwest Airlines | $2,500 | 5,000 |
| Hotel partners | $2,500 | 5,000 |
| Car rental partners | $1,000 | 2,000 |
| Anniversary bonus points | $149 | 7,500 |
| Everything else | $5,000 | 5,000 |
| Total | $11,149 | 24,500 |
With similar annual spending, you would earn 24,500 points. With a point value between 0.9 and 1.6 cents for Southwest flights redemption at the time of writing, the total translates to between $240 and $390 in rewards. This is more than enough to redeem for a one-way flight in the US.
What to watch out for
Annual fee.
The card comes with an annual fee of $149. But that pays itself with the annual 7,500 points worth $75 or more and the $75 in annual Southwest travel credit for a total of $150.
Different minimum credit lines.
Depending on your creditworthiness and other factors, you may get a Visa Signature or a Visa Platinum card. The minimum credit line you can get with the Signature card is $5,000, while with the Platinum card you can get a minimum of $2,000 credit line.
What should I know before I apply?
You must be at least 18 years old, at least 19 years old in Alabama and Nebraska and a US resident.
In your application form, you need to provide your:
Full name, residential address and contact information.
Social Security number and date of birth.
Housing status and monthly rent or mortgage.
Annual income.
What credit score do I need?
Having at least a good credit score of 670 when you apply for the card will increase your chances of approval.
Also, if you have Rapid Rewards® number you can provide it in the form.
Compare travel credit cards
Southwest Rapid Rewards® Priority Credit Card reviews and complaints.
The Better Business Bureau rates JPMorgan Chase Credit Card division with an A+. Most customer complaints revolve around poor customer support for the bank in general and for hidden fees. Avoid these issues by reading the card's terms and conditions.
I got the card. Now what?
Download the Chase Mobile app. Pay your bills, transfer money with Zelle, send wire transfers and more.
Avoid interest and fees. Your due date is 21 days after the close of each billing cycle. Make sure you pay your balance by then to avoid late payment fees and high interest rate.
Customer service. Call 302-594-8200 and Chase customer service will assist you.
How do I redeem rewards from the Southwest Rapid Rewards® Priority Credit Card?
Redeem your Rapid Rewards points for:
Southwest flights.
Gift cards.
Merchandise.
Hotel stays.
Car rentals.
Other packages like spa, cruises and golf trips.
When booking flights, log in to your Rapid Rewards program account at the Southwest website and find the flight you wish to redeem your points for. Submit your information and purchase the flight.
Bottom line
If you're a frequent Southwest Airlines flyer, the Southwest Rapid Rewards® Priority Credit Card could be a great addition to your wallet. Aside from earning points on Southwest flights, you can earn points on their hotel and car rental partners. Furthermore, you get a solid signup bonus, annual travel credit, annual bonus points and more.
But if you feel like there could be a better card for you, check out other travel credit cards and compare your options.
Frequently asked questions
Credit card ratings
★★★★★ — Excellent
★★★★★ — Good
★★★★★ — Average
★★★★★ — Subpar
★★★★★ — Poor
Our team evaluates credit cards to determine their value against similar cards on the market.
We rank card types — travel, cash back, business — on a set of factors that are most relevant to that type of card. We create these rankings to help you narrow down a credit card that best suits your spending and budget.