Finder is committed to editorial independence. While we receive compensation when you click links to partners, they do not influence our opinions or reviews. Learn how we make money.
Marriott Bonvoy™ Premier Plus Business Credit Card review
A hotel rewards business card offering a strong signup bonus and high point earnings.
Get this card if you often stay at Marriott Rewards® and SPG® hotels.
Pick something else if you want cash back or a card with an intro APR period on balance transfers and purchases.
Apply for this card with a good to excellent credit score of 670 or higher.
Discontinued product
This card has been discontinued, and it is not available on our site.
Compare other credit cards
or
take Finder's credit card quiz
to find one that fits your needs.
The perks
Signup bonus.
Earn 75,000 bonus points after you spend $3,000 on purchases in your first 3 months from your account opening. You can redeem your bonus points for up to 10 complimentary nights in a Category 1 hotel.
Earn rewards points.
Earn 6x points at Marriott Bonvoy hotels. Earn 4x points at car rental agencies, restaurants and office supply stores and on airline tickets and Internet, cable and phone services. And you can earn 2x points on everything else you buy.
Complimentary night every year.
Every year after your cardmember anniversary, you'll earn a complimentary night at a Category 1 through 5 hotel in the Marriott Bonvoy collection.
Silver Elite status.
You automatically receive Silver Elite status when you open your account and when it renews on every card anniversary. You get benefits such as 20% more points earned on hotel stays, free Wi-Fi, late checkout, exclusive Elite offers and more.

Marriott Bonvoy program changes

In August 2018, Marriott Rewards®, the Ritz-Carlton Rewards® and the Starwood Preferred Guest® joined in a single rewards program. Individual program names remained until 2019 when the new program name, Marriott Bonvoy, was announced.
You'll also like …
Upgrade to Gold Elite status.
Spend at least $35,000 with your card in a calendar year or spend 50 nights at participating hotels to earn Gold Elite status. You get all the benefits of Silver Elite, plus continental breakfast, complimentary room upgrades, 25% more points earned per stays and more.
No foreign transaction fees.
Use your Marriott Bonvoy™ Premier Plus Business Credit Card internationally without paying transaction fees. Other cards have fees of up to 3% of each transaction.
Trip and luggage reimbursement.
Get up to $500 coverage for meals and lodging — per common carrier ticket — in case your trip is delayed more than 12 hours and overnight stay is required. Also, if your luggage is lost or damaged, get up to $3,000 in coverage per passenger and up to $100 per day for delayed luggage up to five days.
Purchase protection.
For purchases made with your card, you get coverage for 120 days against theft and damage for up to $10,000 per claim.
Visa concierge service.
Use the Visa Signature Concierge to make plans for dining and entertainment or to select the perfect gift. Keep in mind that you'll pay for any goods or services purchased through this service.
What to watch out for
Annual fee.
You won't pay an annual fee the first year. But starting the second year on, you'll pay $99 annually to keep the card open.
Credit line size.
Based on your company's creditworthiness, your credit access line will be at least $5,000. For credit lines of $25,000 or more, Chase may require additional information from you.
Balance transfer limits.
You can make a balance transfer from a non-Chase account up to $15,000 or your credit limit, whichever is lower. For each transfer, you'll pay $5 or 5% of the transaction, whichever is greater.
Short grace period.
The Marriott Bonvoy™ Premier Plus Business Credit Card has a grace period of at least 20 days. Most other cards offer a 25-day grace period and some, such as The Plum Card® from American Express, have up to 60 days (see rates & fees).
Penalty APR.
Making late or returned payments will result in fees as high as $39. Once you make one late or returned payment, Chase may apply a penalty APR of 29.99% variable — which you could be stuck with indefinitely.
Points expiration.
Your points expire if you don't make a purchase on your card at least once every 24 months. Also, you'll lose all of your points if you fail to make the minimum payment within 60 days of your due date or if your account becomes delinquent.
What size business is the Marriott Bonvoy™ Premier Plus Business Credit Card good for?
Small business owners who often stay at Marriott Bonvoy hotels could find this card useful. You'll be able to redeem the points you earned for complimentary nights at Marriott Bonvoy hotels and save money on your travels.
Suppose you spend $20,000 per year on Marriott Bonvoy hotels. That's 100,000 points earned, or up to $800 in redeem value. You also get 4x points for airline, rental car and restaurant purchases, among others.
But if you have a preferred airline, such as Delta or United, you could use their co-branded cards — the Delta SkyMiles® Gold Business American Express Card or the United℠ Explorer Business Card — and only use the Marriott Bonvoy™ Premier Plus Business Credit Card for stays at Marriott Bonvoy hotels.
What should I know before I apply?
To apply for the Marriott Bonvoy™ Premier Plus Business Credit Card, you must be at least 18 years old, or 19 in Alabama and Nebraska.
You'll need to provide information such as:
Your business name and address
The type of business and years in business
Your business tax ID number
Number of employees and annual revenue
Your personal name and address
Your Social Security number and annual income
What credit score do I need?
You'll have a better chance of being approved for the Marriott Bonvoy™ Premier Plus Business Credit Card if you apply with a good to excellent credit score of 670 or higher.
What do customers say about the Marriott Bonvoy™ Premier Plus Business Credit Card?
Customers love the generous signup bonus and the annual complimentary night they get. They consider this a good-value card for loyal Marriott clients.
As of July 2018, the Better Business Bureau (BBB) rates Chase with an A+, but they haven't accredited their credit card department yet. Based on the 27 customer reviews there, Chase gets a composite score of 3.7 out of 5 stars.
Most complaints revolve around poor customer service and the team's inability to resolve customer issues. One customer complained that Chase linked their personal credit card with their company card without asking for their approval.
How to apply for the Marriott Bonvoy™ Premier Plus Business Credit Card?
Visit Chase's website.
From the list of business credit cards, select Marriott Bonvoy™ Premier Plus Business Credit Card. Click Apply now.
Fill out the form with the required information.
Review your application and submit it.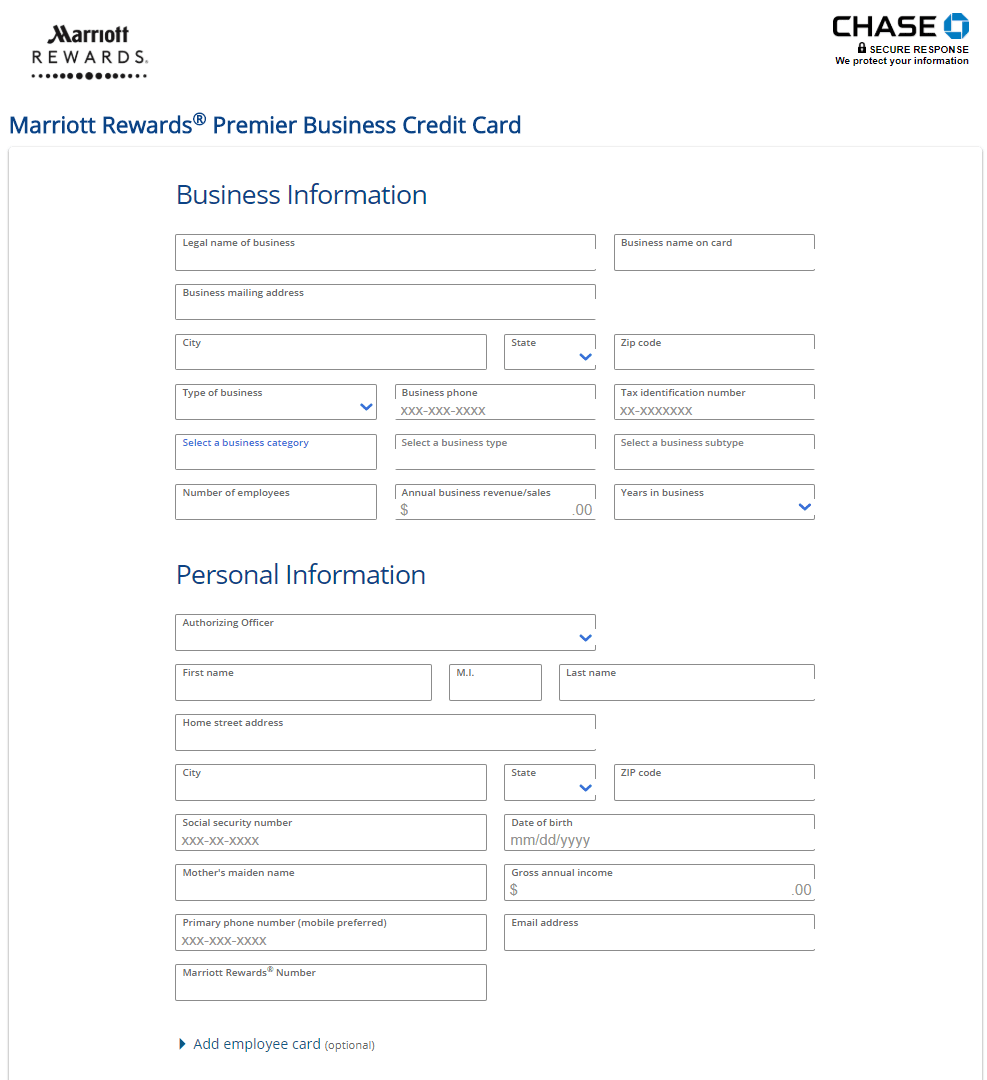 How long will it take to get my Marriott Bonvoy™ Premier Plus Business Credit Card?
Thanks to the automated preapproval system, you can get a decision within minutes. In some cases, you'll need to wait seven to 10 business days or more to get a decision if more information is required. Once approved, you'll get your card in the mail within 10 days.
I got the card. Now what?
Set up autopay. Enroll in Chase Online

℠ Banking or download the Chase Mobile® Banking app and set up automatic payments to help you pay on time.

Avoid paying interest. Making late payments may attach a penalty APR of 29.99% variable indefinitely, and you may lose your points. Try to make your payments before your grace period expires.
Avoid fees. Late and returned payments come with fees up to $39. Balance transfers and cash advances also come with fees.
Contact customer service. For any questions, call Chase support at 1-800-432-3117.
Compare other travel rewards cards
Bottom line
With more than 5,700 participating Marriott Bonvoy hotels, you may find this card useful in your travels. You'll get to earn points to redeem for complimentary nights, and you'll get a free night annually among the other hotel perks this card offers.
In addition, you'll get trip and luggage reimbursements for delays, purchase protection for new items and concierge services — which may come in handy when you want to get tickets for sports or entertainment events, make dining reservations or choose a perfect gift.
Before making a decision, always compare your credit card options to find the card that best fits your business's needs.
Frequently asked questions about the Marriott Bonvoy™ Premier Plus Business Credit Card
Editorial Note: Any opinions, analyses, reviews or recommendations expressed in this article are those of the author's alone, and have not been reviewed, approved or otherwise endorsed by any card issuer.
Images: Chase.com
Expert review
Review by
kevin.chen@findercrew.com
---
Kevin Joey Chen is a credit cards, banking and investments writer whose work and analysis have appeared on CNN, U.S. News & World Report, Business.com, Lifehacker and CreditCards.com. He's passionate about helping you get your finances in order by expertly navigating cutting-edge financial tools — including credit cards, apps and budgeting software.
Expert review
If you're looking for a hotel card, Marriott Bonvoy™ Premier Plus Business Credit Card is an attractive choice. It comes with an outstanding signup bonus that can earn you enough points for up to 10 complimentary stays at a Category 1 Marriott Bonvoy hotel.If you stay at Marriott often, you'll earn even more: 6x points at Marriott Bonvoy hotels. That's in addition to the 10x points you'll earn as a Marriott Bonvoy member at most Marriott properties. Needless to say, this card is a powerful points machine if you're a Marriott Bonvoy regular.
Your company can also benefit from this card by spending in the right categories, even if you don't stay at Marriott much. Additionally, you'll earn a complimentary night at a Category 1 through 5 hotel each year you remain a cardholder. Travel rewards don't just come in the form of complimentary nights; you'll also get travel and purchase coverage, such as trip cancellation coverage and purchase protection.