Amazon, Goldman Sachs offer credit lines to select sellers. Here's what we know — and how it compares to other small biz financing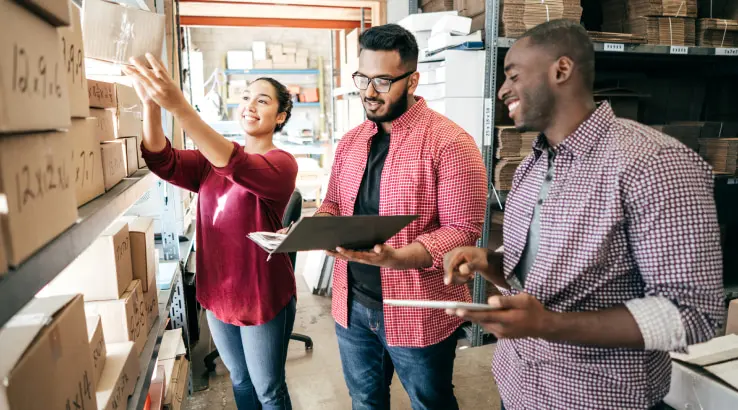 Invitation-only financing with more flexible payments than you'll find through Amazon Lending.
Amazon Lending announced Wednesday that it is partnering with online lender Marcus by Goldman Sachs to offer lines of credit to select merchants. Eligible sellers can apply for a revolving credit line with limits of $10,000 to $75,000 and rates between 6.99% APR and 20.99% APR, a Marcus representative told Finder.
The goal of the new financing program is to help Amazon sellers grow by covering costs like working capital, expanding product development and marketing.
How to qualify and apply
Marcus by Goldman Sachs business lines of credit are available by invitation only through Amazon, with plans to eventually roll out availability to more business owners.
To confirm whether your business is invited to apply for this new line of credit, log in to Amazon Seller Central with your account details. Businesses that qualify should see a message about the Marcus line of credit on the homepage.
If you're eligible, click on the announcement, which redirects you to the Marcus website, where you can fill out an online application. Reach out to the business lending department at Marcus by Goldman Sachs by calling 833-906-2224.
How does the Marcus line of credit compare to Amazon Lending?
Amazon also offers to its marketplace merchants short-term loans of $1,000 to $750,000 with terms of up to 1 year through Amazon Lending.
The application process is similar, but it serves a slightly different need than the Marcus business line of credit: While you can use the line of credit for any rolling business expense like payroll, the loan is primarily designed to cover a one-time cost.
The line of credit might also offer a faster option than Amazon Lending, which typically takes five days from applying to process. While Marcus hasn't released information about the turnaround time on its new product, it can take as little as two days to fund a typical personal loan.
Amazon Lending might be easier to qualify for after the program starts accepting applications. While we were unable to get confirmation of what Marcus considers when underwriting your application at press time, its personal loans program has tighter requirements than many other online lenders.
Amazon Lending typically relies at factors like sales growth and customer reviews. But it's possible Marcus might also consider factors like time in business and your personal credit score.
Small business alternatives
If your business hasn't qualified for a Marcus business line of credit, many other online providers offer borrowing options for Amazon Sellers.
For example, the lender Kickpay specializes in inventory financing for fast-fashion businesses with online stores at a fixed cost of 3% to 7% of the advance amount. And Clearbanc offers advances to online retailers for a wide range of expenses, charges a fee of 6% to 12.5% of the advance amount. Both ranges of fees are low compared with other merchant cash advance companies.
Some lenders like BlueVine also provide online lines of credit for your business, which you can use as needed to cover regular revolving expenses. These typically offer credit limits from $5,000 to $5 million with rates from 8% to 80%.
Lines of credit can be less expensive than a merchant cash advance, but they rely on factors like time in business, revenue and credit scores to qualify for. Merchant cash advances also tend to have high approval rates.
Cash advance companies look at factors like your sales history when underwriting your application and typically don't consider personal credit, though some come with fixed fees equivalent to 300% APR.
Reach out if a lender isn't up front about the cost of financing online before you apply. And compare multiple offers before deciding on one lender.
Photo: Getty Images