20 best jobs for kids to make money
The best jobs for kids depend on various factors, including where they live, their interests, how much time they have available and whether the work is parent-approved. In addition to providing some money, kid-friendly jobs should also excite them, offer valuable experiences, be low-risk and not cause them to neglect their schoolwork.
To help your child find suitable work, we cover the advantages of jobs for kids, the best age to start working and where to stash their cash. We also asked financial experts for their ideas about great jobs and ways they benefit kids who work.
6 benefits of kids having jobs
Children and youth can learn many lessons and develop skills from their employment. Some benefits include:
Builds life savings. An employed youth can contribute to a retirement account, such as a Roth IRA. Minors can contribute their earnings up to $6,000 for 2021. That opens the door for kids to start investing and get a head start on retirement savings.
Gain confidence. Other significant advantages for kids getting jobs are meeting new people, building independence and confidence in their abilities and having fun. Work also allows youth and teens to manage their own money by deciding whether to save, spend or donate it.
Develops determination. Kids who work may also learn that jobs and businesses can be challenging, and work is a tradeoff for their time. When faced with a difficult situation, such as losing a customer or getting fired, youth have the chance to develop perseverance and grit.
Grows responsibility. Lorie Anderson from parental advice blog Mominformed says, "Work has a number of benefits for tweens and young teens, including personal responsibility, following through on commitments, financial literacy, and independence. Work also gives kids a sense of identity and maturity at an age when they're rapidly growing and developing the habits they will carry into adulthood."
Helps with time management. According to Laurie Kopp Weingarten, CEP, President and Chief Educational Consultant at One-Stop College Counseling, when kids work, it helps them hone their time-management skills. She says, "They have to figure out how to manage school, homework and work."
Establishes money management skills. Scott Nelson, CEO of MoneyNerd, says an important benefit of a kid getting a job is, "They could start becoming more independent, have a greater understanding from an early age what careers they may want or not want, and finally they could actually gain some valuable experience from it either for college or beyond." He notes that this experience may include teaching kids how to manage money and look after themselves.
Early teens are the best age for kids to start working
When it comes to knowing when your kid should get a job, Anderson says, "The tween years from age 11 to 13 and early teen years from 14 to 16 are the best times for kids to consider earning their own spending money." She believes that's when children begin to understand the value of money and want to make their own purchases.
The best age for kids to start working is when they're interested in earning their own money. If they're not motivated to work, it's probably a bad idea. But if parents show kids how finances work, like creating business profit, sticking to a basic budget and saving for items they want to buy, it may encourage youth and teens to work.
20 best jobs for kids
If you're wondering how to earn money as a youth or which jobs for kids pay off, here are some money-making ideas to get started.
1. Walking dogs
Dog walking for neighbors might be an excellent fit for youth who love dogs and are responsible enough to handle them. But be sure your child wouldn't be at risk of getting injured or accidentally harming a pet. Parents should help kids understand how to handle a dog and the best places to walk them safely.
2. Babysitting
Babysitting is another job for responsible preteens and teens. Parents can enroll them in an online or in-person childcare course to ensure they have the right skills, such as performing basic first aid, knowing age-appropriate activities and managing an emergency. Parents who remain at home may pay kids to look after their younger siblings to earn money.
3. House and pet sitting
If you have friends or neighbors who leave home for work or vacation, kids can take care of their pets by feeding them and taking them out to play. They can also water plants, bring in mail, and ensure the property is secure until the owners return.
4. Helping senior neighbors
If you have elderly friends or neighbors who need assistance with household chores, cooking, or yard work, it could be an excellent opportunity for kids to help out and earn some money. While working, kids might develop close relationships and learn valuable life lessons.
5. Washing cars
Washing cars for friends and neighbors can help youth and teens get some exercise and earn extra cash, especially during the summer months when the weather is warm. Parents should ensure kids have the right supplies and can scrub a vehicle without scratching it.
6. Cutting grass
In many parts of the country, homeowners' lawns grow faster than they can cut them, especially when they're away for work or vacation. Depending on the season, kids can help neighbors and friends maintain their lawns. Parents should ensure children are safe and comfortable using equipment provided, such as a walk-behind, gas-powered, or electric lawnmower.
7. Raking leaves
Even younger kids can learn how to use a rake and clean up yards. It's great exercise and gets kids out of the house when the weather cools off. Kids can work under a parent's supervision or on their own to gather and bag up leaves.
8. Pulling weeds
Getting rid of unsightly weeds growing in lawns and flower beds is a constant struggle for many homeowners. Kids can earn money pulling them for you, your friends and your neighbors. Parents can provide good-fitting gloves and help kids recognize desirable versus invading plants that need to go.
9. Planting flowers
If your child enjoys the outdoors and digging in the dirt, planting flowers is a fun way to earn money. Depending on the time of year and wealth, you or your neighbors may want help installing new flowers in pots or in-ground beds.
10. Skimming pools
If you, your friends, or neighbors have a pool, kids can earn money keeping them clean. Children can skim leaves and remove debris from swimming pools with the homeowner or on their own. Parents should make sure kids are strong swimmers and wouldn't be at risk of having an injury.
11. Shoveling snow
In many areas, homeowners need help clearing snow from driveways, sidewalks and entryways during the winter months. It's an excellent way for strong kids to stay active, help out their neighbors and earn some cash.
12. Painting fences
If you or your neighbors have wood fences that need to be painted from time to time, kids can learn how to do it. From scraping off old paint to priming and painting, older kids can help do the job when the weather is good.
13. Washing windows
Cleaning interior or exterior windows is a task you can teach most kids. Parents can ensure kids have the proper supplies and skills to safely use a ladder for any windows above arm's length.
14. Folding laundry
Every family has loads of laundry to wash every week. Younger kids can fold clothes and towels alone or with their parents.
15. Ironing clothes
For kids who can safely handle a hot iron, paying them to do the family ironing can help around the house. They can earn money, learn a life skill and work indoors while watching TV or listening to music or podcasts.
16. Teaching sports
Nelson says, "For a child that enjoys sport and activity, maybe they could look into coaching younger kids in that sport." Parents can connect kids who are good at a sport, such as tennis, ping pong, or throwing a frisbee, with those who want to learn it.
17. Working at a camp
During the summer, kids may have the opportunity to work at a local or sleep-away camp. They can get paid to be a counselor and watch over younger kids. Parents can help find these opportunities and make sure kids feel comfortable in a leadership role.
18. Taking pictures
If your child has a knack for taking great pictures using an old-school camera or their mobile phone, they could earn money as an event photographer. Local charities and organizations may pay kids to take photos and even use phone apps to add captions or visual effects to them.
19. Helping a family business
If you're a business owner or know one who needs light office work, such as filing, cleaning or shredding paper, kids can help. It introduces kids to what it means to run a business and the different tasks that are required.
20. Creating goods to sell
Kids who enjoy creating items, such as jewelry, hats or pottery, can brainstorm how to create sales. Whether they bake, knit or grow plants, there's probably a market online or at a local farmers market.
Should kids with jobs get a bank account?
Parents can open a checking or savings account for kids and allow them to be responsible for it. Most checking accounts for kids are for teens ages 13 to 17, while kids savings accounts are for children under 17. If you want your child to start managing their savings and spending money, try a debit card for kids. With a debit card for kids, young workers can deposit cash, create savings goals and spend some of their hard-earned money shopping online or in-store.
For media inquiries: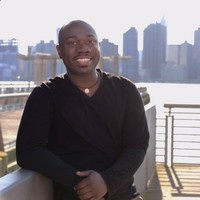 Allan Givens
Public Relations Manager
203-818-2928
allan.givens@finder.com

Nicole Gallina
Communications Coordinator
347-677-4931
nicole.gallina@finder.com