Finder is committed to editorial independence. While we receive compensation when you click links to partners, they do not influence our content.
How to get out of credit card debt
Practical and simple steps you can take to pay off your credit card balance for good.
If you're struggling to deal with credit card debt, following a debt relief plan can help get you back on the path to financial freedom. If you need a little more help than that, there are free services you can access for personalized assistance and advice.
How to deal with your credit card debt
Unfortunately, there is no single method of dealing with credit card debt. Instead, there are a number of strategies to get out from your debt, piece-by-piece. These steps are designed to form a path to financial freedom and even following them one at a time can help you along the way.
Decrease the overall amount you owe
While paying off your credit card debt is your ultimate goal, there's some nuance in making sure you don't pay more than necessary during the process.
Calculate the total amount of money you owe. It's time to face the hard truth. This process might be painful, but it's necessary and short-lived. Get all your account balances together and make a list. Include your debt amounts, the interest you're paying on each of those amounts and any other charges. As part of this process, take a look at our credit card repayment calculator to see just how long it will take to pay off your debt.
Create a budget. Start with your monthly income and figure out your essential monthly expenses. Expenses should include only the bare necessities such as bills, groceries, gas and other living expenses you need. After establishing your income and expenses, create a monthly schedule for repaying your debts. Work out how much you can pay off each month, but be practical and leave a margin for emergencies. To easily track your budget, use a budgeting app.
Avoid making new purchases. To get rid of your debt, you have to stop adding to it. Stop spending and start using that money to pay down your existing balance. Remember that your ultimate goal is to be debt free. You can treat yourself again once you've achieved that.
Set up automated payments. Using your budgeted monthly payment amount, set up automated payments to make sure you actually pay what you plan to. Set up the payments to come out of your bank account the day after you get paid

—

this is a sure-fire way to stay committed to your budget.
Make weekly payments. Even though your statement comes monthly, credit card interest is actually calculated on a daily basis. This means that increasing the frequency of your payments can help to reduce the total interest you pay over time.
Cancel cards you don't use. This tip will help save on annual fees and other charges that you may be paying on your cards. Also, this will help reduce the temptation to spend more money.
Back to top
Lower your interest rate
If you're digging your way out of credit card debt, it's likely you're experiencing the full effects of your credit card's interest rate. Here are a few options to reduce that interest rate and get out of debt faster.
Contact your credit card provider. If you're feeling overwhelmed by your debt, it might be worthwhile to appeal to your credit card provider for a renegotiation of terms. Creditors are sometimes willing to allow a temporary postponement of payments or a slightly more favorable interest rate. Generally, they would rather give you a discount than risk you defaulting on your debt.
Apply for a debt consolidation loan. A debt consolidation loan allows you to consolidate your debt into one monthly payment, often at a reduced interest rate. A consolidation loan can be a great way to save money by paying less in interest, and it can make paying back your debts more manageable. Debt consolidation loans are a good option if you plan to pay back your unsecured debt over several years.
Look into a balance transfer
Similar to debt consolidation, a balance transfer allows you to move a credit card balance from your current credit card to a new one.
Balance transfers can buy you time to repay your debt without incurring any more interest. This is because balance transfer credit cards offer low or 0% interest on your transferred debt for a promotional period of time, sometimes for as long as 24 months. This might be exactly what you need to get rid of that debt more quickly, not to mention what you'll save on interest fees that add hundreds of dollars to your debt every year.
Debt consolidation options
Compare debt consolidation loans
Transfer your debts to a 0% balance transfer card
Back to top
How to pay off multiple credit cards
If you need to pay off credit card debt across multiple cards, there are a few additional considerations to take into account for paying off your debt successfully.
Consolidate your debts onto one card. This follows on from step 3, where you can consider a balance transfer to help with your debt consolidation. As well as giving you the opportunity to save money with the most competitive interest rates for a promotional period, you'll also only have to pay off one account. It could also help you save on additional charges, such as credit card annual fees.
Pay off the card with the highest interest rate first. You'll save the most money by paying off the account with the highest interest rate first, followed by the account with the next highest interest rate and so on. You'll still have to make minimum payments on your other cards during this time.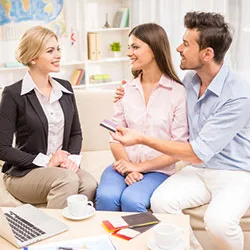 Pay off the card with the lowest balance first. For some people, paying off the card with the lowest balance first is more motivating. This strategy will reduce the number of outstanding accounts sooner and cuts down on interest charges in the process. Of course, you'll also need to make minimum payments on your other cards at the same time.
What to do if you're overwhelmed
If you're in over your head and need some help gaining ground, here are some additional tips for turning things around:
Call your issuer. If you're experiencing trouble repaying your debts, your issuer is often more than willing to help you figure out a plan to get you back on track. Alternate payment plans or adjusted rates are just a few of the outcomes that can let you start paying.
Seek professional help. Gaining control over your debts can be very difficult, especially at the beginning. It can be helpful to get professional advice and there are even a range of free services for debt management that you can consider.
Use your savings. Since your savings account could never offer an interest rate as high as the one you're probably paying on your credit card, it follows that you should be using your savings to pay off your credit card debts. Use the cash under your bed, that rainy-day fund and every penny you can find to pay off those debts, because they'll just swell up with interest if you don't. And once they're paid off, you'll have more money you can put towards your savings.
Back to top
Bottom line
Credit card debt can often seem overwhelming, but by setting a budget, planning out your strategy and/or getting a debt consolidation loan or balance transfer card if you need one, you can get rid of credit card debt and make lasting, sustainable changes in your financial life. However, if after assessing your situation you still find yourself in a position where you don't think you'll be able to make meaningful progress toward paying off your debt, it may be time to consider debt relief as a viable option.
Frequently asked questions
Picture: Shutterstock
Back to top