Wells Fargo and Hotels.com launch new rewards card aimed at earning you free nights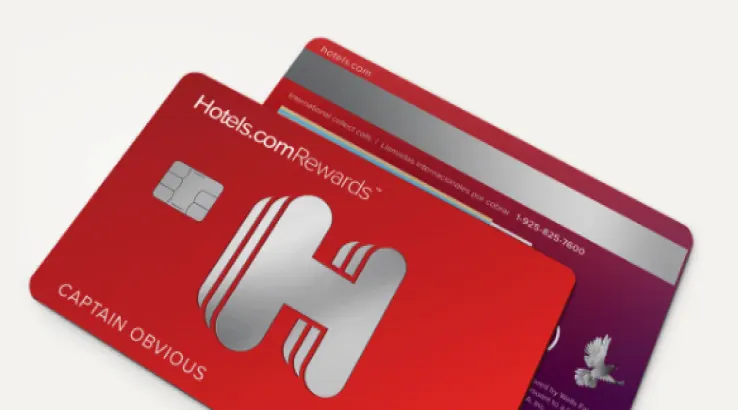 This card works with Hotels.com Rewards to help you earn additional "stamps".
Hotels.com has partnered with Wells Fargo to launch a new rewards card that can help speed up the process of earning free nights through the Hotels.com Rewards program. The Hotels.com Rewards Visa Credit Card sports no annual fee but diverges from many standard hotel cards in how you earn your rewards.
Unlike a standard rewards program, Hotels.com doesn't offer points on eligible purchases. Instead, valid purchases will earn you a "punch" or "stamp" on a virtual punch card. Earn 10 stamps, and you've earned yourself a single reward night worth the average value of all ten of your eligible purchases.
The Hotels.com Rewards Visa works along the same lines. You won't earn points when making purchases with this card. Instead, you'll earn one stamp every time you spend $500 on your card. These stamps are added directly to your existing tally, allowing you to earn stamps from day-to-day purchases as well as Hotels.com stays.
This card also offers a signup bonus: a free night worth $125 after you spend $1,000 in your first 3 months.
Hotels.com Rewards Visa Credit Card quick look
Here's an overview of the full specs of the Hotels.com Rewards Visa card.
| Card feature | Details |
| --- | --- |
| Rewards | 1 stamp for every $500 you spend with your card; stamps earned this way are worth $110 for the purposes of determining reward night value |
| Welcome offer | Earn a reward night worth $125 after you spend $1,000 in your first 3 months |
| Annual fee | $0 |
| APR | 14.99% to 22.99% variable |
| Cash advance fee | The greater of $10 or 5% of the advance |
| Balance transfer fee | 5% with a minimum of $5 |
| Late payment fee | Up to $37 |
| Returned payment fee | Up to $37 |
| Foreign transaction fee | $0 |
How does the Hotels.com Rewards Visa compare to other hotel cards?
It's tricky to compare the Hotels.com card to other hotel cards since the Hotels.com card works on a unique reward system. But since the value of your ultimate free night is based on the average value of the ten stamps you've collected, we can suss out the average value you can expect from this card.
To earn a free night using only your credit card, you'll need to spend $5,000 – that's $500 times the ten stamps you need for a free night. Sadly, stamps earned this way aren't worth $500 when it comes figuring out your ultimate reward night value. Each stamp earned by making purchases is instead worth $110.
That means $5,000 in spending on your card will earn you one reward night worth $110 in value.
Of course, earning stamps on hotel stays will nudge the ultimate value of your free night up or down depending on how much you like to spend per night on hotels. Let's see what similar spending will earn you on another no-annual-fee hotel card, the Hilton Honors American Express.
| Category | Purchases | Points earned | Point value |
| --- | --- | --- | --- |
| Hilton stays (7x points) | $5,000 | 35,000 | $175 |
| Restaurants / supermarkets / gas stations (5x points) | $5,000 | 25,000 | $125 |
| Everything else (3x points) | $5,000 | 15,000 | $75 |
The Hilton Honors American Express produces a wider band of potential value depending on where you spend. The Hilton Honors Amex mid-range earning category of 5x points will produce a slightly higher value compared to the Hotels.com offering, though you're looking at far less value if you don't stick to that category.
One strange omission for the Hotels.com card is it offers no additional benefits for using the card on Hotels.com purchases. This is unusual for a cobranded card and especially odd considering it's possible using a different credit card on your Hotels.com purchase could prove more beneficial than using the actual Hotels.com card for the same purchase.
Stay tuned to Finder's full review of the Hotels.com Rewards Visa Credit Card to whether this card has a place among the leading hotel cards on the market.
Photo: Supplied