Ford now offers a rewards credit card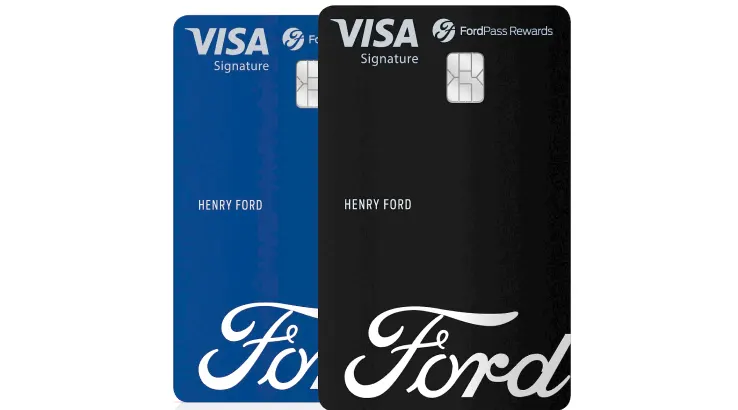 The FordPass Rewards Visa Card offers accelerated points on Ford dealership spending, gas, auto insurance, dining and more.
First National Bank of Omaha announced it has introduced a new rewards credit card in partnership with Ford and the FordPass Rewards loyalty program. This new rewards card is available for signup and will grant FordPass Rewards members accelerated earning on bonus points to their FordPass Rewards account.
This card isn't the first of its kind – there are a few other automobile-focused rewards cards on the market, including offerings from Mercedes Benz, BMW and Harley Davidson. Ford entering this space, however, may indicate these types of cards are growing in popularity or are at least financially beneficial to providers despite the small consumer base.
Card features
Here's a breakdown of the FordPass Rewards Visa Card features, rates and fees:
Feature
Details
Rewards
Earn 5% back on Ford dealership purchases, including service and parts
Earn 3% back on dining
Earn 1% back on everything else
Signup bonus
$100 statement credit when you spend $3,000 within your first 3 months of account opening
Earn 11,000 points after your first purchase while enrolled in the FordPass program
APR
0% intro APR for 6 billing cycles from date of purchase on dealership purchases over $499, reverting to 15.99%-26.99% variable
Annual bonus
Earn $200 every year when you spend $6,000 in 12 consecutive billing cycles
Annual fee
$0
Balance transfer fee
$10 or 5%
Cash advance fee
$10 or 5%
Foreign transaction fee
3%
Late payment fee
Up to $40
What are the drawbacks?
Like similar cobranded cards, the ultimate value of the FordPass Rewards Visa is tied up in the associated loyalty program. In this case, we're looking at the FordPass Rewards program. Through the FordPass app, you can redeem points on awards such as maintenance, discounts on service, parts and accessories or toward a new vehicle.
FordPass points can't be redeemed as cash and can't be transferred to other loyalty programs. What's more, you can't earn points abroad and you can only redeem your points in person at a Ford dealership or through the FordPass app, not through an associated Ford online retailer such as Fordparts.com.
When taking the above into consideration, the FordPass Rewards Visa's usefulness is extremely narrow. If you're not regularly spending at a Ford dealership, you're not going to have much else to do with this card's rewards. And from a rates and fees perspective, the card itself is rather average. It doesn't feature a standard intro APR (only an intro APR on Ford purchases), so there aren't many uses for this card outside of the rewards program.
Finally, the monetary value of a single FordPass point isn't the greatest. As of this writing, a single point is worth about a half cent.
How does the FordPass Rewards Visa Card stack up to the competition?
To get a better understanding of the strength of the FordPass Rewards Visa, we'll need to compare it to a similar card: the BMW Card for Motorrad.
As we can see, the BMW card doesn't have the same loyalty program earning potential as the FordPass Rewards Visa. However, it does have a stronger point value compared to the FordPass, so you could be earning more value, even if you're technically earning fewer points. The BMW card also comes with a 12-month intro APR on purchases and balance transfers, which offers the card some extra flexibility.
With that said, both cards fall into the same hyper-niche automobile card category. These cards are strictly for serious automobile spenders and are unlikely to convince you to purchase a BMW over a Ford or vice versa – they're supplemental cards to your existing financial (and automobile) preferences.
How to apply
To apply for the FordPass Rewards Visa Card, you can visit the FordPass Rewards Visa site. You can click the button that says "Sign In & Apply Now" to start the application process. You'll need to be a FordPass member to apply, so you can simply create an account if you need by clicking the apply button.
After signing in and filling out the application, click "Submit" to send off your information. You should hear back shortly after.
Photo: Ford