Finder may earn compensation from partners, but editorial opinions are our own. Advertiser Disclosure
The best credit cards for entertainment 2021
Earn up to 6% cash back on select entertainment spending.
Whether you like to hit the town for a concert or the theater, or you like to stay in with a little Netflix, there's an entertainment credit card for you. Not only can you earn bonus rewards on entertainment, you might earn accelerated points or cash back in other categories such as travel and dining.
We looked for cards with accelerated rewards for entertainment or streaming services. The ones that offered the highest rates or standout, streaming-related features made our list.
What's changed in 2021?
The Blue Cash Preferred® Card from American Express recently revamped its welcome offer with a higher value than previously.
Best credit cards for streaming service perks
Cards with streaming service rewards typically offer cash back or points. With some providers, you can transfer your points to travel partners to get higher rewards rates than you might think.
Here's our 2021 list of best credit cards for streaming service perks.
Quick look at the best entertainment credit cards
| | |
| --- | --- |
| Welcome Offer | $300 |
| Rewards | 6% cash back |
| Annual Fee | $95 ongoing |
| Minimum Credit Score | 670 |
Apply now
on American Express's secure site
Terms apply, see rates & fees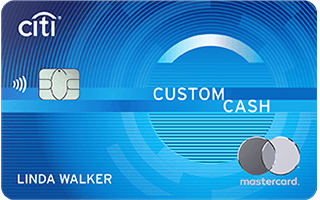 The Citi Custom Cash℠ Card earns 5% cash back on your highest spending category up to $500 each billing cycle reverting to 1% after. Given that live entertainment is one of those categories, that makes this card one of the more lucrative options for earning on your entertainment purchases. But best of all, you can easily pivot and earn 5% back on a different category each month, giving this card excellent flexibility.
| | |
| --- | --- |
| Welcome Offer | $200 |
| Rewards | 5% cash back |
| Annual Fee | $0 |
| Minimum Credit Score | 670 |
Apply now
on Citi's secure site
The U.S. Bank Cash+™ Visa Signature® Card is another strong choice for streaming purchases.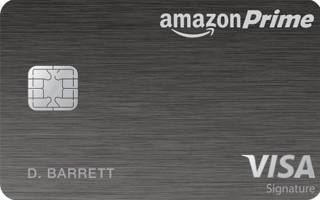 Amazon Prime Rewards Visa Signature Card
The Amazon Prime Rewards Visa Signature Card doesn't offer direct rewards on streaming services.
The information about Amazon Prime Rewards Visa Signature Card has been collected independently by Finder and has not been reviewed or provided by the issuer.
How to choose the best credit card with streaming perks
There are several helpful cards for streaming perks. That said, here are a few ways to narrow your options:
Calculate how much you spend on streaming services.
Consider how much your monthly streaming bill is and calculate the rewards you'll earn based on that spending.
Check which streaming services are included.
Not all streaming reward cards offer rewards on the same services. Make sure you choose a card that offers rewards on a service you watch.
Consider the annual fee.
Whether the annual fee is worth paying largely depends on whether you think you can earn enough rewards to justify the card's cost. Also, consider whether the card offers perks to offset the annual fee.
Decide which bonus categories you'd like.
Look at the card's bonus categories outside of streaming spending. If these categories line up with your typical spending, the card could be a well-rounded choice for you.
Check the rules or limits on rewards.
Some providers cap the rewards you can earn in bonus categories. Others make you jump through hoops before you can earn your rewards. Check if you're okay with these limits before applying for the card.
What are credit cards with streaming service perks?
These are credit cards that offer accelerated rewards on streaming services. Your card provider will maintain a list of qualifying merchants, and it may cap the bonus rewards you can earn.
Why should I get a credit card with streaming service perks?
If you spend a lot on streaming services, you might be able to get a decent chunk of change back in rewards. That can be especially valuable since most streaming services are subscription-based that require monthly spending.
But be careful about getting a card just for its streaming-service perks. There are other cards out there that could reward you more in different categories. To find out if a card with streaming service perks is worth it, calculate your spending to get an accurate handle on the rewards you would earn.
Merchants that qualify for bonus streaming rewards with the Wells Fargo Propel American Express® Card
Alternatives to credit cards for streaming services
Streaming service rewards are a fairly new category when it comes to rewards cards. As such, your options for getting rewards on streaming are still rather limited in terms of card selection. However, if you're looking for a credit card that offers rewards on more general entertainment, you have a few options available:
Dining cards. Rewards credit cards for dining are popular and there are plenty of great cards to choose from.
Travel cards. A travel rewards credit card is a great pick if you love to travel to get your kicks. This catch-all category can include activities ranging from flights to hotel stays to cruises.
Bottom line
If you're a streaming enthusiast, you could find a credit card that rewards you for your spending. Even better, your card could offer bonus rewards in other categories in which you spend heavily.
If you couldn't find the right credit card on the list above, consider other rewards credit cards.
Frequently asked questions
How do I know what spending falls under entertainment?
There's no universal list of what counts as entertainment — that's up to each provider to decide. If you have any doubts, give your provider a call and ask.

What rewards can I earn on my entertainment card for purchases in nonbonus categories?
Yes. You'll typically earn at least a 1% rewards rate on non-bonus spending.
How do I know whether my credit card transaction codes as entertainment?
Check your transaction history in your online account. Typically, you can see the points, miles or cash back you earned by selecting each transaction.