Finder is committed to editorial independence. While we receive compensation when you click links to partners, they do not influence our opinions or reviews. Learn how we make money.
Deserve® PRO review
A smart pick for strong cash back on travel, entertainment and dining.
Get this card if you go out a lot and want strong cash back for your spending.
Pick something else if you want a signup bonus.
Apply with a good to excellent credit score of 670 to 850.
15.99% to 22.99%
Purchase APR (variable)
670
Recommended credit score
Details
| | |
| --- | --- |
| Product Name | Deserve® PRO |
| Card type | Mastercard |
| Annual fee | $0 |
| Purchase APR | 15.99% to 22.99% variable |
| Balance transfer APR | N/A |
| Foreign transaction fee | None |
| Interest free period | Up to 23 days |
| Late payment fee | Up to $25 |
| Returned payment fee | Up to $37 |
Expert review
Review by
kevin.chen@findercrew.com
---
Kevin Joey Chen is a credit cards, banking and investments writer whose work and analysis have appeared on CNN, U.S. News & World Report, Business.com, Lifehacker and CreditCards.com. He's passionate about helping you get your finances in order by expertly navigating cutting-edge financial tools — including credit cards, apps and budgeting software.
Expert review
Unlike other credit cards in Deserve's suite of products, the Deserve® PRO is designed for customers with established credit. For a $0 annual fee, you'll earn 3% cash back on travel, 2% at restaurants and 1% on all other purchases.
If you make $1,000 in purchases with your card within the first 90 days of opening your account, you'll receive a complimentary Priority Pass Select membership for one year. While this gives you discounted lounge entry for $27 per visit, it's nowhere near as enticing as the complimentary lounge entry you'll find with many premium credit cards. You might prefer a welcome offer of a cash bonus, which is standard with cashback cards.
For what it's worth, the card does offer solid cash back in its bonus categories. Few no-annual-fee cards offer an equivalent mix of accelerated rewards.
How to apply for the Deserve® PRO
Go to the provider's site and click Apply now.
Complete the application with your personal, contact and financial information.
Review your details and submit your application.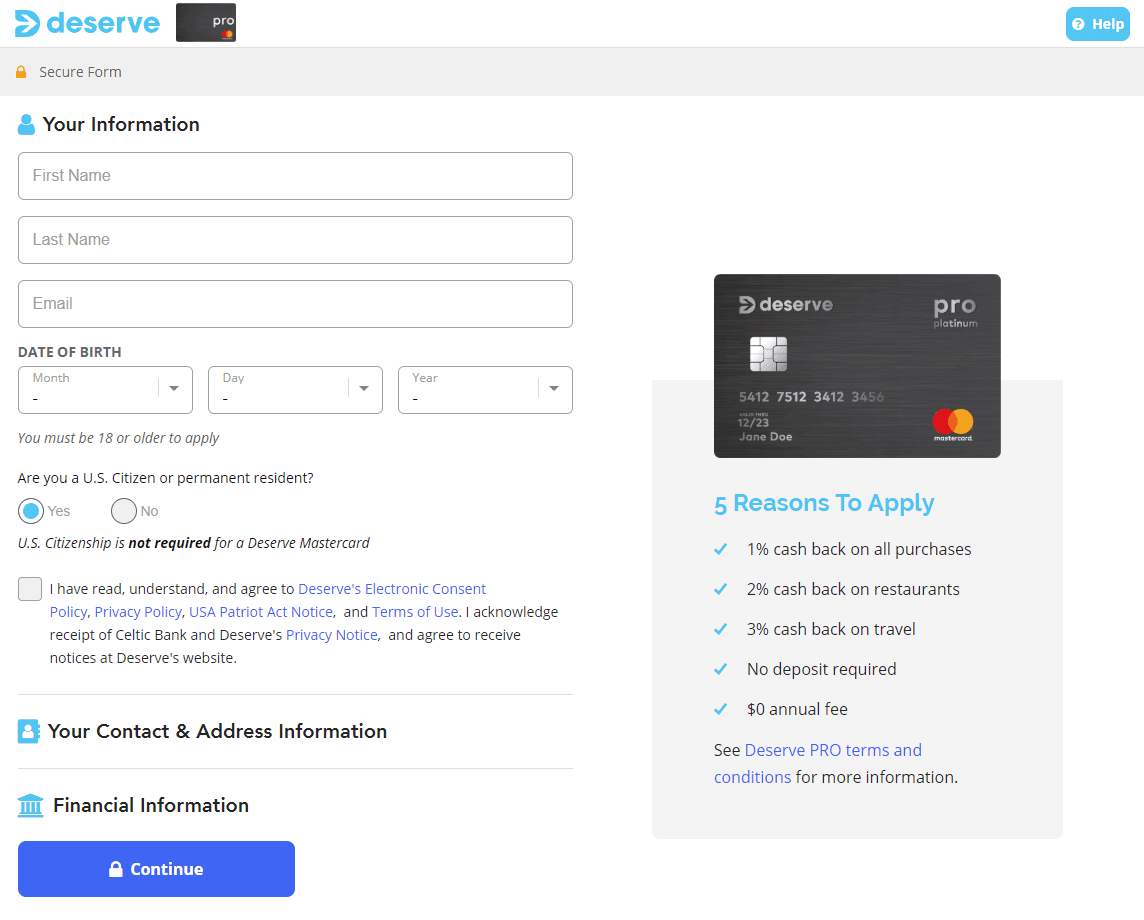 How long will it take to get my Deserve® PRO?
According to Deserve, the application and review process can take up to three business days. Deserve may ask you for additional information after you've submitted your application.
If you're approved, look for your card in the mail within 10 to 15 business days.
The perks
Annual fee: $0.

Deserve rewards you for your established credit by allowing you to earn rewards without an annual fee.

Rewards: Up to 3% cash back.

Earn 3% cash back on travel and entertainment and 2% back when dining out at restaurants on up to $500 in combined purchases each billing cycle. After that, your rate reverts to 1%. These are strong rates, especially without an annual fee.

On everything else, you'll earn 1% cash back.

Priority pass.

Earn a one-year Priority Pass™ Select membership when you spend $1,000 on purchases in the first 90 days from account opening.

You're welcome to apply if you're an L1 or H1B visa holder.

Unlike other providers that require residency for approval, Deserve encourages even visa holders to apply.
How much cash back can I earn with this card?
The Deserve® PRO is designed for cardholders who like a night — or day — out on the town. You'll earn strong cash back in travel, entertainment and dining on up to $500 in combined purchases each billing cycle, reverting to 1% after that. Earn 1% on all other purchases.
Here's how much you could earn on typical spending:
At 3% cash back, $10,000 a year on travel and entertainment could earn you $300.
At 2% cash back, $5,000 a year on dining could earn you $100.
At 1% cash back, $7,000 a year on other spending could earn you $70.
What are cashback credit cards and how do they work?
You'll also like …
No foreign transaction or overlimit fees.

You won't pay a fee when you use this card abroad or exceed your credit limit.

Cell phone insurance.

If you pay your monthly phone bill with your card, you get up to $600 if your phone is damaged or stolen.

Purchase protection.

Take advantage of extended warranties on eligible items you buy with your card. And with price protection, you could be reimbursed the difference on eligible items if you find a better price elsewhere.

Mastercard travel protection.

Call up Mastercard Travel Assistance Service for help with lost luggage, legal referrals or medical assistance when you travel 50 miles or more from home.

You'll also receive complimentary collision damage waivers on rental cars purchased with your card. And you can call Mastercard Roadside Assistance if you're stranded on the side of the road.
What to watch out for
Potentially high APR for purchases.

Those without strong creditworthiness could receive a variable purchase APR that's as high as 22.99%. The lowest rate you can qualify for is 15.99% variable.

No balance transfers or cash advances.

If you're looking to consolidate debt on other cards, look for a card designed for balance transfers.

High fees for late and returned payments.

For each late payment, you'll pay a fee of up to $25. For each returned payment, you'll pay a fee of up to $37.
Compare cashback credit cards
What should I know before I apply?
You must be at least 18 years old to apply for this card. If you're under 21, you'll need to prove you have the financial capacity to pay your card bill each month.
Unlike other cards, you don't need to be a US citizen to apply for the card.
Required information
Full name and email address.
Date of birth and citizenship status.
Contact information and address.
Financial information, like your employment details and annual income.
What credit score do I need?
You have a better chance of approval with a good to excellent credit score of 670 to 850. However, you might qualify for the card even if you have fair or no credit.
Deserve's proprietary algorithms weigh factors like your income and education to determine whether you're eligible.
Deserve® PRO reviews and complaints
Some customers online say they've had difficulty with transactions due to Deserve's security measures. Many customers report a low starting credit limit of around $1,000.
On Deserve's Better Business Bureau page, you'll find nearly 10 customer complaints as of this writing. However, the BBB reports that all of them have been answered or resolved — a sign of good support.
As of October 2020, Celtic Bank, the managing bank of this card, is not accredited with the BBB. It earns a B rating in light of its failure to respond to 21 customer complaints.
I got the card. Now what?
Activate your card. Call the number on the back of your card or visit Deserve's site.
Sign up for an online account. Conveniently pay your card bill online or enroll in autopay.
Avoid interest. Pay your statement within the 23-day grace period to avoid unnecessary interest.
Avoid fees. You won't a foreign transaction fee when you use this card overseas. However, late or returned payments come with stiff fees.
Get help. Call support at 800-418-2362 weekdays from 7 a.m. to 4 p.m. PT or Saturdays from 7 a.m. to noon PT.
Bottom line
The Deserve® PRO's key draw is its strong cash back on travel, entertainment and dining. That said, it's a good choice if you're always on the move.
If you're not sure this card is for, consider the many other rewards cards to find a better fit with your spending habits and lifestyle.
Frequently asked questions
Images: Deserve.com