Finder is committed to editorial independence. While we receive compensation when you click links to partners, they do not influence our opinions or reviews. Learn how we make money.
What you need to know about debt
Learn how to deal with debt and take charge of your finances in this comprehensive guide.
Unless you're one of the privileged few, debts of all different sizes ate part of life for most Americans. From running up a credit card bill during an online shopping spree to borrowing hundreds of thousands of dollars to buy a home, living with debt is something you'll probably have to deal with at some stage.
But when debt gets out of control, it can place you under serious financial and emotional strain, producing severe consequences that could follow you for the rest of your life. Let's take a look at the different types of debt and how you can deal with them.
Your guide to debt…
What is "debt"?
Debt is money you owe to a third party, typically a bank, credit card provider or some other type of lender. You get in debt when you borrow money to purchase something, for example a home or car, or you use a credit card to spend money that isn't actually yours.
When you borrow money you need to pay it back, but as well as the amount you borrow (the principal) you also need to pay off the interest that accrues on your loan.
Is being in debt bad?
It might sound surprising to some, but debt isn't necessarily a dirty word. So what's the difference between good and bad debt?
If your debt costs you money — in the form of interest charges — and will not help you build wealth, it's considered bad debt. Borrowing money through a personal loan or credit card to purchase something that isn't going to rise in value, such as a car or just day-to-day purchases, will only cost you money and is bad debt.
What is "good debt"?
Good debt is the type of debt that will lead to an overall improvement in your long-term financial standing.
For example, when you take out a home loan to buy a house, you're borrowing money to buy an asset that will appreciate in value. You're often better off taking on this type of debt than trying to avoid it.
What types of debt are there?
Home loan debt
Taking out a home loan could see you borrowing several-hundred-thousand dollars or more, so home loan debt will probably be the biggest debt you have to deal with throughout your life.
Because home loan debt is so large, the interest charges on the money you borrow add up to a significant amount over the life of your loan. You'll also spend many years paying off your home loan, so financial discipline is needed. Making extra repayments, if allowed, as well as regularly reviewing your mortgage to see if you can get a better interest rate on your home will help you pay down your debt.
Credit card debt
The instant gratification of credit cards can sometimes make it easy to spend money without thinking about the consequences. Unfortunately, once interest charges start to accumulate on your credit card charges, your debt levels can quickly rise.
Credit cards charge some of the highest interest rates around, with some cards carrying rates as high as 20%. And if you've run up a hefty bill on more than one card, the level of debt can skyrocket.
Personal loan debt
In life, sometimes you need fast and easy access to money for all manner of important purposes, such as renovating or buying a car. The money from a personal loan can be used for just about anything, but personal loan debt can be dangerous if you can't afford to pay it off.
If the loan is secured by an asset, for example if your car loan is secured by the car you purchased, you run the risk of the lender repossessing the vehicle. While there's no such risk with an unsecured personal loan, their higher interest rates can end up costing you thousands of dollars if you don't pay your debt off quickly.
Payday loan debt
Short-term loans, which offer short-term financing solutions and quick access to cash, can often seem like an attractive solution if you're in urgent need of funds. However, they attract some of the highest fees and can lead you deeper into debt. You should only apply for a short-term loan if you have no alternatives.
Business debt
The old saying that you've got to spend money to make money holds true for many businesses, but sometimes it can result in a substantial amount of business debt. While you need to spend money to buy inventory, expand into new markets and grow your business, this often involves borrowing money to access the necessary capital.
From business loans and business credit card bills to all the other overheads involved when starting and running an enterprise, it's possible to get in over your head — especially if the economy takes a turn for the worse.
If business debt gets too much for you to cope with, it's important to take action sooner rather than later. Prioritize your payments, consider debt consolidation loan options for your business, and seek professional financial advice to help you get back in the black.
Tax debt
Tax time can sometimes bring a nasty shock and leave you with a hefty tax bill. A loan for tax debt is an option that can offer financial support and help clear up your name with Uncle Sam. But, you have other options as well.
If you can't afford to pay the bill right away, you can apply for a short-term extension that grants you 120 days or less to pay your taxes. You also have the option of applying for a monthly payment plan to make repayments simpler.
And if the full amount of what you owe is too much for you to handle, you could apply for an offer in compromise with the IRS and settle your debt for less than the billed amount.
See what you could save with a debt consolidation loan
What are the different ways of dealing with debt?
If you're struggling with debt, there are plenty of options available to help you take charge of your finances.
Debt consolidation personal loan
If you're paying interest on multiple debts and you're struggling to make repayments, it might be time to consider a debt consolidation loan. Designed to help you take control of debt, these loans allow you to roll multiple debts into one loan. This means you only have one monthly repayment rather than several, and that you can consolidate high-interest-rate debts to a lower rate.
If you decide a debt consolidation personal loan is the right option for you, make sure to compare a range of loans and only borrow from a reputable lender.
Balance transfer credit card
Balance transfer credit cards allow you to transfer your existing credit card debt over to a new card. You will then pay low or 0% APR on that balance for a set introductory period. This means you can avoid high interest charges and consolidate your credit card debt, providing significant savings as you pay off the money you owe.
However, make sure you're aware that a balance transfer fee may apply and these cards usually also charge an annual fee. Keep in mind that once the introductory period ends, the interest rate will revert to a higher rate.
Consolidating debts into your home loan
Refinancing your home loan can help you find a better interest rate on your mortgage, but it can also be used to help you consolidate debt. By refinancing to a debt consolidation home loan, you can combine credit card and personal loan debt with your mortgage, resulting in one monthly repayment to pay down multiple debts.
You'll need to closely consider the interest rates and fees offered when refinancing, making sure to compare loans from a variety of lenders. You should also be aware that consolidating short-term debt into a mortgage with a 30-year term may not work out to be the most cost-effective option.
Debt settlement agreement
A debt settlement agreement is a binding agreement between you and your creditors. If you enter into such an agreement, your creditors agree to accept a certain amount of money that you can afford to pay, over a specified time period, to repay the money you owe. Once you've paid this money, there is no way for your creditors to recoup the rest of your unpaid debt.
However, debt settlement agreements should only ever be considered after you've explored all other options. This option for debt relief can stay on your credit report for seven years and can have a seriously detrimental impact on your ability to access credit.
Bankruptcy
If you're unable to pay off your debts you can apply for bankruptcy. This step is a last resort and should only be taken after you've explored all other debt consolidation options and sought professional financial and legal advice.
Bankruptcy is when you are legally declared unable to repay your debts. Applying for bankruptcy will mean that you are legally released from most of your debts, but it can seriously prevent you from accessing credit in the future.
Bankruptcy will be listed on your credit report for 7 to 10 years from the date you become bankrupt.
Use our decision tree to help you find the best way to pay off your debt
We break down when a debt consolidation loan, balance transfer credit card or negotiating with your creditors yourself makes the most sense.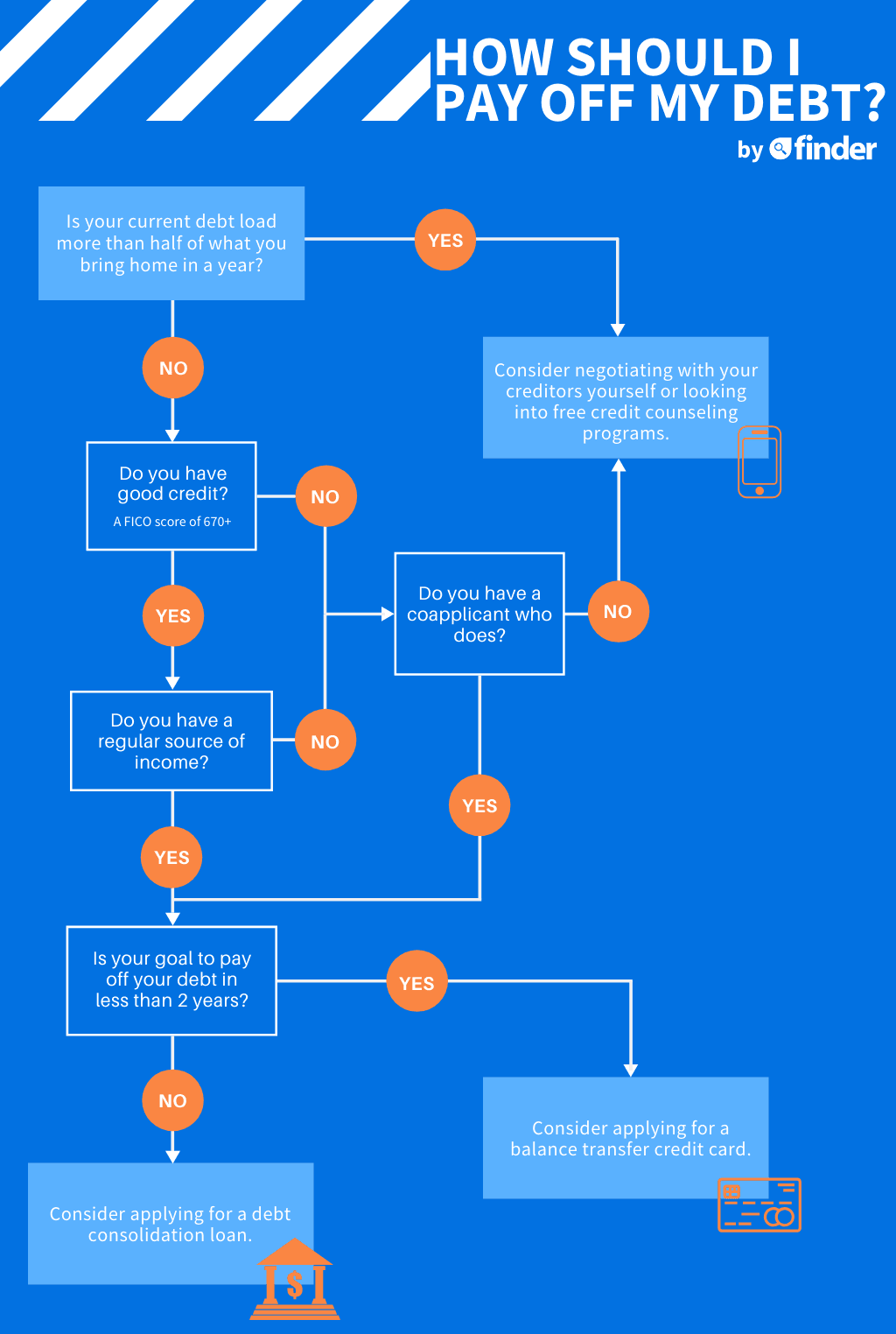 Debt protection for service members
If you or your spouse is an active member of the military, the Service Members Civil Relief Act (SCRA) of 2003 provides you with certain protections to keep you from struggling with debt, such as:
Capping interest rates on credit cards, mortgages and loans at 6%.
Protection from home foreclosure.
The ability to cancel auto leases if called to active duty.
Some eligibility restrictions apply, however. Read more about the SCRA on the Department of Justice's website.
Must read: Should I use my savings to pay off my debt?
It might be tempting to use your savings to pay off your debts: After all, it's money that you can easily access without any immediate financial repercussions. It's not always a good idea though. Ask yourself these questions before you empty out your savings account.
Do I have enough emergency funds? As a general rule of thumb, you should try to have enough money to carry you for three to six months if misfortune strikes. If you only have at least three months of savings, it could be risky to use those funds to pay off your debt.
How do my investment account's interest rate and debt interest rate compare? If your debt's interest rate is higher, it could be worth it to use your investment account to pay off your debt — you're losing more money than you're gaining.
Will I have to pay any penalty fees? Many retirement accounts come with early withdrawal fees — typically around 10% — that could make it not worth taking out your savings. If you have an IRA of $100,000 with a 1.06% APY and $95,000 in credit card debt, you wouldn't even have enough money to pay off your credit card debt in full after the early withdrawal penalty.
Compare debt consolidation loans now
Questions we get asked about debt