Finder is committed to editorial independence. While we receive compensation when you click links to partners, they do not influence our opinions or reviews. Learn how we make money.
How to use a debit card online
Pay for your purchases without stepping foot in a store.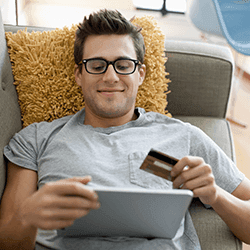 Using a debit card to pay online is a straightforward process as long as you've got the plastic handy and are comfortable making virtual transactions — though paying with a credit card may be safer.
How to use a debit card online
You'll need to reference your physical debit card when using it to make a purchase online. After entering the digital shopping cart on the vendor's website:
Select your payment method. If "debit card" isn't listed as a payment method, you can typically select "credit card" instead. Learn more if you're unsure whether to click the debit or credit button.
Indicate the type of card you'll be using, be it Amex, Visa or other providers.
In some cases, you may be asked to enter your name as listed on the card. You'll also need to include the billing address associated with your debit card.
Enter the 16-digit number on the front of your card.
Enter the expiration date listed below the 16-digit number.
Flip your card over to find the CVV, which is a three-digit number listed near your authorized signature. American Express cards have the CVV listed as 4 digits on the front of the card.
Confirm your payment.
| | |
| --- | --- |
| 1 | Debit card provider |
| 2 | 16-digit card number |
| 3 | Expiration date |
| 4 | CVV |

<
Do I have to use my full name when paying with a debit card online?
The name you enter should match your name as it appears on the debit card. Merchants use this to cross-check your information with the credit card provider's records.
Is it safe to use a debit card online?
Using a debit card to pay online is generally safe as long as you have a secure connection. In 2018, online sales accounted for 14.3% of total retail sales in the US. Consequently, the safety infrastructure in place is growing stronger.
Here's what you can do to verify security:
Check for the lock. There should be a lock icon in the upper-left corner of the search bar, next to the web address. This indicates that the site holds an SSL certificate and that the information you submit will be private.
Monitor your account. Most banks will only hold you liable for up to $50 if you catch an unauthorized transaction within two days. After making a debit card purchase online, review your account for suspicious activity.
Ensure a secure Internet connection. Best practice is to only make online payments when you're on a secure and private Internet connection, such as a home network. Public Wi-Fi at airports or coffee shops aren't as safe.
Keep in mind that there are always risks associated with making debit card payments, and it's likely easier for thieves to intercept your information online than in person. If hackers do get access to your debit card information, they could steal funds from your checking account. There's a loss limit of $50 if you report the incident with two days, but it might be hard to get that $50 back.
What if someone steals my debit card information online?
If you see fraudulent activity on your account via your debit card, report it immediately. Federal law states your liability as:
Up to $50 if you report the fraud within two days
Up to $500 if you report the fraud between two and 60 days after you receive the statement listing the fraudulent transaction
An unlimited amount if you fail to report the fraud 50 days after it occurred
Paying via credit card vs. debit card online
In general, it's less risky to use a credit card for everyday purchases because credit cards aren't linked directly to your checking account. This means you can cancel a transaction before the money is withdrawn from your personal account.
Credit card companies tend to be more lenient with fraudulent transactions, and under federal law you won't be held accountable for more than $50 in unauthorized charges. Some credit card providers also offer extended warranties on purchases.
If using a debit card is your only option to make a payment online, make sure you're comfortable with the risks associated.
Compare debit cards today
Bottom line
Using a debit card is convenient and generally safe, although not risk-free. If you'd rather use a credit card, find a provider that offers special perks like cash back and rewards.
Frequently asked questions about using a debit card online
More guides on finder