CDC advises Americans to avoid all travel to China's Hubei province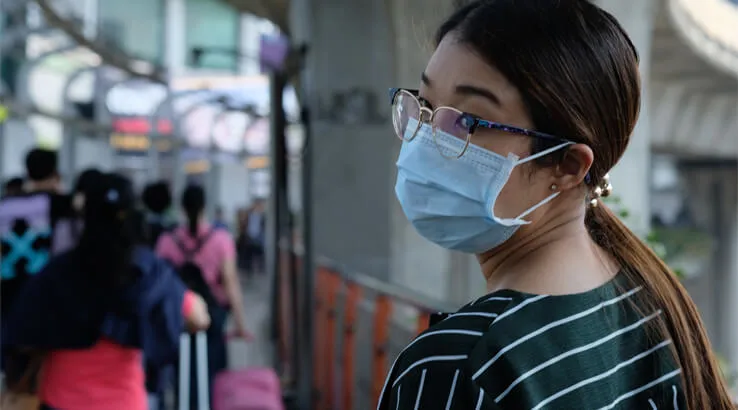 The capital, Wuhan, is believed to be the epicenter of the coronavirus outbreak.
The U.S. Centers for Disease Control and Prevention (CDC) issued a Level 4 Travel Warning to China's Hubei province on Monday. It also issued a Level 3 Alert against all non-essential travel to China. The U.S. Department of State reinforced the warning, urging Americans to "reconsider travel" to the country because of the coronavirus outbreak.
It went on to say that older adults and those with underlying health issues are at the highest risk for contracting the disease, which is spread through coughing, sneezing or touching an infected person.
The department ordered all non-emergency U.S. personnel and their families to leave the Hubei province yesterday, saying the U.S. government doesn't have the resources to offer emergency services to citizens in the area.
The outbreak began in Wuhan in December 2019, and Chinese authorities are now reporting 2,000 cases and 56 deaths throughout China, according to the New York Times. Authorities have suspended all air, rail and bus travel to and from Wuhan in an effort to contain the coronavirus.
If you must travel to China, the department advised steering clear of sick people and avoiding animals and animal products — including uncooked meat.
Cases of coronavirus in the United States
There are five confirmed cases of coronavirus in the U.S., the CDC told Reuters on Sunday. All five people had recently traveled to the country from Wuhan, China. They are located in Los Angeles, Phoenix, Chicago and Seattle.
So far, reports have stated that airports in New York (JFK), San Francisco (SFO), Los Angeles (LAX), Chicago (ORD) and Atlanta (ATL) have screened 2,400 passengers from Wuhan for the symptoms of coronavirus.
The disease presents as the flu and can also cause pneumonia. Its symptoms include fever, sore throat and respiratory issues.
What this means for American travel to China
Typically, the Lunar New Year Holiday, which began on Sunday, is one of China's busiest travel periods. Last year, tourism revenue reached $78 billion during the week of the festival, according to the Chinese Ministry of Culture and Tourism.
But not this year. The Chinese government has ordered China Southern Airlines, China Eastern Airlines and Air China to cancel flights to and from Wuhan and give prospective passengers full refunds. Additionally, American Airlines and Delta Airlines are offering full refunds to passengers up until January 31, while United Airlines has extended the deadline to February 7, Forbes reported.
If you have an upcoming trip to China, check with your airline to see if your flight is still scheduled. It's also a good idea to confirm your coverage with your travel insurance company. Some providers won't offer coverage related to a specific threat — such as the coronavirus — until it becomes a "known event." For example, Allianz put the disease on its list of uncovered events on January 22.
Unless your policy has a Cancel For Any Reason (CFAR) clause, your provider might not pay out for passengers who travel to China and contract coronavirus despite the warning.
Coverage alerts from major travel companies in the US
Insurer
Date of Alert
Coverage Alert
January 22
"2019-nCoV became a known event on January 22, 2020. Customers who purchased travel insurance may be eligible for one or more of the following coverages and benefits depending on the date they purchased their product and the specific product they purchased. Eligibility for coverage depends on the customer's travel protection plan and specific circumstances. Please review your plan or contact us for more information."
January 22
"For both the Standard and Explorer World Nomads plans, fear of travel and/or fear of illness are not covered reasons under the plan provisions. There is also no coverage in the plan should the city/location/travel supplier determine there is a quarantine and services are cancelled as a result."
January 28
"If you have a planned trip to China and want to cancel because of the coronavirus, you likely will not have coverage through most travel insurance policies. Cancellation due to the fear of contracting a virus is not covered under most plans."
January 30

"Seven Corners has not issued an alert…Travel insurance plans do not typically have a trigger that will allow you to cancel a trip if you are afraid of catching the virus while traveling. To cancel for this reason, you need to buy a travel insurance plan and add the optional Cancel For any Reason (CFAR) benefit to it. When you add CFAR, be careful to read the requirements for using the benefit.

In the case of airline and hotel cancellation policies, the best advice is for travelers is to contact their airline and their hotel and ask for the cancellation policy for pandemics and for the Coronavirus in particular."
We'll update this page as new statements are released.