Finder is committed to editorial independence. While we receive compensation when you click links to partners, they do not influence our opinions or reviews. Learn how we make money.
Chase Savings account review
A simple savings account with low fees and an automatic savings program to help your money grow.
finder.com's rating: 3.3 / 5.0
★★★★★
Growing a savings account can help you reach short- and long-term financial goals. With the Chase Savings, you'll earn interest while your money is kept safe. You may get dinged with a monthly service fee, however, and Chase only has branches in 28 states.
$0
Minimum deposit to open
Details
APY
0.01%
Fee
$5 per month
To waive the fee
• Maintain a balance of at least $300 at the beginning of each day
• OR initiate at least one monthly automatic transfer of $25 or more from a Chase checking account
• OR be younger than 18 years old
• OR link your account to a Chase Premier Plus Checking
Minimum deposit to open
$0
Minimum balance to earn interest
$0
Interest compounding
Daily
More Info
Expert review
Review by
peter.carleton@findercrew.com
---
Peter Carleton is a writer that covers banking and investing, breaking down what you need to know about where you put your money. When Peter's not thinking about cutting-edge banking apps and robo-advisors, he runs a creative agency and spends his spare time cooking or reading.
Expert review
The Chase Savings account offers low waivable monthly fees and it's best for those who have at least $300 in their account.
But the interest rate is 0.01%, which is lower than the competition.
What are the benefits of the Chase Savings account?
Automatic Savings Program. This feature allows you to set up a repeating, automatic transfer from your Chase checking account to your Chase Savings, helping you grow your savings faster.
No opening deposit requirement. You can open this account without an initial deposit.
Convenient deposits. Deposit money at branches, ATMs, by mail, online or through the app using Chase QuickDeposit.
Security. Chase is the largest bank in the country and is FDIC-insured, meaning that deposits up to $250,000 are covered by FDIC deposit insurance.
Bill pay. Make one-time or recurring payments from your account online or with your mobile device.
Wide-ranging support. Chase has nearly 4,900 branch locations and offers 24/7 customer service. You can also get in touch by email, mail and Twitter, or find FAQs on the Chase site.
Account alerts. You're alerted by text, email and push notifications when there is a charge, refund or other transaction on your account.
Text banking. This feature allows you to check account balances, view credit card bills and more — all from your phone.
Mobile payments. Use the Chase mobile app to send money to friends or family through QuickPay with Zelle.
What should I look out for?
Monthly service fee. You'll pay $5 monthly. But the fee can be waived if any of the following apply to you:

Maintain a balance of at least $300 at the beginning of each day.
Initiate at least one monthly automatic transfer of $25 or more from a Chase checking account.
Are younger than 18 years old.
Link your account to a Chase Premier Plus Checking.

Low interest rate. This account pays 0.01% APY while your money sits in your account.
Withdrawal limits. More than six withdrawals per month can cost you $5. Chase can convert your account to a Total Checking account if you often exceed this amount.
Limited availability. Although Chase has nearly 4,900 branches, it only operates in 28 states.
If you prefer a higher yield interest rate, you'll want to keep looking. As always consider your options when choosing a savings account.
Compare with other savings accounts
What states does Chase have branches in?
Arizona
California
Colorado
Connecticut
Delaware
District of Columbia
Florida
Georgia
Hawaii
Idaho
Illinois
Indiana
Kentucky
Louisiana
Massachusetts
Michigan
Nevada
New Jersey
New York
Ohio
Oklahoma
Oregon
Pennsylvania
Texas
Utah
Virginia
West Virginia
Wisconsin
How do I apply?
You can open a Chase Savings by visiting a branch with your government-issued ID and a way to fund your deposit or by applying online.
1. Visit the Chase site and click Savings accounts & CDs.
2. Click Open account under Chase Savings.
3. Fill in your personal information including your name, address and Social Security number, then click Next.
4. Once your application is complete, make your initial $25 deposit.
5. After your deposit is made, submit your application.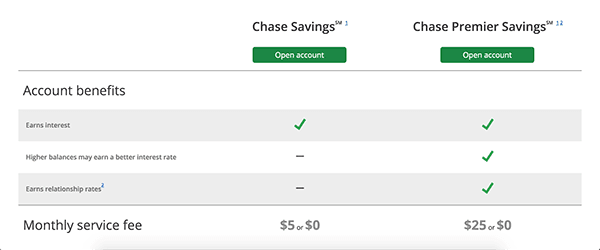 Eligibility
The only eligibility requirement is a $0 deposit to open the account.
Required information
Whether you apply online or at a branch, you'll need to provide the following info to open an account:
Name
Date of birth
Address
Government-issued ID
Social security number — or passport for foreign applicants
Income information
How do I deposit or withdraw money?
Chase makes it easy to deposit and withdraw money with this account:
Deposits:
At a branch

Via direct deposit

At an ATM

Through online transfers

By mail

With Chase QuickDeposit
Withdrawals:
At an ATM

At a branch

Through online transfers
How can I get in touch with customer service?
By phone (24/7):

1-800-935-9935

By email:

Sign in to your account and use the Secure Message Center

In person:

Visit one of Chase's nearly 4,900 branches

On Twitter:

@ChaseSupport

By mail: National Bank By Mail, P O Box 36520, Louisville, KY 40233-6520
Frequently asked questions
Savings account ratings
★★★★★ — Excellent
★★★★★ — Good
★★★★★ — Average
★★★★★ — Subpar
★★★★★ — Poor
We analyze top savings accounts and rate them one to five stars based on factors that are most important to you. These factors include: interest rates, monthly fees, minimum deposits, customer service and account features.