Finder is committed to editorial independence. While we receive compensation when you click links to partners, they do not influence our opinions or reviews. Learn how we make money.
Compare Black Friday credit cards
This Black Friday, earn rewards and save money on interest.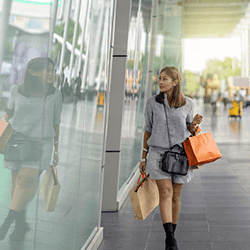 With Black Friday in full swing, your credit card is bound to get a workout. But choosing the right kind of credit card could help you get even more bang for your buck when you're snatching bargains.
So in the spirit of the sales, here's a rundown of the credit card features you can use to get more points or save on costs during Black Friday and Cyber Monday, plus what to watch out for.
Credit cards to consider for Black Friday
There are many credit cards to choose from, but certain ones are especially well suited for Black Friday shopping.
Rewards credit cards.
These cards pay you back a portion of your spending in the form of cash back, points or miles. Using one can slightly lessen the effective cost of Black Friday shopping. Just make sure to pay off your card bill in full, or the interest will eat into your rewards.
Signup bonus offers.
Many credit cards offer thousands of introductory bonus points when you apply, get approved and meet a spend requirement. If your Black Friday shopping list includes big-ticket items like a TV, laptop or sound system, using a new rewards credit card that offers bonus points could help you meet the spend requirement a whole lot faster.
0% purchase rate offers.
One of the risks of paying with plastic during Black Friday and Cyber Monday sales is that you may rack up a whole lot of debt and interest charges. But credit cards that offer a 0% intro APR period can give you up to 15 months to pay off your purchases interest-free.
Balance transfer credit cards.
It's easy to spend more than you planned during the Black Friday and Cyber Monday sales. So if you've already racked up a big balance on your credit card, you could avoid interest charges by transferring it to a credit card that offers a 0% intro APR period on balance transfers.
0% foreign transaction credit cards.
With so many Black Friday and Cyber Monday deals available from international stores, it's possible your shopping could attract a foreign transaction fee between 1% and 3% of what you spend. This fee can be charged if a payment is processed abroad, even if the price is shown in US dollars. Having a no-foreign-transaction-fee card means you get the full value of your Black Friday bargains. Plus, it gives you another way to save on fees when you travel abroad.
Store credit card.
This type of card offers a combination of earning rewards on your purchases and getting 0% interest to pay them off. Depending on the size of your purchase, you can often get deferred financing options to pay it off interest-free in up to 24 months. However, you can only use the card at the store and nowhere else. Also, some cards won't allow you to combine rewards and deferred financing options, so make sure you read the terms and conditions before you apply.
Compare credit cards
Tips for using your credit card on Black Friday
Getting a credit card is the first step. Once you've received yours, use these tips to get the most out of it.
Time your credit card signup bonus.
To get a signup bonus, you typically need to spend thousands of dollars within a few months. Since you only have a limited time to reach the spending requirement, it might make sense to apply for your card right before your Black Friday shopping. This way, you'll make the purchases you would have made anyway, and accelerate your progress toward your signup bonus.
Get automatic refunds on purchases.
If you use a credit card with price protection, you'll be reimbursed the price difference if you make a purchase and later find a lower price elsewhere.

On the downside, you typically have to monitor price changes in the items you buy. If you don't want to do this, consider services like Paribus and Earny. They'll monitor price changes for you and liaise with retailers to get you refunds.

Leverage your card's other purchase protections.
Besides price protection, your card may also offer purchase protection. You'll receive compensation if your eligible item is lost or damaged within a certain period after you buy it.

Also, look for extended warranties, where your credit card provider may repair or replace your purchase after your product's original warranty expires.

Check if your card provider offers a bonus mall.
The bonus mall is a feature that many cardholders don't even know existed. Basically, it's a shopping portal through your online credit card account. When you click through it to an eligible retailer and use your card for a purchase, you'll receive extra rewards automatically.
Create a budget and stick to it.
It's easy to get carried away with spending when you have a credit card. But take a second to think about your financial future. It's no fun getting stuck in debt for purchases you made a long time ago.

Before starting your Black Friday spending in earnest, consider setting a budget. You may want to cap your spending at a level you can pay off within your card's interest grace period. Or, you might choose to pay off your purchases within a few months and pay a bit of interest. Whatever you choose, it's helpful to have a limit in mind so you can use your credit card responsibly.
Why use a credit card for Black Friday?
Convenience.
You might get steep deals on products you love, but prices can add up and you might not want to carry around a load of cash. With a credit card, you can conveniently pay for your items.
Rewards.
As long as you pay off your card bill in good time, you could earn significant rewards on your Black Friday shopping. Not only could you earn cash back, points or miles on your spending, you could also use your spending to get you closer to your signup bonus. On top of these rewards, you could earn more through a bonus mall if your provider offers one.
Fraud protection.
Credit cards offer powerful fraud protection because card providers have a big incentive to stop unauthorized purchases. All major banks offer zero liability protection: In the event your card information is compromised, you won't have to pay for any fraudulent purchases.
Purchase protection.
Your card may offer strong purchase benefits, including extended warranties, purchase protection and price protection. While you usually don't have to use these perks, they're basically free insurance. On the off chance you need them, you'll call them lifesavers.
Should I open a card for Black Friday?
There's no one-size-fits-all when choosing a Black Friday credit card. Depending on your financial situation and financial needs, consider the following:
Can you pay off your purchases on time?
If you think you can, a rewards card could be an excellent choice. If not, a 0% intro APR period card can be an option worth considering, as it can help you avoid paying interest while you pay off your balance during the intro period.
Do you plan to only use your card for Black Friday purchases?
If so, a no-annual-fee credit card may be a good choice. You would earn fewer reward points on your purchases but you save money on the annual fee.
Do you plan to purchase items from a single store?
A store card from your favorite retailer could also be worth considering. You could earn rewards on your purchases and use deferred financing options that could last up to 24 months with no interest.
When should I open a credit card for Black Friday?
To make sure you get your card on time for Black Friday sales, apply at least one month prior.
Most credit card applications are made online and usually take up to 15 minutes. In some cases, the card company may require additional information and it could take up to 10 days to get an approval. Once approved, expect your credit card to arrive in up to 10 business days.
Bottom line
You have a variety of credit card options to choose for your Black Friday shopping spree, including rewards credit cards, 0% intro APR credit cards and store credit cards. Whichever card you choose, make sure you can pay off your balance on time to avoid accruing interest.
If you still haven't found the right card for you, compare your credit card options until you do.