Finder is committed to editorial independence. While we receive compensation when you click links to partners, they do not influence our opinions or reviews. Learn how we make money.
WorldRemit review
Here's a secure way to send money to over 150 countries and track it every step of the way.
finder.com's rating: 4.5 / 5.0
★★★★★
Fees & rates: 4.0 / 5.0
Speed: 5.0 / 5.0
Services: 4.0 / 5.0
User experience: 5.0 / 5.0
Pick WorldRemit if you prefer to send money for cash pickup or to a mobile.
Pick something else if you need to send transfers over $9,000.
$9,000
Max. Transfer Amount
Within an hour
Transfer Speed
Details
Product Name
WorldRemit International Money Transfers
Min. Transfer Amount
$1
Max. Transfer Amount
$9,000
Transfer Methods
Online, Bank Account to Bank Account, Cash Transfer
Transfer Options
One off payments
Transfer Speed

Minimum transfer time

Within an hour
Customer Service
Phone, Email
Available Currencies
AED, ALL, AMD, AOA, ARS, AUD, BAM, BBD, BDT, BGN, BHD, BIF, BOB, BRL, BWP, BYN, CAD, CDF, CHF, CLP, CNY, COP, CRC, CVE, CZK, DKK, DOP, EGP, ETB, EUR, FJD, GBP, GEL, GHS, GMD, GNF, GTQ, HKD, HNL, HRK, HTG, HUF, IDR, ILS, INR, ISK, JMD, JOD, KES, KGS, KHR, KMF, KRW, KWD, KYD, KZT, LAK, LKR, LRD, LSL, MAD, MDL, MGA, MRO, MUR, MVR, MWK, MXN, MYR, MZN, NAD, NGN, NIO, NOK, NPR, NZD, OMR, PAB, PEN, PHP, PKR, PLN, PYG, RON, RUB, RWF, SCR, SEK, SGD, SLL, SOS, SRD, THB, TJS, TND, TOP, TRY, TZS, UGX, USD, UYU, VND, WST, XAF, XCD, XOF, ZAR, ZMW
| | |
| --- | --- |
| Online Transfer Fee | USD 3.99 |
| Exchange Rate Updates | Real time |
Expert review
Review by
zak.killermann@findercrew.com
---
Zak Killermann is a writer at Finder. He's ghostwritten hundreds of articles on fintech, finding his love for publication at St. Cloud State University. Traveling internationally for nearly half his life — and getting burned once by an OTC money exchange — Zak's vowed not to settle for anything short of the mid-market rate again.
Expert review
WorldRemit's network isn't quite as large as brands like Western Union, but you'll often find better rates and lower fees with WorldRemit. Plus, WorldRemit's app and website tell you upfront what exchange rate and fees you'll be paying without needing to sign up first. This makes it easier to compare against other companies to see if you're getting the best deal.
One major downfall of WorldRemit is that you can't pay in cash, but its global network does support cash pickups in many countries worldwide. Other delivery options like mobile airtime top-ups, bill pay and door-to-door cash delivery help round this service out for some sending destinations. You'll also often be able to find promo codes to get a better deal if you're a first-time customer.
Must read: WorldRemit's coronavirus response
With the pandemic affecting how we can pick up money transfers, WorldRemit is asking customers to send transfers online through the WorldRemit app and, where possible, to send to your recipient's mobile money or airtime accounts. Cash pickup locations may not be available or may have reduced hours as local businesses are affected by movement restrictions.
Why should I consider WorldRemit?
Easy-to-use website. Signing up and sending money can be done in as little as a few minutes, and support can be accessed through phone, email, live chat and FAQs.
Worldwide network. Customers in more than 50 countries can send funds to over 150 countries using a variety of methods, including bank transfers, cash pickup at thousands of locations, door-to-door delivery, delivery to services like Alipay and more.
Flexible payment options. Pay with a credit or debit card, from your bank account, through Apple or Google Pay and even with prepaid cards.
Fast transfers. Cash pickups, WorldRemit Wallet transfers and airtime top-ups are typically available instantly after sending, while mobile money and bank deposits may take one or more business days to process.
What to watch out for
Maximum daily limits. Transaction limits depend on how you are sending the money, while a total 24-hour cap of $9,000 applies to all transactions being sent by you out of the US.
Changing fees. Depending on where you are sending to, how you are paying and how you are transferring money, your fees may vary. Although a base fee of $3.99 is applied to most transfers, keep an eye on this category when actually completing your transfer to make sure it doesn't change.
No hedging options. WorldRemit only offers one-off transfers, unlike some of its competitors that offer additional tools to help you save money. Hedging tools are most often used to lock in an exchange rate, helping you save money on future transfers if the market shifts against your position.
Inconsistent markups. Exchange rates vary through WorldRemit and depend not only on the currency you are sending to but also on the destination country. Expect mid-market markups anywhere from 1-4%.
Exchange rates and fees
Transfers through WorldRemit will have both a fee and a mid-market margin markup added to them. Transfer fees for WorldRemit vary, but for sending from the US to most countries, the standard fee is $3.99. WorldRemit's fees and exchange rates may change based on the following:
Location. Fees and exchange rates may vary based on the country you are sending to. Even if two destination countries share the same currency, the exchange rate offered by WorldRemit may vary when sending to each.
Amount. Although the fee for most transfers will be $3.99, some countries will have higher fees based on the amount you are sending.
Delivery. Sending cash will typically have higher fees, while sending to a bank account tends to be cheaper.
Unlike many competitors, WorldRemit offers the same exchange rate no matter how much you send.
Calculate how much your transfer with WorldRemit could cost
Choose the currency you want to send and enter the desired transfer amount. The table will give you an idea of what your transfer could look like.
Disclaimer: Exchange rates change often. Confirm the total cost with the provider before transferring money.
What are WorldRemit's exchange rates?
As of May 25, 2020, here are the mid-market rate markups and fees for popular destinations around the world when sending to a bank account. The mid-market rate is the exchange rate you'll see when you look up a currency pair on Google and is the current recognized rate that traders use to buy and sell a pair of currencies. The lower the percent above the mid-market rate that WorldRemit is charging, the better.
| Sending to | Currency | Mid-market rate | WorldRemit rate | % above mid-market | Fees from (USD) |
| --- | --- | --- | --- | --- | --- |
| Bangladesh | BDT | 85.19 | 82.1903 | 3.52% | $3.99 |
| China | CNY | 7.14 | 7.0185 | 1.70% | $2.99 |
| Guatemala | GTQ | 7.69 | 7.5296 | 2.09% | $3.99 |
| India | INR | 75.83 | 74.6339 | 1.58% | $1.99 |
| Mexico | MXN | 22.54 | 22.2085 | 1.47% | $1.99 |
| Pakistan | PKR | 161.23 | 157.3010 | 2.44% | $3.99 |
| Philippines | PHP | 50.78 | 50.0436 | 1.45% | $1.99 |
| Vietnam | VND | 23,335.50 | 22,479.94 | 3.67% | $3.99 |
How long does a WorldRemit transfer take?
WorldRemit transfer speeds depend on the delivery method you choose.
| Delivery method | Transfer speed |
| --- | --- |
| Bank transfer | Within minutes to five business days |
| Cash pickup | Instant |
| Mobile money | Within minutes |
| Airtime top-up | Within minutes |
| Home delivery | One to seven business days |
What currencies can I send?
WorldRemit transfers can be sent from over 50 countries and received in over 150 countries. You can check out the full list of currencies here, but popular currencies and sending destinations include the following:
Mexico: Mexican peso (MXN)
China: Chinese yuan (CNY)
India: Indian rupee (INR)
Philippines: Philippine peso (PHP)
Vietnam: Vietnamese dong (VND)
Guatemala: Guatemalan quetzal (GTQ)
Nigeria: Nigerian dollar (NGN)
El Salvador: El Salvador colon (SVC)
Dominican Republic: Dominican peso (DOP)
Thailand: Thai baht (THB)
Is WorldRemit safe to use?
WorldRemit uses many methods to protect your transaction and is authorized and regulated by many government agencies. In short, here is how WorldRemit protects your transfer:
Secure payment channels. Depending on where you are sending money from and to, you can expect your payments to be secured by the following:

Apple Pay
Verified by Visa
Mastercard and Maestro SecureCode

Regulation compliance. WorldRemit holds many licenses around the globe, including in the following countries:

United States
United Kingdom
Canada
Australia

Dedicated security teams. WorldRemit uses machine learning to monitor all transactions, and anything suspicious is forwarded for human attention. When problems pop up, customers can contact WorldRemit 24/7 by using the following methods:
WorldRemit reviews and complaints
WorldRemit has strong reviews online, including an excellent rating on Trustpilot with more than 41,000 reviews. Many reviews rave about the easy-to-use app, fast transfers and reasonable prices. However, keep in mind that many of the bad reviews focus on poor customer service and delayed refunds.
| | |
| --- | --- |
| CompareRemit | 1.9 out of 5 — based on 198 customer reviews |
| Monito | 8.3 out of 10 — based on staff reviews |
| Finder | 4.5 out of 5 — based on staff reviews |
Reviews accurate as of October 13, 2020.
Diving deeper, a lot of the complaints found online about WorldRemit have to do with the time delay when receiving a refund and occasional claims that a refund wasn't received at all when requested. Many users on Reddit also mentioned that making transfers from smaller banks can be a hassle with WorldRemit, as their bank refused the transfer the first time around. Overall, WorldRemit customer care seems to answer these complaints on the various threads they are posted, often providing additional phone numbers for the customer to reach out and receive more help to solve their issue.
WorldRemit has been in business since 2010. Aside from 24/7 customer support, the website also boasts an extensive FAQ to help customers find the answers to many popular questions and concerns surrounding the service.
What payment methods does WorldRemit accept?
WorldRemit accepts different payment methods depending on where you are sending your transfer from. From the US, WorldRemit payment methods include the following:
Wire transfer from a bank account
Debit, credit and prepaid cards
Apple Pay
ACH transfer from a bank account
Around the world, WorldRemit also accepts the following payment methods:
What are the ways I can send money with WorldRemit?
Depending on where you live, the ways to send money through WorldRemit may vary. WorldRemit offers the following ways to send and receive money:
Cash pickup. Pick up a cash transfer at one of WorldRemit's partner network locations – these are typically banks.
Bank transfer. Have the money delivered straight to your bank account. Additional fees may apply, so always double-check with your bank before accepting a transfer this way.
Mobile money. Receive money into your existing mobile wallet service, which you can then use to pay bills, withdraw at authorized agents and similar actions.
Airtime top-up. Have money sent directly to your telecom network to cover your phone bill.
Door-to-door delivery. Physical cash is delivered straight to your door, but you must present a valid ID that matches the details entered by the sender.
What do I need to send money online through WorldRemit?
You'll need some key pieces of identification to send money online through WorldRemit, including the following:
A WorldRemit account. Creating an account is free and can typically be done in a few minutes or less.
Valid payment. Payment options for transfers out of the US include debit, credit and prepaid cards, bank account transfers and Apple Pay.
Recipient's name and contact information. To make sure your transfer goes smoothly, have your recipient's legal name, bank account information and contact info ready when setting up your transfer.
Valid identification. Valid ID is required to transfer with WorldRemit. Acceptable forms must include your photograph, your full name, date of birth and more. If using a state ID, it must be issued by the same state you are registering to send money from. Typically accepted forms of ID include the following:

US or international passport
US permanent residence card
US driver's license
US military ID
US passport card
US refugee document
US visa
US employment authorization card
How to make my first transfer
There are six steps to follow for your first transfer through WorldRemit:
Choose the country you want to send to
Select the method of transfer
Enter sending amount then double-check fees and exchange rate
Add recipient information
Add payment information
Send money

My experience with signing up
Signing up with WorldRemit took longer than I expected. I created my account and submitted a photo of my driver's license, but since my license didn't match my address, I had to submit additional identification as proof. Here are some key takeaways:
Did I have to interact with customer service? Yes, both on the phone and through email.
How long did it take? The entire process took almost a week, which was partially my fault for not promptly responding to emails and submitting documentation on time.
What was unexpected? Customer service was extremely helpful, both on the phone and through email.
WorldRemit Wallet, mobile money and airtime top-ups explained
Some of these services you may know under different names and not all of them are available worldwide.
WorldRemit Wallet: Similar to other digital wallets, the WorldRemit Wallet enables users in select countries to store money without having to move it to a bank account or for cash pickup. The WorldRemit Wallet comes included in the WorldRemit mobile app in participating countries and can currently store US dollars, Philippine pesos, Ugandan shilling and Central African francs.
WorldRemit mobile money: Mobile money is an ewallet service that is available for use in more than 80 countries and may be particularly useful for the underbanked and unbanked. Mobile money uses smartphones and basic phones to store money that can be saved, withdrawn and sent by the user through their phone. Users can use their mobile money to buy things in participating stores and online shops as well as to pay bills and more.
Airtime top-ups: Many mobile service providers allow you to pay for service through money transfers. This is where airtime top-ups come into play. WorldRemit allows you to pay for service in other countries, perhaps for your friends or family, so that they will have airtime minutes and text balances to stay in touch with you.
Does WorldRemit have a mobile app?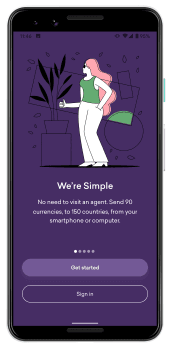 Yes, WorldRemit has an app available on both the App Store and through Google Play. Through the app, you can do the following:
Save contact information. Store your frequent recipients to make starting a transfer to them even quicker.
Get daily price notifications. Keep an eye on multiple currency pairs to send your money when the exchange rate is in your favor.
Track transfers. See the progress of your transfer in the app and opt in or out of SMS notifications.
Access customer support. Find live chat, telephone numbers and email options to contact customer support through the app.
| Reviews accurate as of April 7, 2020 | |
| --- | --- |
| Google Play Store | 4.3 out of 5 — based on 59,751 customer reviews |
| Apple App Store | 4.8 out of 5 — based on 40,000 customer reviews |
How does WorldRemit compare to other services?
Quickly compare how much your transfer could cost with WorldRemit and its competitors by entering the amount of money you want to send, select the destination and click Calculate.

Disclaimer: Exchange rates change often. Confirm the total cost with the provider before transferring money.
Bottom line
WorldRemit offers clear pricing on the fees and exchange rates it uses, making comparisons a breeze when trying to find the best price for your transfer. Because there are many WorldRemit alternatives out there, it may be worth shopping around before sending your transfer. Prices aside, WorldRemit has many years under its belt, while serving millions of customers a year, so new customers should have little reason to worry when sending a transfer through WorldRemit.
Frequently asked questions
Can I send money with WorldRemit without ID?
No, WorldRemit requires ID when sending from the US to verify your identity.
Can I pay with cash at WorldRemit?
No. Since WorldRemit doesn't have any agent locations from which to send money, paying with cash is not an option.
How do I track my WorldRemit transfer?
Whether sending online or through the WorldRemit app, your transfer will automatically be tracked and you'll automatically be updated. You can opt in to SMS updates so that you'll know exactly when your transfer arrives or if it has hit any snags along the way.
How do I contact WorldRemit customer service?
Contact WorldRemit customer service in the following ways:
Live chat – You'll start by talking with a bot but can navigate to a real agent.
Email – Use WorldRemit's onsite email form to send an email about your problem or concern.
Phone – Call +1 (888) 772-7771 to reach WorldRemit customer service in the US.
What are my rights when cancelling a transfer?
The US has federal laws in place to protect you when sending a money transfer within certain guidelines. You'll have a minimum of 30 minutes from the time of your transfer to cancel, and refunds can take up to 7 business days to return to your account. In some circumstances, your transfer cannot be cancelled, for example, if it has already been picked up in cash.
How do I file a complaint?
The process for filing a complaint will vary depending on what state you live in. Refer to WorldRemit's comprehensive list on the issue to find the most relevant information.