Finder is committed to editorial independence. While we receive compensation when you click links to partners, they do not influence our opinions or reviews. Learn how we make money.
What happens if you don't activate a credit card?
Your card might not be active, but your account is likely open.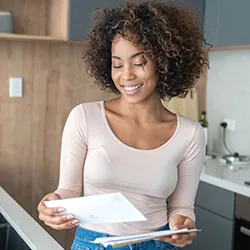 If you have a change of heart about a recent credit card application, you might consider simply not activating your credit card once it arrives in the mail. Though there's a certain level of safety in not activating the card, that doesn't mean you won't have a credit card account, which can leave you vulnerable in certain circumstances.
What happens if you don't activate a credit card?
If you don't activate your credit card, you nor anyone else who possess the card can use that credit card to make purchases. However, a credit card is simply a way to access your credit account. In most cases, when you are approved for a credit card, your credit account is opened well before you receive your credit card — usually once you're approved.
This means that your account remains open until you decide to close it, even if you don't activate your credit card.
Inactivate cards and security.
Choosing to not activate your credit card and ignoring the account you've opened may compromise your credit security. That's because it's possible to access a card without physically touching it.
Think about how many issuers let you access your account and use your credit the moment you're approved. New digital payment methods mean you could continue to access your credit account without touching your physical card.
The Apple Card is a great recent example.
Will not activating my credit card hurt my credit score?
Failing to activate your credit card will have no direct impact on your credit score. The hard pull your issuer performed on your credit history prior to approving your application is the main factor affecting your credit score, but you'll receive that hard pull whether you choose to use the card or not.
How long do I have to activate my credit card?
Generally, the amount of time you have to activate a credit card depends on the issuer. What's more, the definition of "activate" can also vary between issuers.
Some issuers, such as American Express, will allow you to use your card without activation. Should you fail to "activate" within a certain period of time however, they will deactivate the card so it's useless.
Other credit cards — such as those issued by Discover and TD Bank, have no activation time limit — though they can't be used beforehand.
Should I cancel my credit card instead?
Unfortunately, you can't cancel your credit card application and canceling your credit card account won't erase the hard credit pull performed on your account. But you can close your account without incurring further credit score hits without any problem.
However, one perk of keeping the account open is the increased credit limit it offers. Even if you never use the account, its very presence can help improve your credit utilization and increase your average account age, giving your credit score a boost.
Compare credit cards
If you've decided the card you've applied for isn't for you, compare other credit cards that might offer the rates and perks that better suit your needs. Just remember not to apply too soon if you want to avoid dinging your credit score too quickly.
Read more about activating each credit card
Bottom line
There's nothing wrong with not activating a credit card once you've received it. Just remember that not activating a card doesn't mean your credit account doesn't exist — or that, in some cases, your credit card can't be used — which can cause some security concerns.
If you choose not to activate your card because it wasn't a good fit for you, compare other credit cards to find one that better suits your financial needs.
Frequently asked questions