Press Release
For immediate release
The winners of the inaugural Finder Customer Satisfaction Awards announced
5 March 2020, LONDON –
The 20 winners and highly commended companies in the inaugural Finder Customer Satisfaction Awards have today been announced.
The personal finance comparison site finder.com collected over 6,000 customer responses across 8 categories within the loans, mortgages, credit cards and insurance sectors to uncover which companies were excelling in customer service. Consumers were asked how satisfied they were with their providers and if they would recommend them to a friend.
The biggest winner was Tesco Bank, which won both the loans and home insurance categories, with a huge percentage of customers recommending the brand – 87% for loans and 81% for home insurance.
The most recommended brand out of all the categories belonged to L&C Mortgages. It was named as the mortgage provider winner with an impressive 93% of customers saying they would recommend the company to a friend. Highly commended in this category was Nationwide.
In the credit card category, American Express was the most highly recommended by customers (85%). This was followed by Santander and Barclaycard, which were highly commended in this group.
Across the insurance categories, Virgin Money was named as the winner for travel insurance. Around 9 in 10 (89%), said they would recommend the brand to a friend. The highly commended company was Get Going.
Aviva was the winner in the car insurance group with 91% of its customers saying they would speak positively about the brand, while Saga took the highly commended spot.
82% of customers recommended life insurance provider LV=, putting it top in this category. It was closely followed by Vitality and Phoenix Life.
The best-rated company within pet insurance was M&S Bank. Around 89% of customers would speak positively about it to their friends, closely followed by Direct Line (89%).
Commenting on the findings, Jon Ostler, CEO at finder.com, said: "The way customers are treated and have their problems listened to is vital for any successful business and the Finder Customer Satisfaction Awards help people get an idea of who is excelling at this across a range of sectors.
"We asked the only people who matter, customers, so the winners and highly commended companies can be proud to have such a high percentage of customers who would recommend them and their products."
https://www.finder.com/uk/credit-cards/finder-credit-cards-customer-satisfaction-awards
https://www.finder.com/uk/personal-loans/finder-personal-loans-customer-satisfaction-awards
https://www.finder.com/uk/finder-insurance-customer-satisfaction-awards
https://www.finder.com/uk/mortgages/finder-mortgages-customer-satisfaction-awards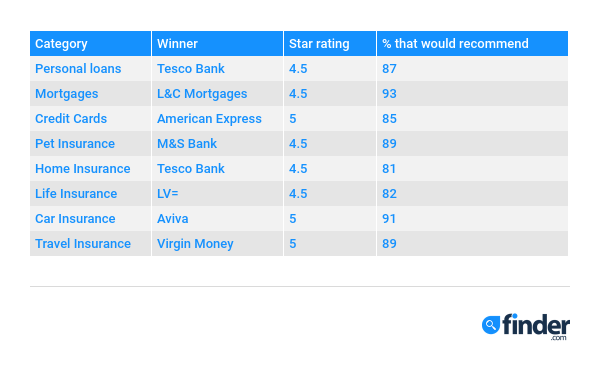 ###
Methodology
In December 2019 finder.com ran a customer satisfaction survey on credit card, insurance, loans and mortgage providers. A nationally representative sample of respondents in 8 categories were asked how satisfied they were and ratings were based on a sample of 750 responses per sector, and over 6,000 responses in total. The 8 categories were loans, credit cards, mortgages, travel insurance, pet insurance, car insurance, life insurance and home insurance.
The survey asked respondents how satisfied they are with their provider (from one to five) and whether they would recommend the brand to a friend or not. From this finder.com calculated star ratings from the results and shortlisted the top-performing brands for our awards. When there was a draw, the recommendation score (that is, the percentage of customers who said they would recommend the brand to a friend) was used to decide.
###
For further press information
Matt Mckenna
UK PR Manager
Disclaimer
The information in this release is accurate as of the date published, but rates, fees and other product features may have changed. Please see updated product information on finder.com's review pages for the current correct values.
About finder.com
finder.com is a personal finance website, which helps consumers compare products online so they can make better informed decisions. Consumers can visit the website to compare utilities, mortgages, credit cards, insurance products, shopping voucher codes, and so much more before choosing the option that best suits their needs.
Best of all, finder.com is completely free to use. We're not a bank or insurer, nor are we owned by one, and we are not a product issuer or a credit provider. We're not affiliated with any one institution or outlet, so it's genuine advice from a team of experts who care about helping you find better.
finder.com launched in the UK in February 2017 and is privately owned and self-funded by two Australian entrepreneurs – Fred Schebesta and Frank Restuccia – who successfully grew finder.com.au to be Australia's most visited personal finance website (Source: Experian Hitwise).