Polar Credit review 2023
Polar Credit offers a line of credit (rather than a fixed-term loan) of up to £2,000 that you can borrow against whenever you need to.
Late repayments can cause you serious money problems. See our
debt help
guides.
What is Polar Credit?
Polar Credit is a direct lender (not a broker) that offers a "line of credit" you can use to borrow money quickly, as and when it suits you.
A line of credit works like a credit card or an overdraft. If accepted, you'll have a personalised credit limit and can borrow as much or as little as you need within that, repaying as much or as little as you choose each month (subject to a specified minimum). You're free to borrow more or borrow again as much as you like, provided you stick to your limit and maintain at least that minimum monthly repayment.
Who is behind Polar Credit?
Polar Credit is a trading name of APFIN Ltd, which is authorised and regulated by the Financial Conduct Authority (FCA). APFIN is perhaps better known for offering short term loans through Polar Credit's sister brand Cashasap.co.uk (which also has a bear in its logo – APFIN has got a thing about bears, apparently).
Polar Credit at a glance
| | |
| --- | --- |
| Product Name | Polar Credit Credit Line |
| Available Amounts | £200 to £2,000 |
| Representative APR | 68.7% |
| New customer maximum | £2,000 |
| Loan terms | Open-ended line of credit |
| Repayment period options | Monthly |
| Default repayment method | Continuous payment authority |
| Additional repayment methods | Online payment |
| Repay early at any point | |
| Parent company | APFIN Ltd. |
| FCA registration number | 673186 |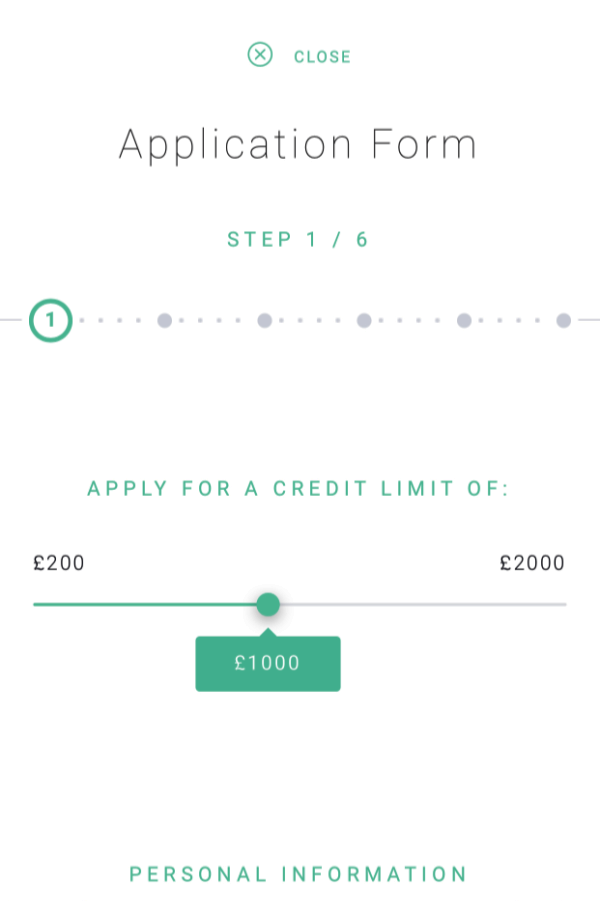 How does Polar Credit work?
You can apply to set up your credit line using Polar Credit's simple online form. Polar Credit has enlisted the services of Credit Kudos to help it assess creditworthiness and affordability by analysing your banking transaction data.
If your application is successful, you'll be offered an initial credit limit tailored to your financial situation. You may later request to increase or decrease it.
For now, there's no app. You monitor and control your credit line via the online account. When you need money, simply log in and arrange a transfer to your bank account.
The amount borrowed accrues interest daily, and you'll need to make a minimum monthly repayment of either £10 or 5% of the balance at that time (whichever is the larger). Repayments are taken via a continuous payment authority, which means you'll give Polar Credit permission to take the funds it is owed, as and when it opts to do so.
Why does Polar Credit want access to my bank account?
Polar Credit analyses your banking transaction data to assess creditworthiness and affordability. To do this, Polar Credit needs permission to view your transaction history, which you can give from your internet banking.
Polar Credit does all this with the technical help of Credit Kudos, which is a regulated open banking service provider.
By doing this, Polar Credit aims to say "yes" to applicants who might otherwise be rejected on their credit score alone. Using open banking data to support applications for credit is becoming more common in the UK.
How much does Polar Credit cost?
There's no fee to set up and maintain your credit line; you only pay when you borrow. Polar Credit charges a transaction fee of 1.65% each time you withdraw funds, and then charges interest at a rate of 49.9% while you're borrowing. The interest equates to a daily rate of 0.165%, and the overall cost of borrowing translates to a representative APR of 68.7%
Borrow £250 for 14 days, and it'll cost you just under £10 (£9.91 to be exact). That's an initial transaction fee of £4.13 and interest of £5.78 (around 42p per day).
Pros and cons
Pros
Once your credit line is in place, it's a super quick and easy 24/7 service to withdraw funds in minutes.
Credit lines give you flexibility to repay what you can afford each month or to top up your loan.
Polar Credit can be much cheaper than a payday loan provided you don't let the debt drag on and on.
Cons
Paying only the minimum required amount each month will push up the overall cost of borrowing and make your debt drag on.
Having to connect your bank account is a small extra hassle.
There's no app yet.
Is Polar Credit legitimate?
Polar Credit is part of the FCA-authorised APFIN Ltd., which also owns Cashasap.co.uk. APFIN is a London-based, private limited company registered in England and Wales with company number 07989136. It has permission from the FCA to enter into regulated credit agreements as a lender.
Back in the day, Cashasap.co.uk was a fairly typical payday lender. In 2014, it offered loans over 1-31 days at an eye-watering (and no longer allowed) 360% p.a. interest rate (over 2,500% APR). It later lowered its rates in line with requirements introduced by the FCA (which capped high-cost short-term credit interest at 292% p.a.) and started focusing on loans with longer terms. Unlike many of its peers, APFIN has so far weathered the post-payday storm – managing not to buckle under the weight of complaints from former customers.
Some would-be users may be a bit hesitant to give Polar Credit visibility of their current account transaction history through open banking. However, this is becoming more commonplace for credit approvals in the UK.
Will Polar Credit run a credit check?
Yes, however, Polar Credit goes to great lengths to clarify that it's not looking for applicants with flawless credit histories and uses proprietary technology to look at the fuller picture, not just your credit score.
Am I eligible for a Polar Credit credit line?
Residency
UK resident
Minimum age
18
Additional eligibility notes
You must be in full or part-time employment.
You must have a UK bank account with a linked debit card.
You must have access to your email address and a working mobile phone.
Polar Credit customer reviews
Polar Credit scores relatively highly on Trustpilot, with an overall rating of "Great" and 4.2 stars given by 180 reviewers (updated August 2023).
Recent positive reviews vouch for Polar Credit's convenient and quick access to funds while having competitive rates.
Polar Credit customer support
You can contact Polar Credit customer services by phone on 0800 612 7188 or by email at info@polarcredit.co.uk.
Our verdict
Services like Polar Credit use innovative smart tech to approve borrowers who may have been turned down by other lenders due to a low credit score.
Used carefully, they're a great alternative to traditional payday-style loans – usually working out much cheaper. The trap to avoid is only making the minimum required payment each month. This is how credit line providers make big bucks and how the costs to consumers can rack up.
We'd also like to see a supporting Polar Credit app launched to add convenience for users. Nobody likes logging in to websites on their phone.
Frequently asked questions
We show offers we can track - that's not every product on the market...yet. Unless we've said otherwise, products are in no particular order. The terms "best", "top", "cheap" (and variations of these) aren't ratings, though we always explain what's great about a product when we highlight it. This is subject to our
terms of use
. When you make major financial decisions, consider getting independent financial advice. Always consider your own circumstances when you compare products so you get what's right for you.
More guides on Finder
Loans like Polar Credit

Polar Credit is the new short term lender on the block, offering an ongoing line of credit to cover unexpected shortfalls. Discover other companies like Polar Credit, offering innovative short term borrowing facilities.