Payday loan statistics
A closer look at the facts and figures of payday loans
Payday-style loans (or high-cost, short-term credit) are short-term lending for small amounts of money. These loans can be accessed quickly, even by those with bad credit or lower incomes. The tradeoff is that they usually come at a high cost. While 4 in 5 of these loans are usually paid off in one month or less, if we look at the typical interest rates charged, it works out to be 1,300% annualised. Rates vary by payday lender, but compared with most other credit options, this is an expensive way to borrow.
Take a look at the diagram below which illustrates the different types of personal loans and where payday loans fit in:
We analysed the most recent Competition & Markets Authority (CMA)'s Payday lending market investigation report (2015) to provide helpful insights into the high-cost short-term lending market.
The latest facts and figures
In January 2015, a cap was introduced on the interest rates that can be charged on payday loans in an effort to regulate them. These are marketed as one-off loans for unexpected expenses. However, due to the accessibility of these loans, it has resulted in people using it for everyday expenses such as groceries, bills and car costs when they are short on cash. About a quarter of payday loans in the UK are rolled over to a new loan term and typically charge £24 a month for every £100 borrowed.
The average payday loan customer
CMA determined the typical characteristics of a payday loan and its borrowers through the analysis of their loans data. Whilst the single most common amount borrowed was £100, the average loan size was £260. 75% of the customers in their data took out more than one loan in a year with the average customer taking out 6 loans in a year.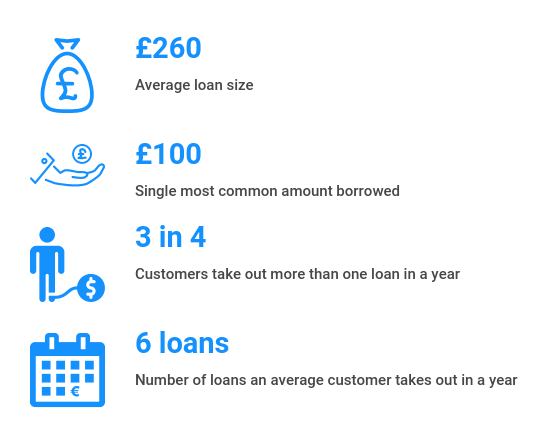 Demographics
People are more likely to take out a payday loan if they are unmarried, between 25 and 30 years old, living in rented accommodation and on an income of under £1,500 per month.
Where do customers typically access payday loans?
Payday loans can be accessed both though online lenders as well as on the high street, through loan shops like Cash Converters. The CMA reported 83% of payday loan customers took out a loan online whilst 29% did so in-store. An overlap of 12% of payday loan customers has used both channels.
What are payday loans used for?
Even though payday loans were designed as one-off loans for unexpected expenses, the actual result is quite different. An alarming proportion of people have admitted to using payday loans to cover recurring expenses. Over 1 in 2 (53%) borrowers reported "Living expenses such as groceries and utility bills" as their reason for taking out a payday loan. 2% of borrowers confessed to taking out a payday loan in order to pay off another one. Other reasons include car or vehicle expenses (10%) and general shopping such as clothes or household items (7%).
| Common purchases | Percentage |
| --- | --- |
| Living expenses | 53% |
| Car or vehicle expenses | 10% |
| General shopping | 7% |
| Pay off another loan | 2% |
| Other | 28% |
Why do people need payday loans?
Over half of borrowers (52%) said they had to take out a payday loan because they suffered an unexpected increase in expenses or outgoings whilst almost 1 in 5 (19%) said it was due to an unexpected decrease in income. Of those who said their need was due to a shift in financial circumstances, 93% saw this change as temporary. Almost 3 in 5 (59%) said their payday loan was for something that they could not have gone without. Even though almost 1 in 4 (24%) of these people said that they would have gone without the purchase if a payday loan had not been available.
| Reason | Percentage |
| --- | --- |
| Unexpected increase in outgoings | 52% |
| Unexpected decrease in income | 19% |
2019 Update
4 years after the interest rate cap was introduced in 2015, how has the payday loan market responded? We take a look at the latest facts and figures of the High Cost Short Term Credit (HCSTC) market to find out.
What does HCSTC mean?
High Cost Short Term Credit is
defined by the Financial Conduct Authority
as unsecured loans of up to 12 months with an APR of 100% or more, but does not include overdafts and home credit or bill of sale agreements.
Year to date figures (June 2018) show over 5.4 million of the loans have been taken out, almost half the amount as the peak in 2013 (10 million) before regulatory action was taken. The number of providers has also fallen from over 100 to just 88 in 2018, the most notable provider to leave the market being Wonga in 2018. See the chart below for a more detailed breakdown over the last 2 years for the amount of loans taken out and the number of firms in operation.
| Quarter and year | Number of loans | Number of firms |
| --- | --- | --- |
| Q3 2016 | 1,177,749 | 106 |
| Q4 2016 | 1,107,448 | 102 |
| Q1 2017 | 1,087,583 | 93 |
| Q2 2017 | 1,259,714 | 97 |
| Q3 2017 | 1,301,061 | 93 |
| Q4 2017 | 1,353,350 | 92 |
| Q1 2018 | 1,316,501 | 93 |
| Q2 2018 | 1,456,993 | 88 |
Size of the market
Customers borrow in excess of £1.3 billion each year and pay in excess of £2 billion. Explore the chart below to see how much we have been borrowing each quarter since 2016.
| Quarter and year | Total value of loans | Total amount payable |
| --- | --- | --- |
| Q3 2016 | £288,560 | £445,800 |
| Q4 2016 | £263,910 | £411,182 |
| Q1 2017 | £245,120 | £380,877 |
| Q2 2017 | £288,706 | £516,768 |
| Q3 2017 | £318,615 | £516,235 |
| Q4 2017 | £324,997 | £537,260 |
| Q1 2018 | £303,018 | £501,237 |
| Q2 2018 | £338,179 | £564,056 |
Who is taking out Payday Loans?
Payday loans remained a popular borrowing option in 2018, but who is taking them out? The latest figures suggest the younger proportion of the population is still more likely to have taken out a payday loan.
37% of payday loan borrowers were aged 25-34.
Compared to just 16.5% in 45-54 year olds and 6.4% of those aged 55+.
Payday loan borrowers also reported being less confident about managing their money, with 61% saying so.
This is over twice as high as the population average, with just 24% of UK adults reporting low levels of confidence in managing their finances.
Click here for more research. For all media enquiries, please contact:
More guides on Finder
New Year's resolutions

A recent survey from Finder has found that in 2022, 54% of the UK population – or 28 million Brits – will be making a New Year's resolution.

How to switch credit cards

Looking to get a better credit card deal or pay off your existing debt faster? Here's how to switch credit cards in 5 steps.

Best credit cards for graduates

If you've recently graduated and want to apply for a new credit card, find out how to go about it and what to watch out for.

Best shares to buy now

View our list of the top 10 trending stocks today, and read our guide to choosing the best stocks.

Best shares to buy now

View our list of the top 10 trending stocks today, and read our guide to choosing the best stocks.

Boxing Day shopping and spending statistics UK

Which brand received the most search traffic from UK shoppers during one of the biggest retail days of the year? We've done some analysis on the search figures to find the brand took the crown.

NFT stats

Finder polled over 28,000 people in an online survey across 20 countries to compare NFT ownership and found the UK ranks 2nd last for NFT adoption.