Compare the top 20 UK energy deals this month
---
---
What is green energy?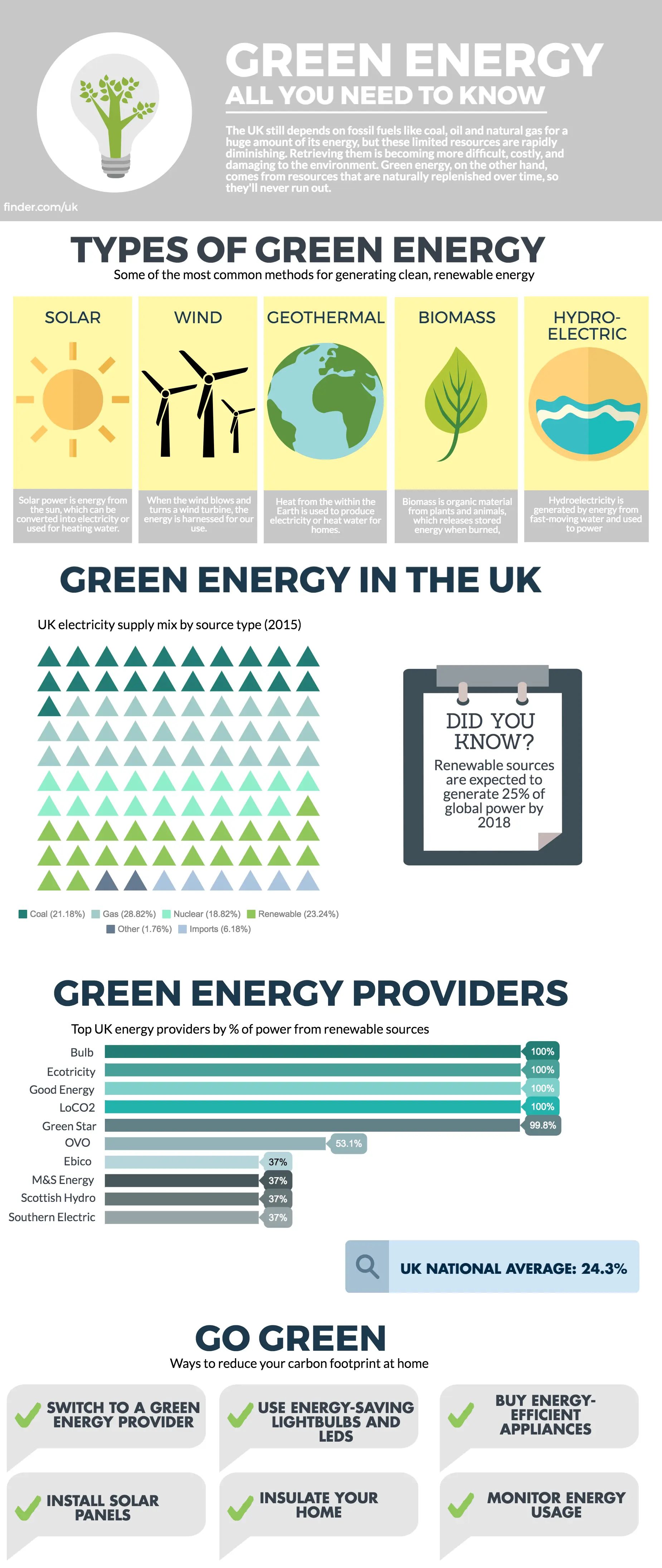 How do renewable energy tariffs work?
Renewable energy tariffs are great for those who want to do their bit for the environment, but don't want to invest in costly solar panels or installing wind turbines.
Renewable energy tariffs work just like any other, but with an emphasis on providing environmentally friendly gas and electricity. Your supplier might pledge to generate a certain proportion of your energy from renewables, or they might promise to match however much energy you use with energy generated sustainably. Similarly, if you choose them they might offer to invest in renewable development programmes in return for becoming a customer.
How is renewable energy generated?
In the UK, the highest percentage of renewable energy is generated by wind farms. A lot of renewable energy is also generated from biomass fuel and solar panels.
What's the difference between a renewable energy tariff and a 'feed-in-tariff' (FIT)?
If you're interested in an environmentally friendly energy solution, you might have come across the phrase 'feed-in-tariff' (FIT).
Whereas renewable energy tariffs see suppliers offering to source energy responsibly or invest in renewables, a FIT is a government scheme that gives money back to households that generate their own electricity.
Solar panels, wind turbines, and hydroelectricity are all ways that households can generate their own power. Any excess energy created is sold back to the National Grid. The amount of money you could receive depends on how much is generated.
If this sounds up your street, make sure you use a qualified FIT installer, and that whatever technology you have installed is certified under the Microgeneration Certification Scheme (MCS).
Which companies offer renewable energy tariffs?
Here are just a few companies that source their energy from 100% renewable sources.
<ul>
Bulb;
Ecotricity;
Engie;
Eon;
Octopus Energy;
Ovo.
Other suppliers, while not completely renewable, may offer a green tariff powered by environmentally friendly sources.
Are renewable energy tariffs cheap?
Green energy tariffs might not be the absolute cheapest on the market, but they often rival regular plans in price. Especially as more and more suppliers offer green energy plans, prices are steadily decreasing.
Remember, though, there's no single cheapest energy tariff – just the most affordable for your location and needs. Enter your postcode below to find and compare tariffs in your area.