Press Release
For immediate release
8.8 million Brits plan to go meat-free this year (the highest figure in 4 years!)
Currently, 14% of adults (7.2 million) in the UK are following a meat-free diet
The most popular meat-free diet is Vegetarianism with 3.3 million followers
Just 2% of those who said they would give up meat in 2021 did so
The number of those who gave up meat in 2021 dropped by 78%, compared to 2020
6, January, 2022, LONDON –
8.8 million people across the UK plan to become vegetarian, vegan or pescatarian over the next 12 months – the highest figure recorded by shopping comparison site finder.com's annual UK Diet Trends research in the 4 years.
Overall, there was a net gain of 105,000 people who have started to follow meat-free diets in the UK throughout 2021.
However, this figure is under 2% of the 6.5 million people who intended to do so, which means the number of people who gave up meat in 2021 fell by 78% compared to 2020. That year 470,000 managed to follow through with their plans – around 9% of the 5.3 million who intended to do so.
The diet that gained the most recruits in 2021 was vegetarianism, with 130,000 people joining the cause, while 52,000 people took up veganism. However, these gains were offset by a decrease of almost 79,000 pescatarians. It's worth noting that some of these people may have been pescatarians who also gave up meat in 2021 though.
Vegetarianism remains the most popular diet
These changes mean that at the beginning of 2022, the most popular meat-free diet remains vegetarianism, with 3.3. million followers. Pescetarianism still has 2.4 million people who observe the diet, while veganism has 1.6 million. This means that 14% of adults (7.2 million) in the UK are following a meat-free diet
A further 4 million people are following a different type of diet outside of the top three, suggesting some are branching out to trending sub categories such as flexitarian.
2022 diet intentions
Regardless, Brits are once again optimistic about cutting meat out of their diets in 2022.
While finder's previous research suggests it is very unlikely that everyone will stick to these intentions, if they did, the UK would have a total of 16 million meat-free citizens at the beginning of 2023.
Youngsters lead the meat-free charge
There is a clear age divide when it comes to views on eating meat. Gen Z'ers (aged 18 to 23) are the most likely to avoid meat already (25%) and plan on giving it up (30%).
Millennials are not far behind, currently 18% follow a meat-free diet and they could be joined by an additional 26% throughout 2022. 9.6% are already following a different type of diet outside the main three meat free diets.
While just 1 in 10 (11%) of the silent generation (aged 74+) avoid meat and only 5% plan to do so in 2022.
Commenting on the findings, Reemul Balla, shopping specialist, at finder.com said:
"Although the number of people who turned meat-free has dropped significantly last year, this year's findings still show that adopting a veggie diet continues to remain popular across the country.
"Meat-free diets and being 'flexitarian' are getting more media exposure than ever so you would expect these positive trends to continue growing. However it's important to be savvy and shop around to make sure you're not falling into traps with overpriced specialty products. A little bit of research and intuitiveness in the kitchen can go a long way. It will also be worth keeping an eye on how much inflation has spiked food prices this year"
To see the research and which diets are the most popular in full visit: https://www.finder.com/uk/uk-diet-trends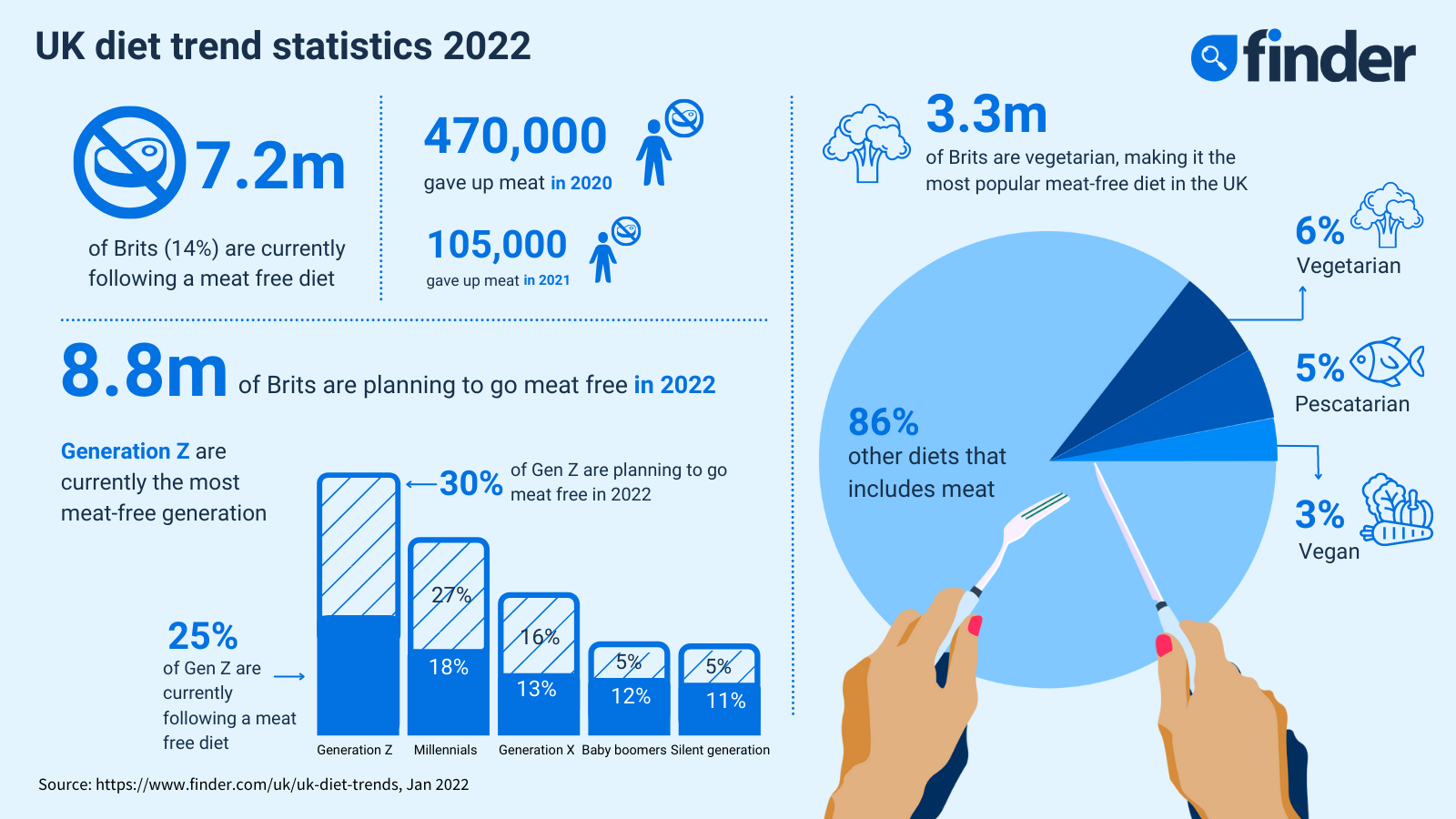 Methodology:
Finder commissioned Censuswide on 23-29th December to carry out a nationally representative survey of adults aged 18+. A total of 2,000 people were questioned throughout Great Britain, with representative quotas for gender, age and region
###
For further press information
Matt Mckenna
UK PR Manager
Disclaimer
The information in this release is accurate as of the date published, but rates, fees and other product features may have changed. Please see updated product information on finder.com's review pages for the current correct values.
About finder.com
finder.com is a personal finance website, which helps consumers compare products online so they can make better informed decisions. Consumers can visit the website to compare utilities, mortgages, credit cards, insurance products, shopping voucher codes, and so much more before choosing the option that best suits their needs.
Best of all, finder.com is completely free to use. We're not a bank or insurer, nor are we owned by one, and we are not a product issuer or a credit provider. We're not affiliated with any one institution or outlet, so it's genuine advice from a team of experts who care about helping you find better.
finder.com launched in the UK in February 2017 and is privately owned and self-funded by two Australian entrepreneurs – Fred Schebesta and Frank Restuccia – who successfully grew finder.com.au to be Australia's most visited personal finance website (Source: Experian Hitwise).