Finder is committed to editorial independence. While we receive compensation when you click links to partners, they do not influence our content.
Top DIY home design and planning apps for remodeling
What better way to plan for a home renovation project than with your smartphone?
Why mess about with notepads and documents when these apps can help you keep all your inspiration and design ideas in one place on one device? If you're out shopping for materials or furniture, you can pull out your phone and check the relevant app where you've saved your plans or ideas.
We've looked at the apps available for planning and completing your home renovation and found the 10 most popular for both iOS and Android.
This guide at a glance...
Top renovation planning apps
Home Design 3D

This app allows you to plan out your future home or the renovation of your current home with 2D and 3D plans. Gold version for iOS gives you full access to all features for $9.99. Some features are only available with the paid version.
Features
Import plans
Work in 3D or 2D
Share via Dropbox
Add and move furniture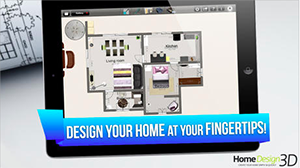 ---
Room Planner LE Home Design

Map out and plan your next home or that room you've always wanted to change. Measure rooms precisely to ⅛ of an inch with in-app Bluetooth laser measuring. Note: LE version doesn't save.
Features
Lay out all rooms with accurate measuring
Play with materials, colors and textures before you build
Design your whole house or just one room
---
Roomle

With augmented reality view and 3D walkthrough, Roomle is the future of floor-planning apps. Award-winning design app with access to hundreds of pieces of furniture and decorative items.
Features
Sketch using your finger
Precisely adjust angles and dimensions
Share your designs
Augmented reality view
---
Photo Measures

Save time and paper by taking photos of your rooms and annotating notes to the images with dimensions. Now you can always have your room measurements with you when you're furniture shopping. Free version will watermark images when saved.
Features
Draw measurements on your photos
Edit anytime
Zoom in and out for precision
Add comments for more info
Export to PDF or JPG
---
MagicPlan

Create a map of your home with measurements and angles just by taking pictures. Comes with the option to export to various programs. Smart device must have a gyroscope for auto measures to work.
Features
No need to measure
Move furniture digitally before committing
Simple to use for DIY enthusiasts
---
Home Design 3D Outdoor and Garden

Design and build your dream garden and outdoor entertaining area. With 3D viewability, you can get a more realistic image of your vision.
Features
Design your dream outdoor area in minutes
Use the exact dimensions of your outdoor area
Cancel and restore design ideas
---
Planner 5D



Create beautiful and realistic plans for your home or for that room you want to update. You can choose the interior items that you want in the room and plan the design. iOS also has Bathroom Design 5D, Kitchen Design 5D, Bedroom Design 5D, Kids Room Design 5D and Office Design 5D.
Features
View and make screenshots in 2D as well as realistic 3D HD
Share your designs with your social media contacts for feedback
Alter a plan from the gallery or start from scratch to make it more personal
Back to top
Planning apps – comparison table
App

Free

In-App

Purchases

Buy Now

Ratings

Home
Design 3D
Android – 4.4
iOS – 4.4
Room Planner
LE Home
Design
Android – 3.4
iOS – 2.7
Roomle
Android – 2.9
iOS – 3.7
Photo
Measures
Android – 4.3
iOS – 4.5
MagicPlan
Android – 4.2
iOS – 4.6
Home Design
3D Outdoor
and Garden
Android – 4.1
iOS – 2.7
Planner 5D
Android – 4
iOS – 3.3
Back to top
Interior design apps
If you're looking for some interior design inspiration after you've completed that home renovation, these are two of the many apps available.
Houzz Interior Design Ideas

If you're looking for inspiration or want to redesign your entire home, Houzz has plenty of options. It also comes with prices, so it's easy to budget.
Features
Create idea boards for current and future design projects
Chat with others looking to design to get ideas and inspiration
Go from looking online to on the go with the same account
---
Homestyler Interior Design

Place design items and styles in your home before you commit. Use Homestyler as your fitting room for design ideas and find inspiration from the many user-created pics available.
Features
Create your own profile to share your designs and ideas with other Homestylers
Connect with professionals who can assist with your design projects
Browse the huge selection of designs to get help and inspiration
Back to top
Interior design apps – comparison table
App

Free

In-app
Purchases

Buy Now

Ratings

Houzz Interior

Designs Ideas

Android – 4.6

iOS – 4.8

Homestyler

Interior Design

Android – 4.1

iOS – 4.3
Read all about home renovations
Special mention apps
Some of the great apps out there are sometimes only available in either the Apple App Store or the Google Play Store. Here are some we found.
RoomScan Pro LE Home Design (iOS)

The quickest and simplest way to create your home floor plan. Just tap your iPhone on each wall a few times and it will measure and draw it all itself.
Features
Measure to the nearest 10 centimeters
Rooms automatically connect to create floor plan
Measurements available in metric and imperial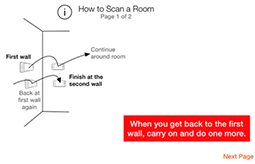 ---
Floor Plan Creator (Android)
Create your floor plan with ease and include furniture to make sure it fits. Have your designs and plans with you when you shop to check sizing and placement.
Features
Predefined room shapes or freestyle draw your own.
Supports metric and imperial measurements
Supports Leica Disto bluetooth laser meters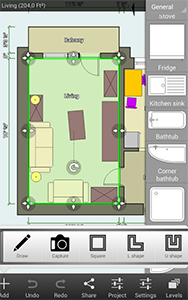 ---
Handyman Calculator (Android)

The app that has all the calculations a DIY handyman would need. Also includes a time tracker so you can tell if you'll get your job done within a planned time frame.
Features
Multiple calculators and converters
Save calculation results to a notepad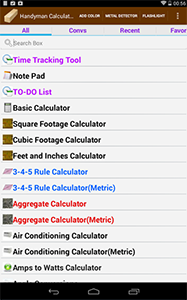 ---
HandyMobi home improvement DIY (Android)

Plan, organize and implement that home DIY project you have been wanting to do. Includes a shopping list so you can know what you need when shopping for materials.
Features
View step-by-step guides with pictures or videos
Calculate cost of materials
Share your project and progress with friends and family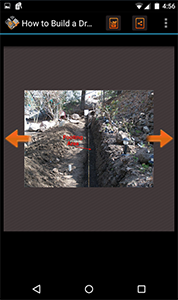 ---
Handy Construction Calculator (Android)

Accurate and easy-to-use construction calculator. Total of 70+ calculators that can be used by professionals and DIY enthusiasts.
Features
Easy to use all-in-one calculator for all construction needs
Switch between metric and imperial measurements
Built-in result sharing for email, text or copy/paste elsewhere.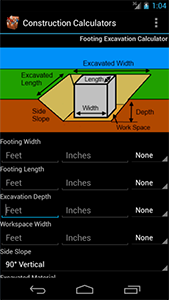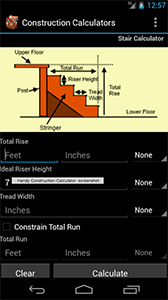 Back to top
Special mention apps – comparison table
App

Free

Paid

In-App

Purchases

Ratings

RoomScan
Pro (iOS)
4.3
Floor Plan
Creator
(Android)
4.1
Handyman
Calculator
(Android)
4.5
Handy Mobi
home improvement
DIY (Android)
3.5
Handy
Construction
Calculator
(Android)
$7.99
4.4
Back to top
More guides on Finder