Finder is committed to editorial independence. While we receive compensation when you click links to partners, they do not influence our content.
ThinkGeek promo codes
Best deal:
ThinkGeek is the place to come when you want to salute your inner geek. The site has a huge range of clothing, gadgets, games and fun, functional stuff to fill your home or office.
It looks like we don't have any coupons at the moment.
What can I buy at ThinkGeek?
Clothing and accessories.

Whether you want to rock a classic polo look with a little Hans Solo flare or you're looking to go all-out with costumes and cosplay outfits, ThinkGeek has your back — and the clothes to cover it.

Home and office. Star Wars Death Star waffle maker, anyone? Or maybe a Cat Wars wall calendar is more your speed.
Toys and games. Find action figures, board games, puzzles, office pranks and even DIY and STEM learning toys here.
Collectibles. Browse through tons of cool collectibles, including vinyl figures, prop replicas, pins and patches, vinyl records and more.
Outdoor and survival. You never know when you might need the tools to survive a zombie apocalypse

— or when that Thor hammer tool set might come in handy.

Electronics and gadgets. You'll find everything from PC and console gaming accessories to tiny arcades that play licensed retro games.
Brands you can purchase from ThinkGeek
ThinkGeek lets you shop by interest rather than category, allowing you to see everything it has to offer.
How to use your promo code
To use your ThinkGeek promo code, follow these steps.
Visit ThinkGeek's online store at www.ThinkGeek.com.
Browse through their selection of products. You can choose to browse by category or by interest.
When you have found the item you want to buy, select the color and size (if applicable), and click Buy Now.
On the next page, click Continue Shopping to keep browsing, Update Cart to refresh, or Go To Checkout! to pay.
If you are new to ThinkGeek, you are invited to create an account and get member perks like 10 geek points per dollar spent. If you already have an account, enter your details and click Login And Continue.
If you want to continue as a guest, just scroll down and enter your billing and shipping information. Then click Go To Checkout.
Review your order and select a shipping method.
To enter your promo code and get a discount, find the box on the right side that says Enter promo code or gift card. Enter your promo code in the box provided and click Apply.
Scroll down to the payment section and enter your card details or choose to pay with PayPal. Click Place Order.
Why isn't my promo code working?
If your code isn't working:
Check to make sure it hasn't expired.
Is the item you've selected included in the promo code offer?
Is the promo available in your country?
Check the spelling of your code. Codes oftentimes are case-sensitive.
If your promo code still isn't working, contact ThinkGeek's customer support at 888-GEEKSTUFF (888-433-5788). Or you can initiate a chat online.
ThinkGeek's sizing guide: What size do I need?
ThinkGeek provides measurements of each individual garment it sells on its website. Since these measurements can largely vary depending on the type and brand of the item, you'll want to double-check the specific measurements provided in the Product Specifications section before selecting your size.
However, many of the brand's shirts do follow these general sizing guides:
Unisex shirts:
| Size | Chest (in) | Length (in) |
| --- | --- | --- |
| S | 36 | 28 |
| M | 40 | 29 |
| L | 44 | 30 |
| XL | 48 | 31 |
| 2X | 52 | 32 |
| 3X | 56 | 33 |
Women's shirts:
| Size | Chest (in) | Length (in) |
| --- | --- | --- |
| S | 32 | 23 |
| M | 34 | 23.5 |
| L | 36 | 24 |
| XL | 38 | 34.5 |
| 2X | 40 | 25 |
Is ThinkGeek plus-size friendly?
In 2017, ThinkGeek revised its line of Star Trek women's swimsuits to include plus-size friendly cuts and styles that go up to size 4X. Although not all of this brand's clothes are as accommodating, ThinkGeek did respond to customer feedback by making these changes to some of its swimwear options:
Expanded size range up to 4X
Lowered the strap in the back for better bust support
Added length to the torso
Added width to the chest to prevent gaping on the sides
Made the leg rise less steep
ThinkGeek provides your measurements (not the garment's) for these additional swimsuit sizes:
| US size | Chest (in) | Waist (in) | Hips (in) | Torso (in) |
| --- | --- | --- | --- | --- |
| 2X (16) | 42.75 | 35.75 | 42 | 64.5 – 66 |
| 3X (18) | 44.75 | 37.75 | 44 | 66.5 – 67.5 |
| 4X (18W – 20W) | 46.75 | 39.75 | 46 | 68 |
Shipping, delivery and payments
Can I get free delivery?
Yes, if you spend $75 or more.
Shipping costs
You'll get free standard shipping with any purchase of $75 or more.
Shipping options include:
| Shipping type | Days to arrive | Cost |
| --- | --- | --- |
| Ship to store | Up to 6 business days after processing | $7.95 |
| Standard | 2–6 business days after processing | $8.95 |
| Expedited | 2–3 business days after processing | $12.95 |
| Express | 1 business day after processing | $24.95 |
Please note that a surcharge will be added to your total order cost for each item that is oversize and/or weighs 15 pounds or more. Products that have this surcharge are labeled on the page, as well as at checkout.
Alaska, Hawaii and Puerto Rico
UPS two-day and next-day are available. ThinkGeek cannot ship to PO Boxes in any of these locations.
PO Boxes
Orders weighing less than 70 pounds can be sent through the United States Postal Service. If you're shipping to a PO Box, opt for standard shipping.
How can I track my order?
You can track your order from your ThinkGeek account page. An email with tracking information will also be sent once your order has been shipped (with most carriers).
Payment options
Pay for your ThinkGeek order on its secure website with Visa, MasterCard, American Express, Discover or PayPal.
If you frequently shop at ThinkGeek, you can securely save your payment method(s) in your account. During checkout, you simply check the box that says Save for next time. For security purposes, you will still have to enter the three-digit CVC code on the back of your card, but you won't have to enter the full number, expiration date or name on the card again.
Note that your credit card number will not be stored in ThinkGeek's database. Instead, the website only keeps the last four digits on file to verify the card that was used. If you've chosen to store your payment method, an encrypted token is stored in place of your full credit card number.
What's ThinkGeek's return policy?
You can return your items within 90 days, but you must obtain a return authorization from ThinkGeek customer service and pay your own return shipping costs on non-defective merchandise. Your order may also be subject to a 15% restocking fee (Yikes!).
These items are not returnable:
Food products
Undergarments
Blind box items
Products with downloadable content
The Random Shirt of Awesomeness
Giveaways
Can I exchange my item for a different color or size?
Yes, but the process is a bit complicated. If you need a different size for an apparel item, you'll need to place a new order for the new size and complete the returns process (by getting an RMA form) for the wrong size. You will need to front the costs of shipping to return the old item, but you can get reimbursed by emailing exchanges@thinkgeek.com. In your email, be sure to include:
Your name
Your new order number
Your original order number
If the size that you need is out of stock, call ThinkGeek customer service at 1-888-GEEKSTUFF (1-888-433-5788) or (508) 970-2002.
Note that apparel exchanges are not accepted for orders shipped outside the U.S.
Are ThinkGeek returns free?
No. You'll be on the hook for the cost of return shipping, plus your return might incur a 15% restocking fee.
How do I return an item to ThinkGeek?
First, you'll need to request a return merchandise authorization number. To do this:
Log into your ThinkGeek account.
Go to the Order management section and find the order that contains the item you'd like to return.
Enter the quantity you'd like to return, along with the reason, and follow any additional instructions.
Once you have an RMA number, you can choose to have a return shipping label generated for you, or you can use a different provider of your choice. Either way, you'll pay for the cost of return shipping.
ThinkGeek's returns address
ThinkGeek Returns
RMA: [ include your RMA# here ]972 Conestoga Pkwy
Shepherdsville, KY 40165
When's the next sale?
There are a couple of ways you can find the latest deals and sales on ThinkGeek merch. The first is to head to the Sale page on its website and instantly scroll through everything that's marked down.
You can also join the ThinkGeek email list to stay up-to-date on the best geeky sales, or sign up for finder's deals newsletter!
What sets this brand apart?
The folks over at ThinkGeek are as quirky and geeked-out as its trusty followers, which makes for a downright fun shopping experience. ThinkGeek even sets up what it calls "TimmyCam," which is essentially a live-feed camera on Timmy the plush monkey. Sometimes, Timmy will have promo codes or be dressed in a fun costume for a particular day. If he and the ThinkGeek team is at a convention, you might see that Timmy has left their booth number!
What do people really say about this brand?
ThinkGeek has a loyal following that seem to love its quirky collectibles. But some customers complain that the items are overpriced.
What's ThinkGeek's history?
ThinkGeek has been helping people embrace their inner geek since 1999. It started out as a place to find T-shirts and unique gifts, but has grown to include so much more, inclduing home and office decor, electronic gadgets, collectibles and survival gear. The quirky brand has also developed a fun "We Believe" manifesto, which include saying like: "We believe that 'Star Wars or Star Trek?' is a meaningful first date question." And, "We believe life is more fun when you're wearing a cape."
How can I contact customer support?
If you have a question or need help with an order, you can visit ThinkGeek's customer service page to find answers to common questions. If you can't find what you need there, call 888-GEEKSTUFF (888-433-5788), email help@thinkgeek.com or initiate a chat online.
What about social media?
You can follow ThinkGeek and its quirky, fun-loving team on Facebook, Twitter and YouTube. Head to the company's Facebook page for updates on contests and sales, as well as the occasional geeky message from its team members.
On Twitter, ThinkGeek has two separate accounts. Follow its regular Twitter page (@thinkgeek), for useful and mildly entertaining tweets pertaining to contest announcements, sales and answers to customer questions. But if you'd rather get a plain and simple feed of the brand's latest releases, its "spam" page (@thinkgeekspam) will be right up your alley.
On YouTube, you'll find a healthy mix of product videos and goofs and laughs from the ThinkGeek team.
Why should I shop at ThinkGeek?
Pros
All your geeky interests in one place. From superheroes to video games, you'll find it all here at ThinkGeek.
Great deals. ThinkGeek frequently has great sales with super low prices.
Cons
High free shipping minimum. You have to spend $75 to get free shipping.
Returns aren't free. You'll have to pay your own return shipping for non-defective merchandise, and a 15% restocking fee may apply.
Bottom line
If you're looking for a website where you can find all your geeky needs in one place, check out ThinkGeek.
Frequently asked questions
Does ThinkGeek still offer a refer a friend program?
No. The company has discontinued this program.
What are Geek Points?
You can earn 10 points for every dollar you spend on ThinkGeek, then redeem those points for rewards.
What is Timmy's Last Call?
This is a special section of discounted products that are almost out of stock. Get 'em while you can!
Grab more deals
Shop durable backpacks, wholesome dog treats, military-grade flip flops, gourmet coffee and more while supporting our retired troops.
Read more…
Learn about the main types of teeth whitening procedures, including how to find the right one for your needs.
Read more…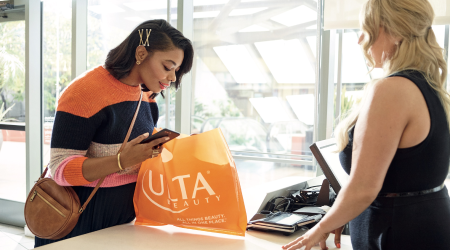 Shop major discounts on brand name cosmetics and skincare products during Ulta's 21 Days of Beauty spring sale.
Read more…
More guides on Finder