Finder is committed to editorial independence. While we receive compensation when you click links to partners, they do not influence our content.
Tello Wireless review 2021: Plans and features
Build your own wireless plan with no contracts or long-term agreements.
Tello Wireless offers fully customizable plans starting at just $5 per month. Plans come with a firm no-fees policy, unlimited calling and texting, 4G LTE data (with free tethering) and no contract. Many wireless services now offer no contracts and no fees, but Tello's "build-a-plan" feature is a new addition to the list of those you can mix and match when choosing a wireless provider.
Details
| | |
| --- | --- |
| Data | Starting at 500 MB |
| Minutes | Starting at 100 minutes |
| Texts | Unlimited |
| Can I bring my own phone? | Yes |
| Cell phone plans starting at: | $6 |
What is Tello Wireless?
With Tello, pay as you go comes with the option to custom design your own plan. This smaller player in wireless offers calls, texts and 4G LTE data — including calls to Canada and Mexico — in custom packages you choose for yourself.
Don't have a lot of people to speak to? You might want a plan with no call minutes. Prefer communicating through social media? Pick up a data-only plan. Despise social media and talking to people but don't mind texting? You get the picture.
Plus, you have to appreciate Tello's transparency: Its pay-as-you-go rates are posted right on its homepage.
What services does Tello Wireless offer?
Tello Wireless offers custom-designed pay-as-you-go wireless plans. That means that you pick and choose the elements to build your own plan. Or you can let Tello do the work by picking one of its ready-made deals.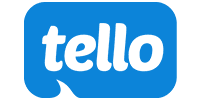 Check to see if you'll have coverage
from Tello
Enter your address for a quick coverage check.
View details
Build Your Own Plans
You combine call, text and data components to find a plan that works with your budget.
Minutes
No minutes — $0
100 minutes — $6
300 minutes — $7
500 minutes — $8
Unlimited minutes — $9
All Tello voice plans include unlimited texts.
Text
No text — $0
Unlimited texts — from $6
All Tello voice plans include unlimited texts.
Data
No data — $0
500MB — $9
1GB — $10
2GB — $14
4GB — $19
6GB — $24
8GB — $29
12GB — $39
Ready-Made Deals
Economy — $10 a month. unlimited minutes, unlimited texts and 1GB data.
Value — $14 a month. Unlimited minutes, unlimited texts and 2GB data.
Smart — $19 a month. Unlimited minutes, unlimited texts and 4GB data.
Data — $39 a month. Unlimited minutes, unlimited texts and 12GB data.
All plans come with unlimited data usage with the speed throttled down to 64kbps once the plan's data amount is exceeded. All plans renew automatically every 30 days unless the plan is cancelled.
NEW:
Calls to China are also included in all voice plans, in addition to calls to Canada and Mexico.
Are there any other features I should know about?
Tello Wireless offers a few features that are worth knowing about, but nothing out of the ordinary.
Use your smartphone as a hotspot. Tello Wireless smartphones can be used as a hotspot with free tethering. That means that the plan's data balance can be shared free of charge with other devices and/or people if you're feeling like sharing.
International calls included. Not ALL International calls are included, but calls to Mexico and Canada are included, and they do technically count.
Auto-Renewal. All plans with Tello Wireless renew automatically every 30 days. This is listed as an advantage, but sadly, it may be seen as a disadvantage for many considering this type of no contract, no fee service.
What to watch out for
With Tello Wireless it can be easy to become distracted by "custom" wireless plans, but you do have other factors to consider.
Limited speeds. Watch out for your plan's data limit, with speeds that throttle down to 64kbps once you hit it.
Potentially high international calling rates. Calls to Cuba are drastically more expensive than calls to other countries. With such widely varying international rates, monitor your use to avoid expending your balance mid-month.
Compare other cell phone plan providers
How do I sign up for Tello Wireless?
Visit Tello Wireless online and sign up with your credit card or PayPal. To register for a Ready-Made Deal, you'll need to also create an online account or log in through Facebook.
Bottom line
Tello Wireless stands out from other options because of its "build-a-plan" option and low rates for data. Its use of the Nationwide Sprint® Network doesn't hurt either. All in all, it's a solid option for those considering more budget-friendly third parties.
Common questions about Tello Wireless